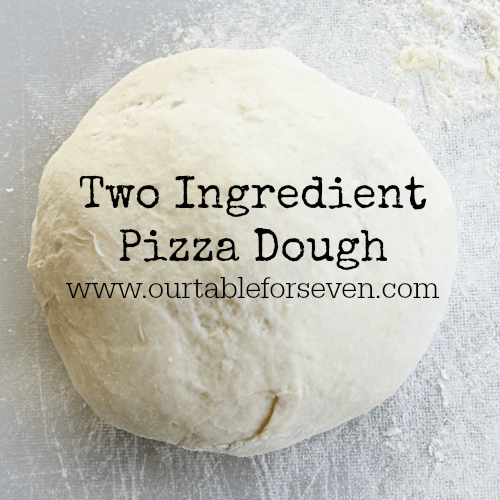 Two Ingredient Pizza Dough- – Homemade pizza dough that only needs two ingredients..simple and delicious.
Happy Friday Friends!
At my house, it's pizza night.
We dine on it each and every Friday. We used to call for take-out, but, it gets expensive! So, we switched to homemade. I don't make homemade dough every week. Sometimes, I do get the pre-made stuff, kinda depends on my schedule for the day.
When I do make homemade dough, this is one that I use quite a bit. It really simple, easy to work with and you need just two ingredients.
Yep, only two!
I realized after making the above pizza, I should of taken a picture of said finished pizza. Don't know why I didn't. But, it's pizza! You guys know what pizza looks like, right? I do, however, have some pizza-making ideas for you.
Check them out:
Taco Pizza..instead of fridge dough, go homemade!
Deep Dish Pizza– the recipe can be used easily with the two ingredient.
S'mores Pizza– the crust in this post is delicious, but, use the two ingredient when you are in a time crunch.
Grilled Pizza– a great option for the warm weather. Grilling with homemade dough is just as simple as the store bought.BBQ Chicken Pizza- Instead of pizza sauce, spread your dough with your favorite BBQ sauce, then, top pizza with cooked chopped or shredded chicken, cooked bacon pieces,cheddar cheese and slices of green/red peppers.
Pepperoni and Bacon- Top with chopped pepperoni, cooked bacon pieces and regular pizza sauce.
Chicken and Broccoli Ranch- replace your red sauce with your favorite ranch dressing. Top with cooked shredded or chopped chicken, broccoli florets and mozzarella cheese.
Whatever combo you chose, this Two Ingredient Pizza Dough will make it easy and delicious!