Chewy sugar cookie bars topped with sweet apples!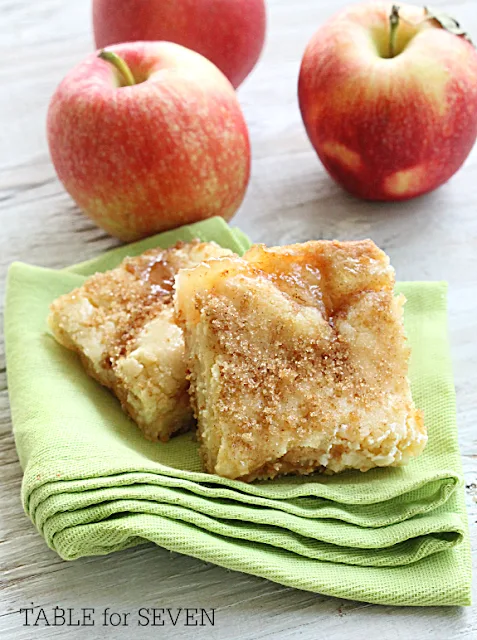 Is it safe to say that fall is here yet?
It was 85 here today, but, there are some leaves turning a little smidgen brown, so, I'm saying, yes. Fall is here. It's official. Get ready for pumpkin everything, lots of soups and of course, apples!
We are seriously apple eaters here. There is currently a million (give or take) pounds of them in my fridge from our annual apple picking trip last weekend. I am hoping to get a few recipes from them for you guys, but, my kids may just inhale them before the chance arrives. I'm crossing my fingers.
For now though, we have canned apples. Yes, not nearly as good as fresh, but, tasty, no less. Especially, when you pair it up with sugar cookie dough, brown sugar and caramel.
These are such good stuff, people.
Here is what you do:
Grease an 8 x 8 pan. Mix the package of cookie dough and set aside 1 cup of cookie dough.
Next, spread the apple pie filling on top of cookie dough.
A note: The recipe calls for a 21 oz can of apple pie filling. It will work fine, but, if desired, you can use a bit less. I used about 3/4 of the can and it worked fine.
Take your remaining 1 cup of dough and sprinkle on top of apples. If it doesn't cover it all, that's ok. It will spread a bit when it bakes.
Top with sugar/cinnamon mixture and bake.
These Apple Pie Sugar Cookie Bars are super easy and will satisfy that fall-eating craving that you've been having in no time at all.
Happy Fall Everyone.