Ooey, gooey Cinnamon Roll Bites give you all the great taste of a cinnamon roll without all the work!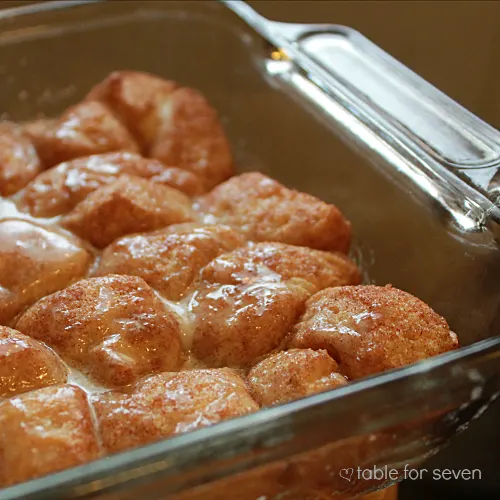 Don't you love short-cuts? I sure do!
They are a tremendous help at times. Especially, when it comes to cinnamon rolls. 🙂
Of course, we are serious cinnamon rolls eaters: note: here and here and here.
But, as much as we love them, sometimes, we (my kids..OK, me too) want something cinnamon roll-y but, do not want to take too much time to make.
Enter these tasty little cinnamon roll bites. They are a delicious, little treat if you want something sweet for breakfast or even dessert.
Here is a breakdown:
You start with a tube of refrigerator biscuits. Any brand will work, just keep note of the size of your package and type of biscuits. I usually use a 12 oz package of buttermilk biscuits. If you use a "flaky" biscuits of a different size package, they will still work, but, your ingredient may need to be adjusted.
Cut the biscuits into 4 separate pieces. A pair of sharp kitchen scissors works great for this job.
Toss the biscuit pieces with the brown sugar/cinnamon mixture. You can do this in large bowl or use a large freezer bag. Both ways work fine.
Add coated biscuit pieces to your pan. Use an 8 x 8 pan and don't forget to grease it!
After baking, let them cool about 5 minutes before adding the glaze.
Be prepare to eat several of these. Of course, be careful..they are hot!
These Cinnamon Roll Bites take no time at all to make and will vanish quicker than a blink of an eye. Try them immediately and you will see!