Light as air Cinnamon Sugar Popovers are a sweet treat! Made with a just a few simple ingredients, they are great for breakfast or a snack. They are best eaten warm, then, topped with melted butter and cinnamon sugar.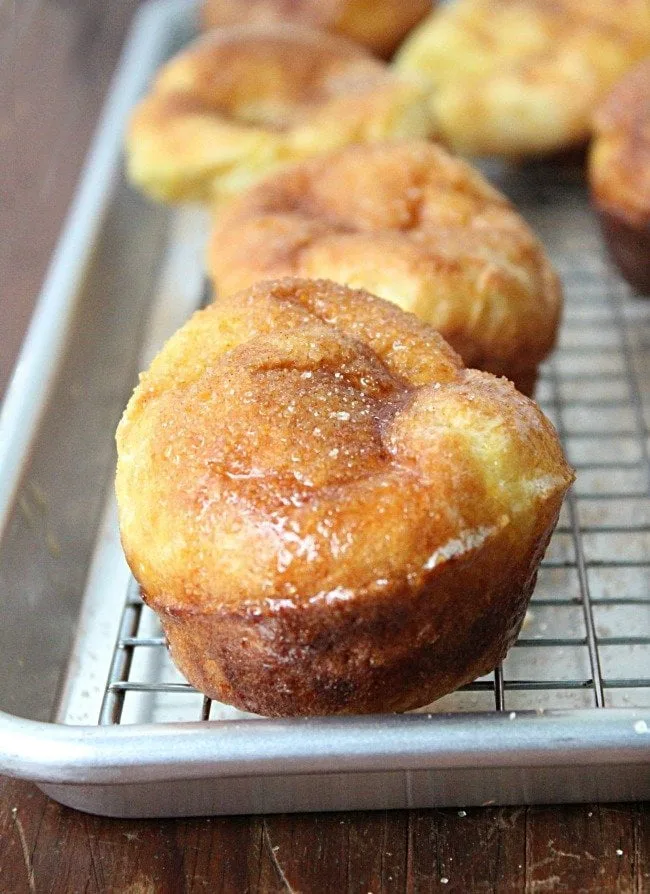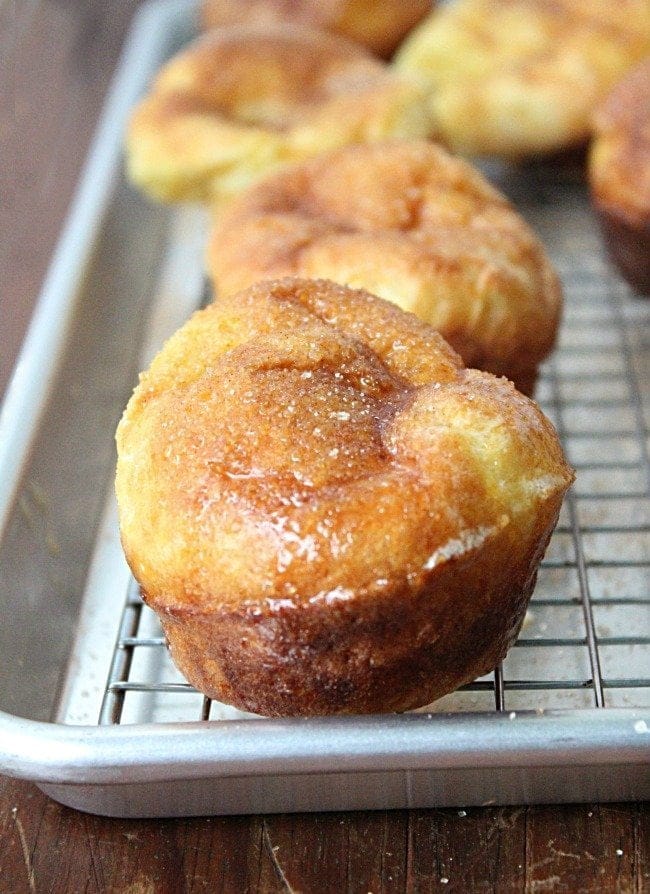 A few of my kids are little cinnamon-sugar obsessed.
I keep a small jar of it in the pantry, so, it's easily accessible. They like to sprinkle on all sorts of things. Toast with butter, toast with peanut butter, bagels, waffles, pancakes…you name it, they will toss some cinnamon sugar on it.
When they discovered I was making these popovers..they were beyond thrilled. Especially, my youngest. He was my "hand model" for these pictures and well, he went a little crazy with the cinnamon sugar. But, that's OK…a little extra cinnamon sugar isn't a bad thing, right? 😉
This is the very first time I've made popovers and they didn't disappoint! These are soft, airy and the sweetness of the cinnamon sugar with the warm butter is amazing.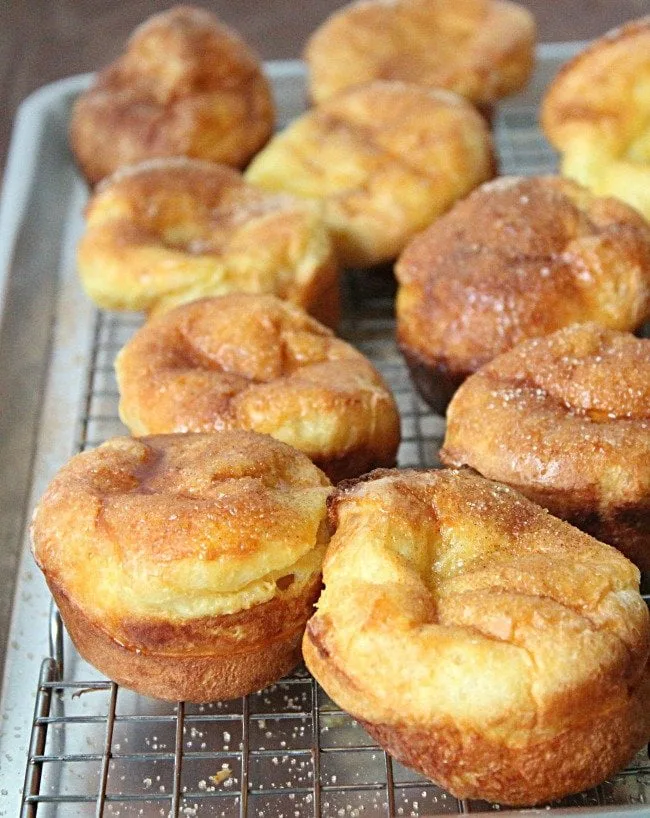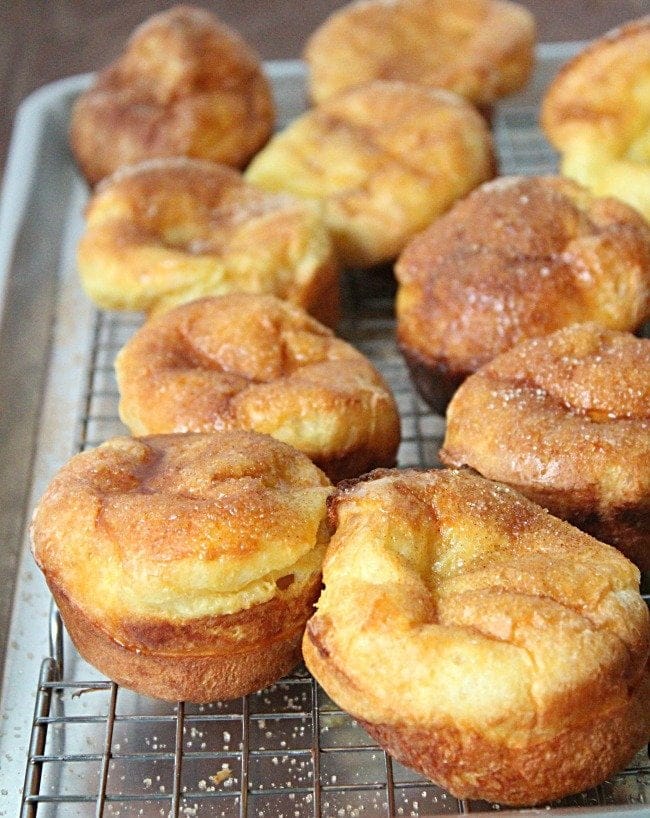 What you will need for this recipe:
Flour
Sugar
Ground cinnamon
Milk
Vanilla
Salt
Melted butter
Eggs.
Non stick cooking spray
Large mixing bowl.
Wire whisk.
12 count muffin pan or a popover pan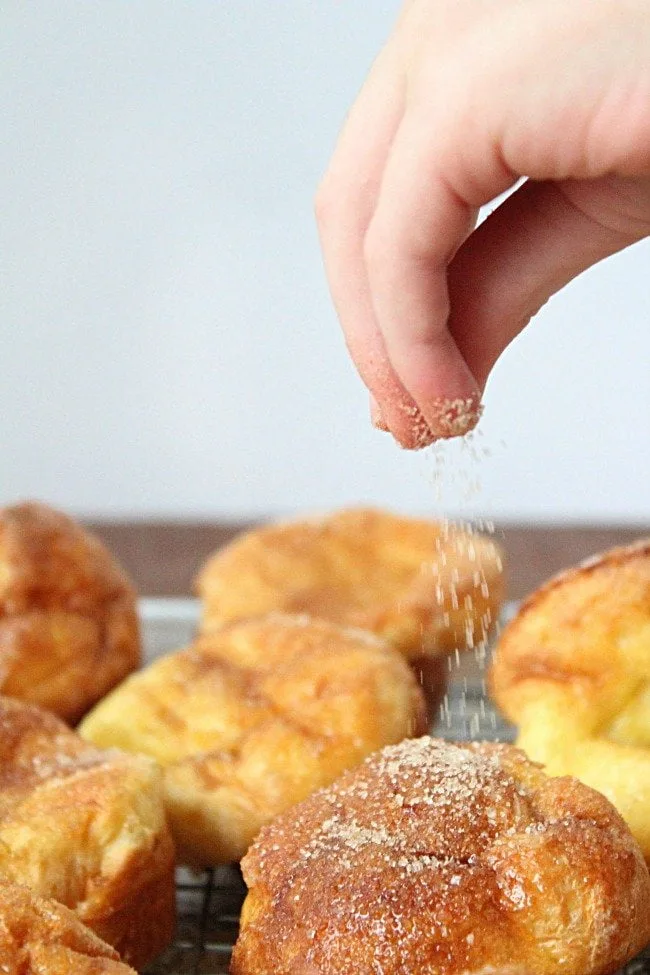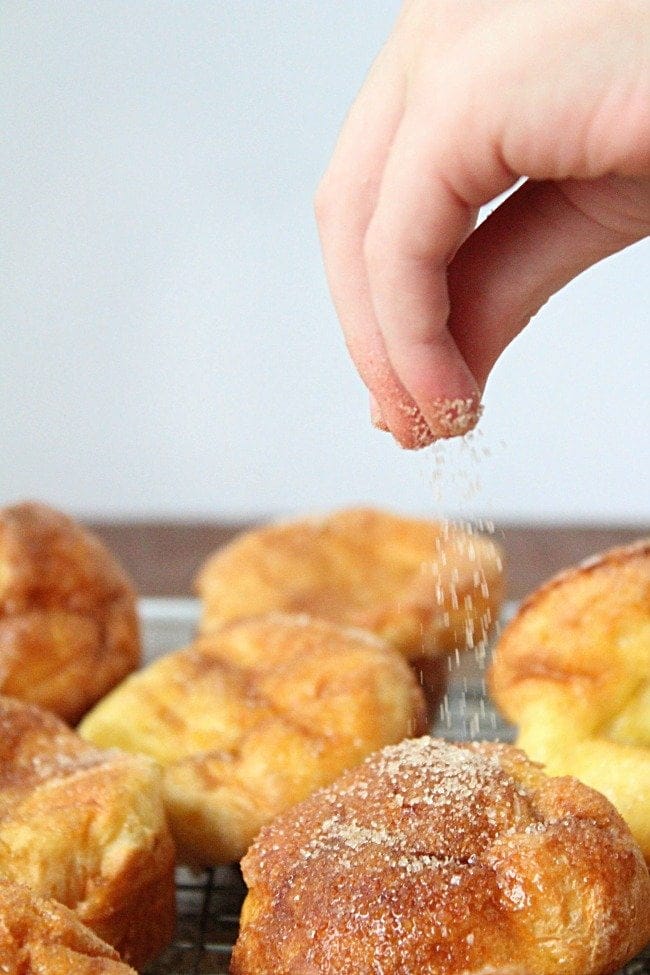 A few notes for this recipe:
You don't need a popover pan to make these! A regular muffin pan will work also. I took the advice on the original recipe and baked them in the outer cavities of the pan. I used 1-12 count muffin pan, then, a 6 count muffin. If you only have a 12 count muffin pan, bake in batches, if needed.
Be sure your milk and eggs are room temperature before using.
You don't need to use an electric mixer for this batter. A good wire whisk works perfectly for it. Also, don't over mix it..only whisk until batter is moist and ingredients are fully incorporated.
Your popovers won't be perfect and uniform looking, like a muffin. That's ok! They will rise in different patterns and sizes. It's also ok that some of them deflate a bit once they are removed from the oven.
Pay attention to the oven temperatures in the recipe! You will start baking at 450 degrees, then, reduce the oven temp to 350 after 20 minutes.
When baking, don't open your oven door! This will cause your popovers to deflate. So, restrain yourself. 👍
Light, airy and sweet! These Cinnamon Sugar Popovers are best served warm and on the day you bake them.
More Cinnamon Sugar Recipes to Love: