Chocolate Whoopie Pie Cake with Marshmallow Filling! It's a fun whoopie pie..but, in cake form! Two layers of delicious chocolate cake with a fluffy marshmallow filling and a smooth chocolate frosting. An awesome cake for a special dessert and can feed a crowd.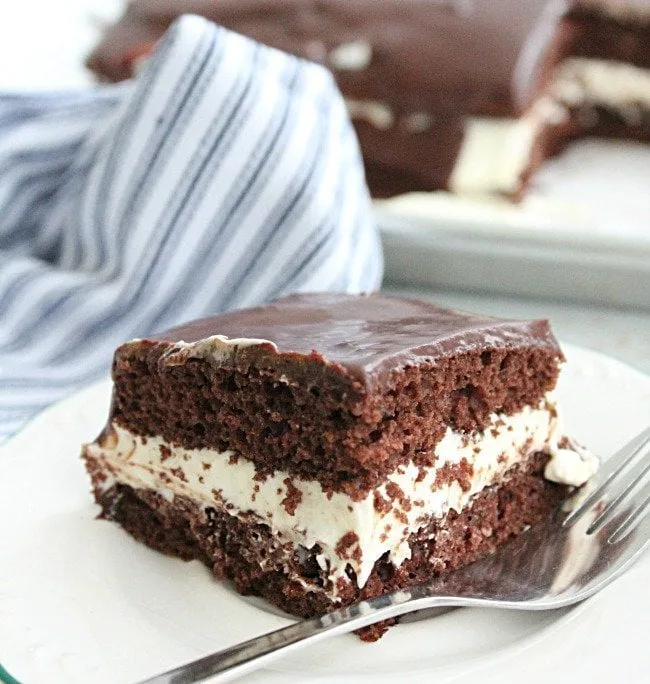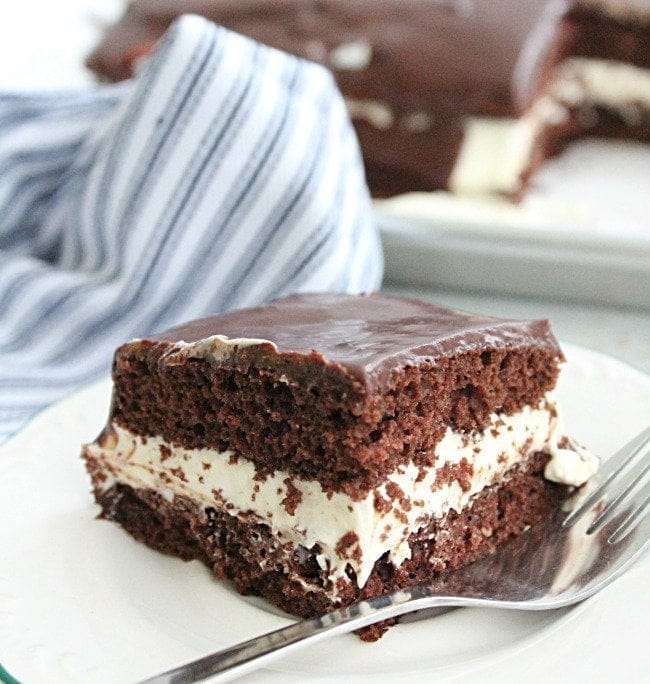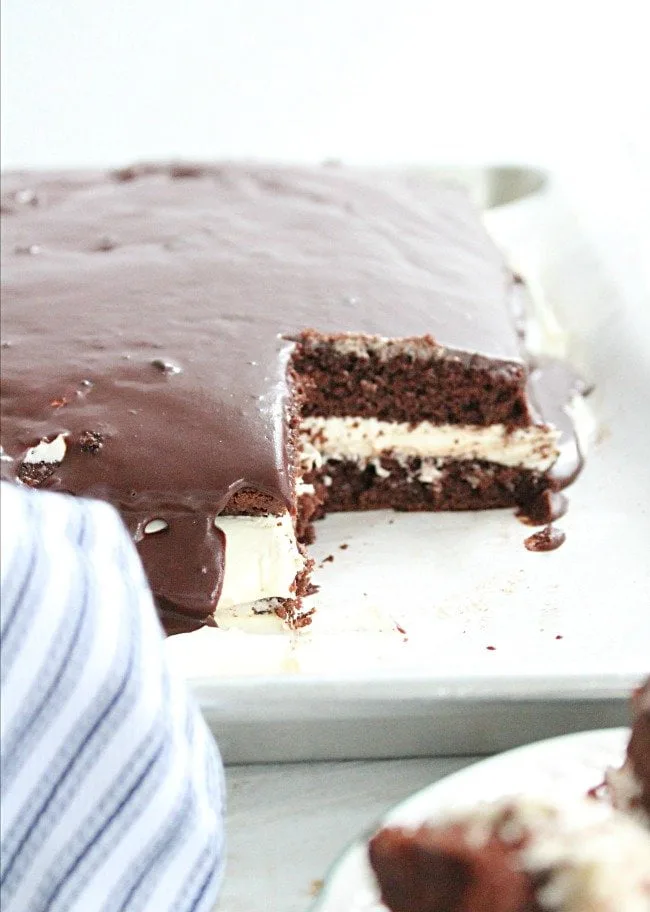 Chocolate Whoopie Pies with Marshmallow Filling is a pretty popular recipe here at Table for Seven. They are delicious and a fun dessert that is pretty popular here at my house, too.
Soft chocolate pies with a fluffy marshmallow filling? YUM.
This cake has all the greatness of that whoopie pie, but, in cake form. Plus, this cake has the added bonus of chocolate frosting.
DOUBLE YUM.
Your Supply List:
2- 9 x 13 baking pans + non stick cooking spray
Electric mixer + mixing bowl.
Rubber spatula.
Saucepan.
Wooden spoon.
A large flat rimmed baking sheet + parchment paper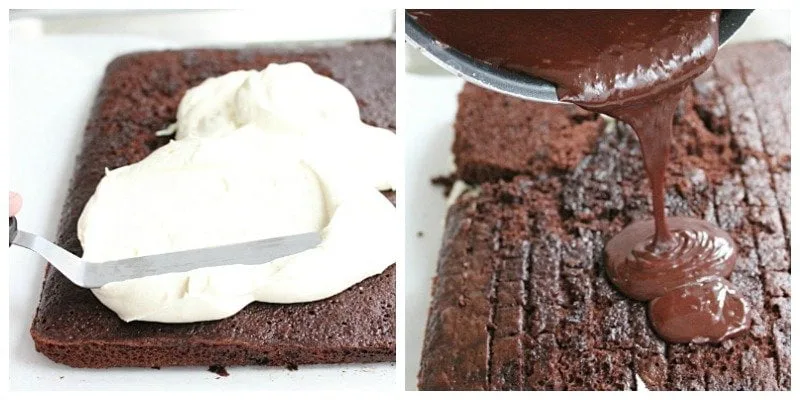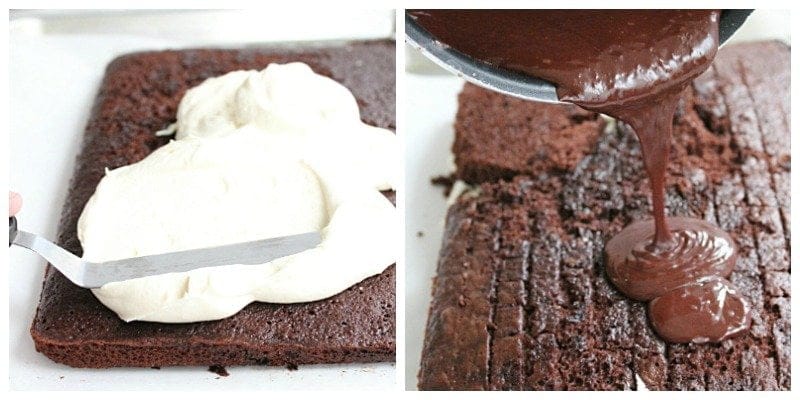 Gather Your Ingredients:
Chocolate cake mix + ingredients listed on box
An extra egg.
Cocoa powder.
Marshmallow fluff.
Powdered sugar.
Butter.
Chocolate chips.
Butter.
Milk.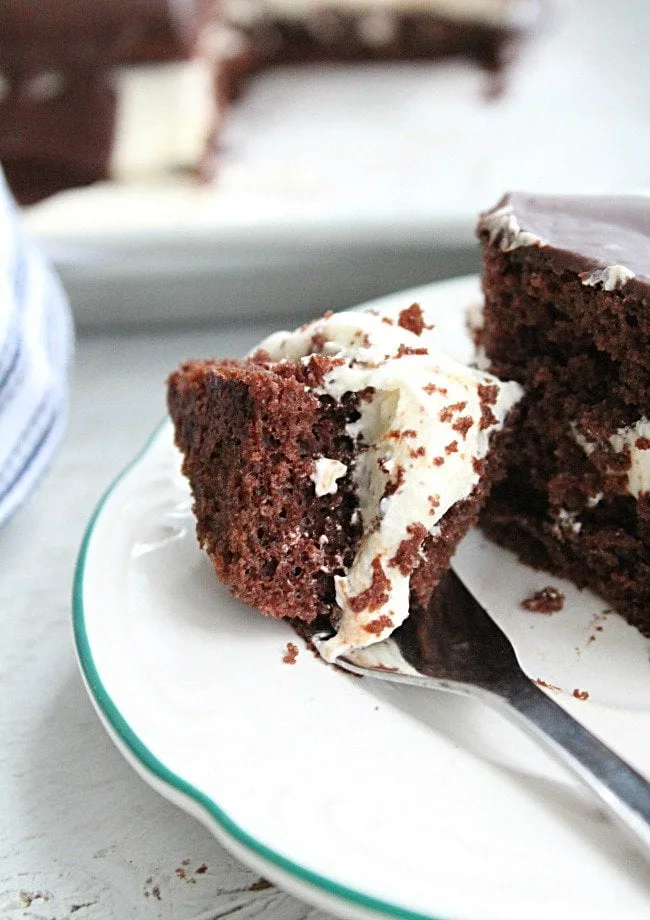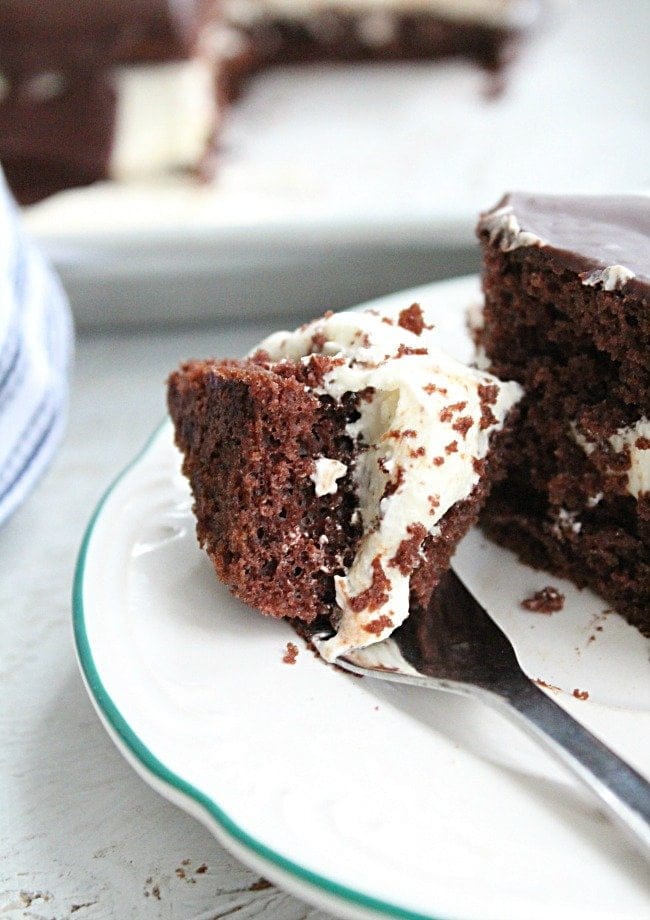 How to Make Your Whoopie Pie Cake + a Few Notes:
Mix the ingredients on your cake mix box, plus, an extra egg.
Spread 1/2 of the batter into a 9 x 13 pan. Then, spread the remaining batter into a second 9 x 13 pan.
BAKE!
Let the cakes cool for 10-15 minutes, then, remove them from their pans. Then, let them cool completely before adding the filling.
Make your filling 👉 make sure your butter is softened before mixing!
Spread filling evenly on top of one cake. This may be messy and have some overflow. Placing the cake on a flat rimmed baking sheets (lined with parchment paper) will make this process easier.
Carefully, place the second cake on top of the filling. Take your time with this. You can see in one of my pictures, my cake broke a bit. It's not a huge deal, the frosting will cover any blemishes. But, you don't want a total mess, so, take your time with it.
Finally, make the frosting and spread on top of the cake. Let the cake sit for 30 minutes to an hour for the frosting to set. To speed up this process, place the cake in the refrigerator for approx 15 minutes.
This cake is ah-ma-zing! But, it's sweet, start with small portions. 😉