Easy, fried chocolate doughnuts dunked in a smooth glaze. You will not be able to eat just one!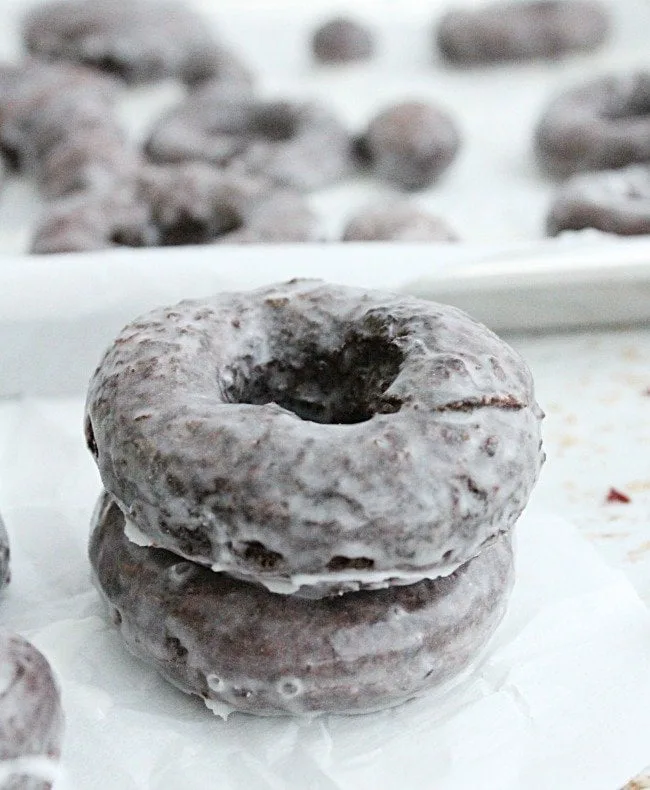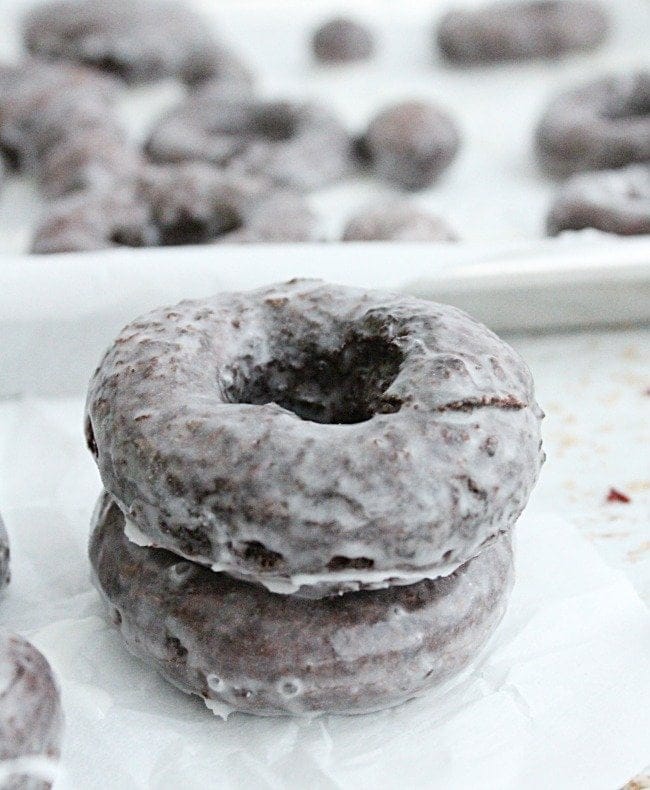 Today, we are frying doughnuts….chocolate glazed doughnuts. 😍
Don't be intimidated. They are easy! But, they do take a little more time than your baked version. So, give yourself about a 2 hour window of time for these special treats.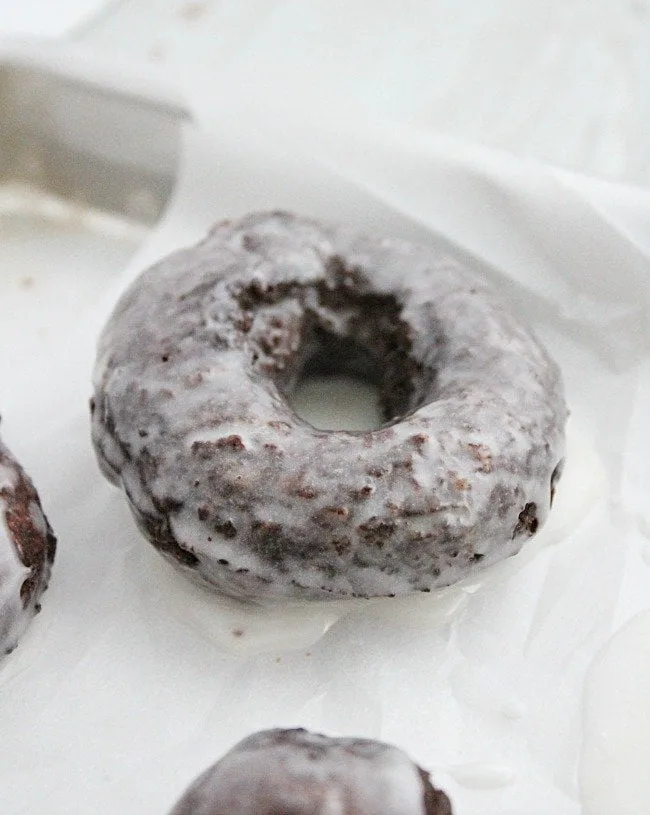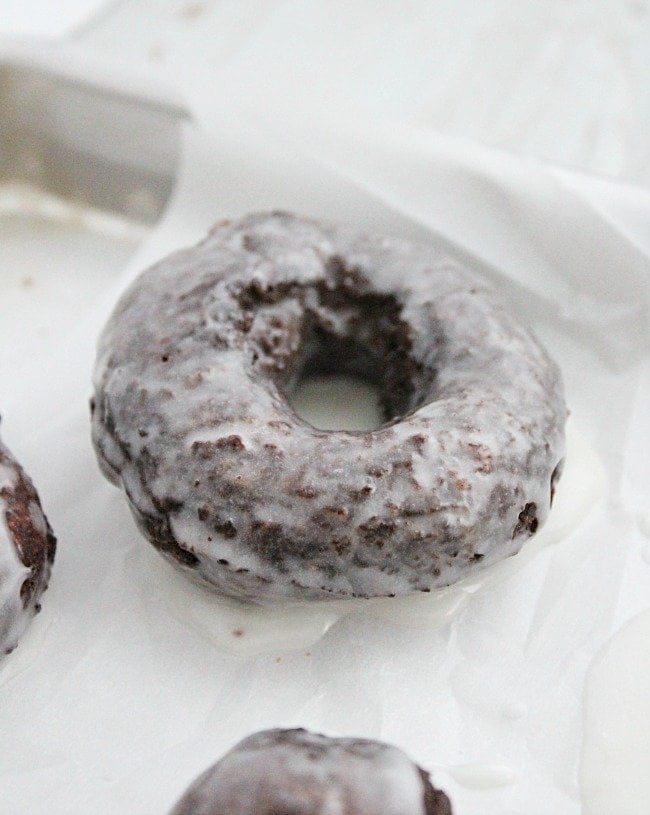 What Do I Need to Make Chocolate Glazed Doughnuts?
A large, heavy bottom, heat proof pot.
Electric Mixer + mixing bowl.
A standard mixing bowl + whisk.
Rolling pin.
Thermometer or a wooden spoon.
Doughnut cutter or a cup or cookie cutter. Something to cut out your doughnut dough.
Flour + Baking powder + Baking soda
Sugar
Salt + Butter.
Egg + Vanilla
Milk.
Plain Greek yogurt or sour cream.
Canola oil.
Powdered sugar.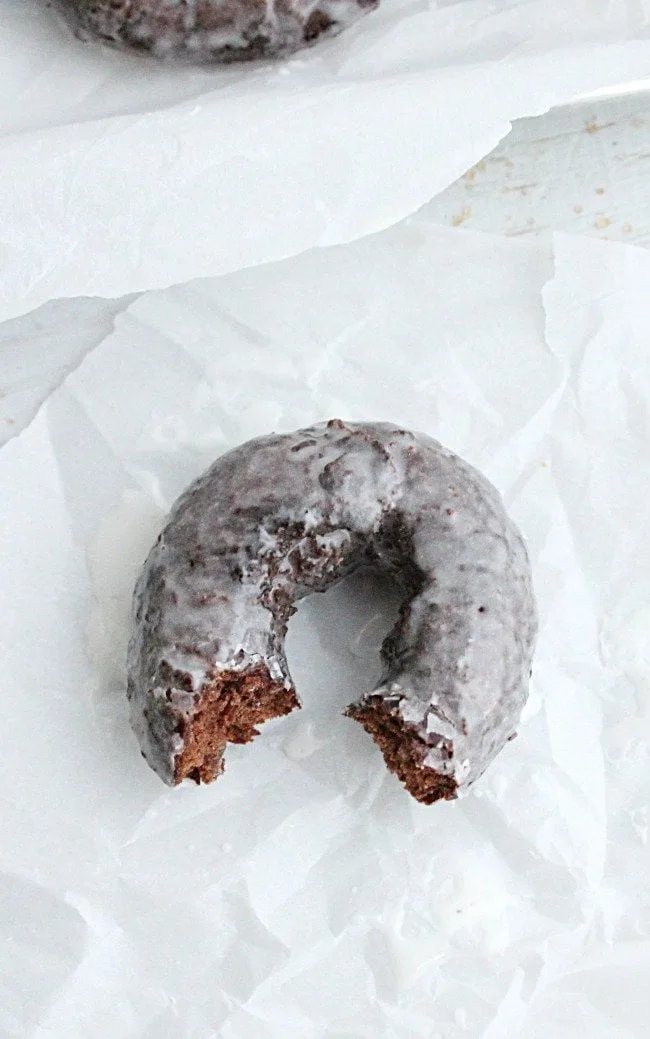 How to Make Doughnuts + a Few Tips:
Mix your dough. They key is not to over mix it. It's fine if it's a little lumpy.
Then, turn your dough on a well floured surface a few times. Roll it out to about 1/2 inch thick. Don't be stingy with the flour! Your dough will be a bit sticky and it will help tremendously when rolling out. Just brush off any excess flour before frying.
Cut out the dough. For cutting out the dough..if you have a doughnut cutter, great, use that. I don't have a doughnut cutter, so, I used the band from a medium size mason jar for the round portion and the top of a spice jar for the doughnuts holes. Worked just fine. You can also use a regular cookie cutter.
Let's fry them! Be sure to keep track of your oil temperature. You do not want it too hot. Start frying once the oil temp is between 360-375 degrees. If you don't have a thermometer..stick the handle of a wooden spoon into the oil. If it's ready, the oil will bubble around the handle.
Let the doughnuts cool a bit (they are hot!) before adding the glaze. You can just drizzle the glaze or dunk the tops into the glaze. Whatever works best for you.
With my cutter, I made approx 18 doughnuts, plus, the holes from them. Your amount of doughnuts will depend on the size of your cutter.