One skillet and dinner is done! Turkey kielbasa sausage, cheesy pasta and broccoli make this easy dish just right for a weeknight dinner.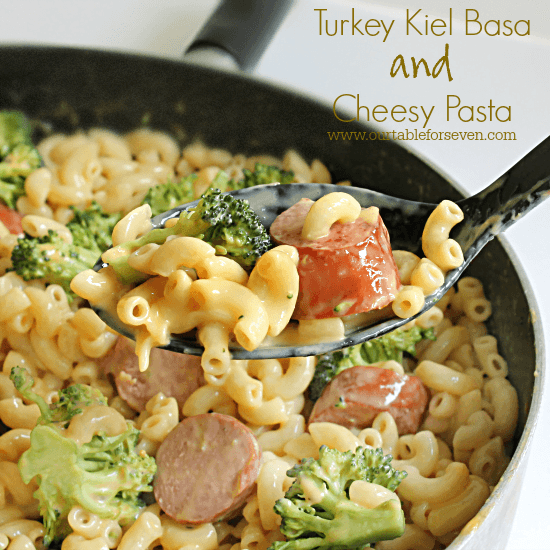 Ingredients Needed:
Pasta
Broccoli
Milk
Velveeta
Kielbasa
Soy sauce
Salt + Pepper + Garlic powder + Onion powder
Pasta: Any type of small pasta will work…macaroni noodles, penne, rotini, etc

Velveeta: If you don't wan't to buy the brick, you can make it homemade.
Broccoli: Not a fan? Snow peas are a good replacement. Whichever you chose, they don't have to be completely cooked, but, should be at room temperature or defrosted, if you are using frozen.
Kielbasa? Commonly known as Polish sausage. I usually find it in the precooked meats ( think hot dogs) section of my grocery store. In the U.S., kielbasa is usually already smoked and completely cooked when you purchase it. I prefer turkey kielbasa, but, you can use the beef or pork variety, if desired. Just be sure it's precooked.
How to Make:
First, prepare pasta according the package. Drain and set aside.
Then, in a skillet, brown kielbasa for approx 5-8 minutes. You want it brown and a bit crispy.
Remove it from the pan and lightly wipe it clean.
In the clean skillet, make the cheese sauce.
Once it's done, stir in the cooked pasta, kielbasa and broccoli.
Storage: Keep any leftovers in a covered container in the refrigerator. Eat with 2-3 days. I don't recommend freezing this dish. With the cheese content, it could separate when defrosted.
Try these Too: