Crispy and crunchy! These potato pancakes are a fun dinner option or make a great side dish!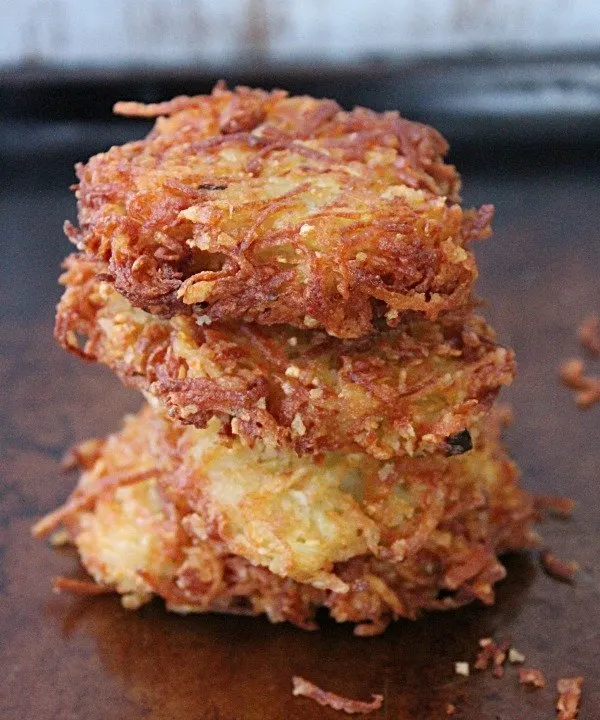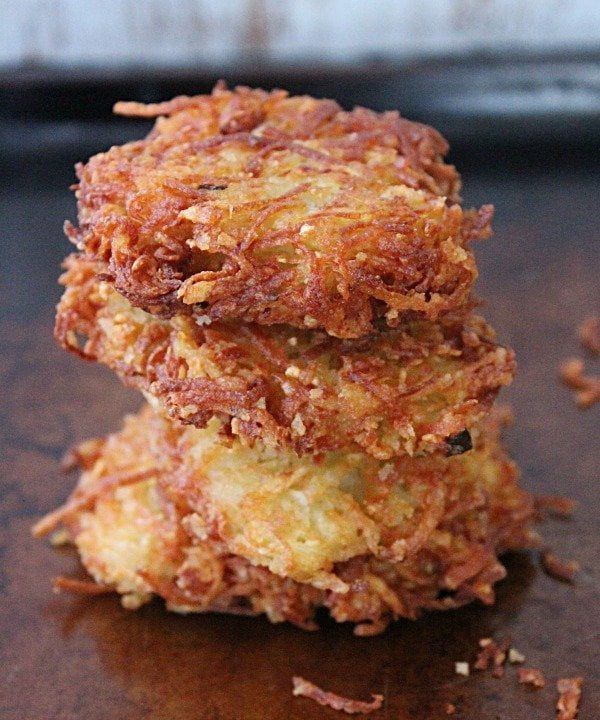 In my continuing quest to re-shoot and re-share lots of old posts, today, we have potato pancakes. Shared here on the blog in 2011, these still remain a family favorite to this day.
I originally started making these after we discovered homemade potato pancakes and pierogis at our local farmers market. My husband fell head over heels in love with them and with the farmers market closed up for the season, I dove into making them homemade.
These do take a little time and effort to make, but, they are soooo worth it!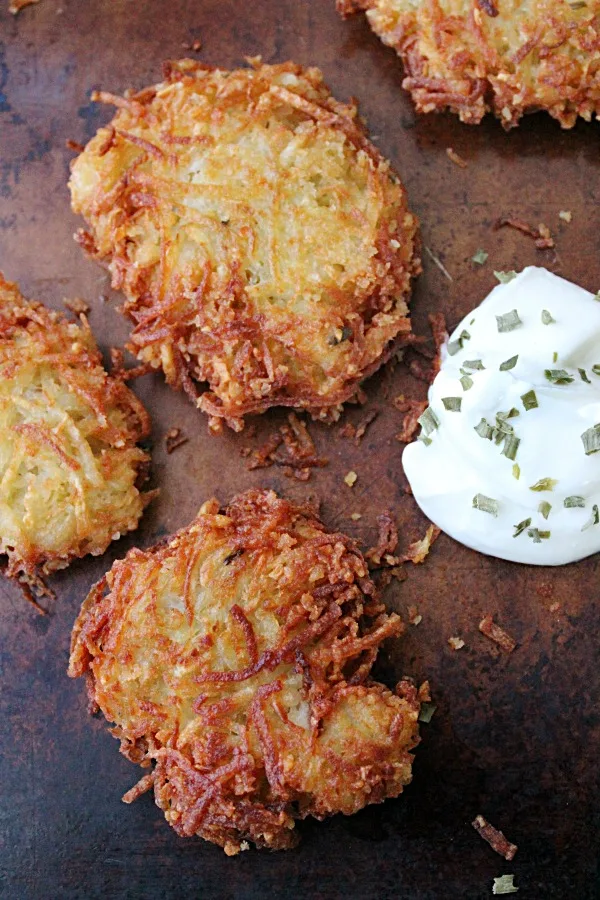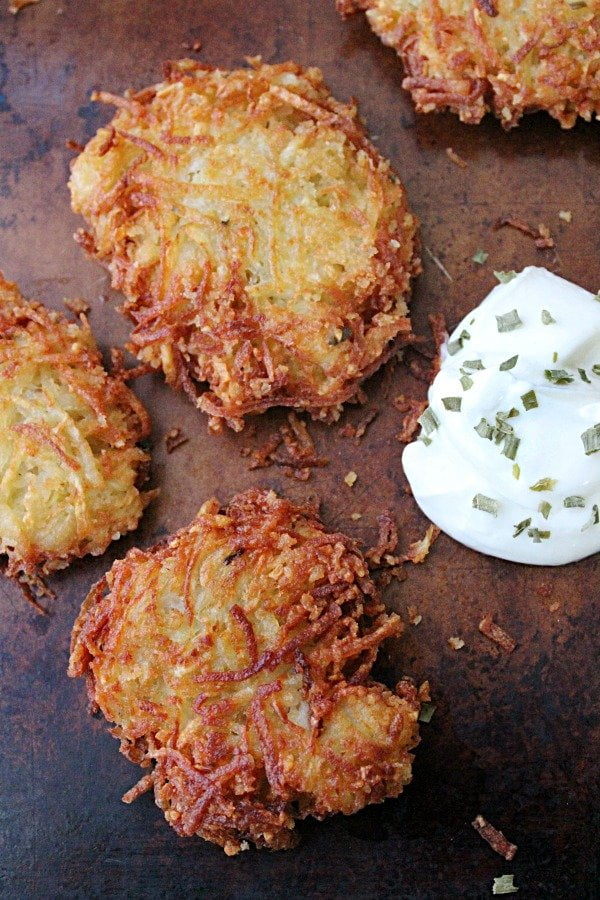 Ingredients Needed:
Russet potatoes
Onion
Eggs
Bread crumbs
Chives
Oil
How to Make + A Few Notes:
First, start with 2 large russet potatoes. Give them a peel, then, shred them. Your potatoes should look like shredded hash browns.
Next, this part is important, roll your mixture in a clean dishtowel. Then, squeeze out as much moisture as possible. Don't forget to close all the sides of your rolled dish towel really well! I've neglected to do that in the past and have found myself with quite a mess to clean up after.
Mix the shredded/drained potatoes with breadcrumbs, eggs, chives and onion.
Fill a large skillet with oil. You don't need too much oil. Only about 1/4 inch or so. Once it's hot, you are good to go. Just be sure your oil isn't too hot. If you drop a spot of water into the oil, it should bubble slightly, not furiously.
Form your potato mixture into individual balls and place carefully, one at a time, into the oil. Then, take a spatula and flatten it slightly.
Let it cook for at least a minute or two before checking the other side of it. If you try and move it too soon, your potato pancake can fall apart.
Flip it over and cook the other side.
Note: Don't cook too many at once. Work in batches. I cooked ours for approx 2-3 minutes on each side. Keep an eye on yours, if they are thicker/thinner, your cooking time will be a little different.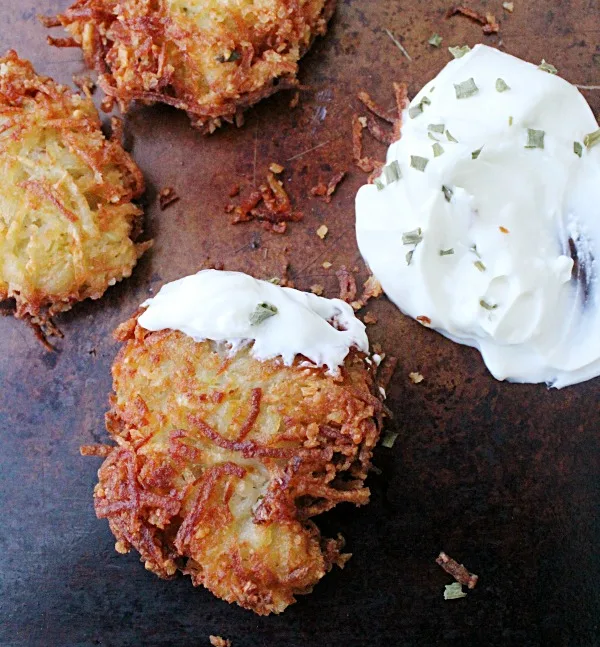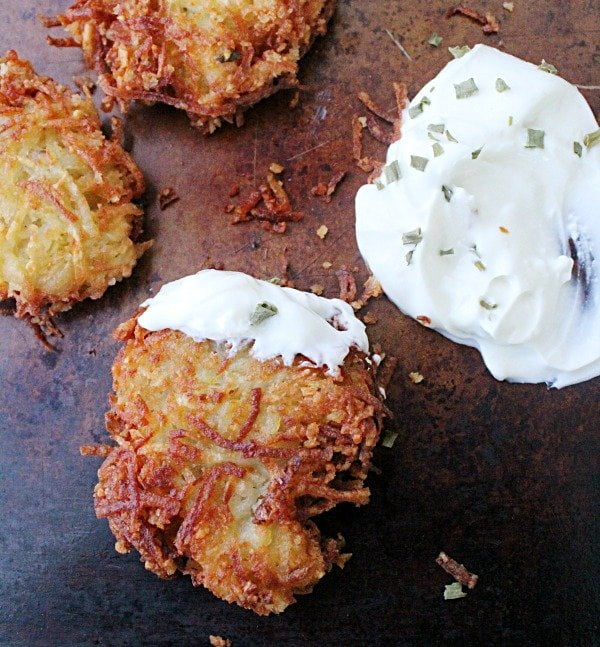 More Potatoes to Try: