One pot and dinner is done with this classic spaghetti and meat sauce dish.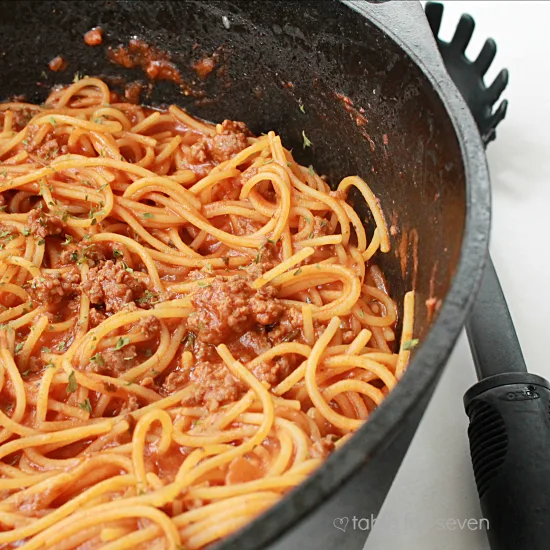 Ingredients Needed:
Ground beef
Minced garlic
Minced onion
Spaghetti sauce
Dry spaghetti noodles
Chicken broth
Water
Grated Parmesan cheese
Can I Use Ground Turkey? Yes. If desired, you can use ground turkey or ground Italian sausage instead of the ground beef. If using ground Italian sausage, be sure to drain it after browning. You may also want to adjust your dried spices.
Spaghetti Sauce: You can go with your favorite jarred version or homemade will also work.
Spaghetti Noodles: I like to use whole wheat pasta, however, regular pasta will also work. Just be sure it's dry pasta and do not boil it beforehand!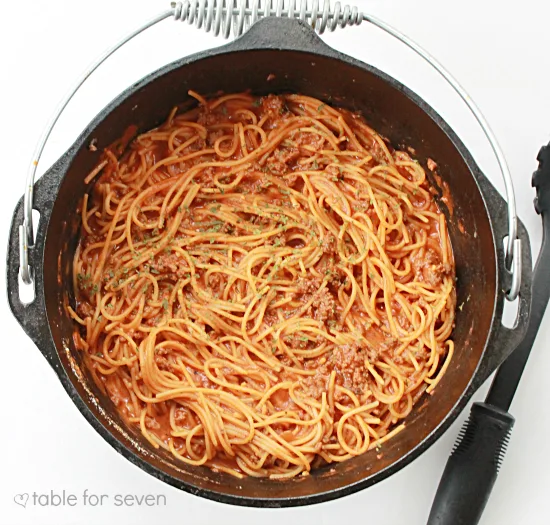 How to Make:
In a large pot ( it will need a lid), brown ground beef with onion and garlic. Continue until it is no longer pink. If needed, drain the meat and return it to the pot.
Add in the spaghetti sauce, water and chicken broth. Bring them to a boil and add in broken pasta noodles.
Reduce the heat and cover your pot. Cook for for about 20 minutes or until the pasta is tender.
Note: While it's cooking, stir it occasionally. If needed, add in small amount of additional water.
Once it's done, stir in the Parmesan cheese before serving.
Storage: Keep any leftovers in a covered container in the refrigerator.