Crock Pot Hawaiian Chicken is sweet and tangy! Serve this flavorful chicken over rice to complete your dinner.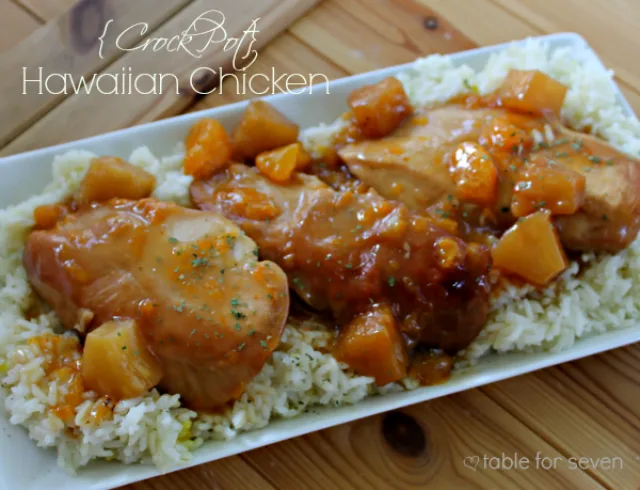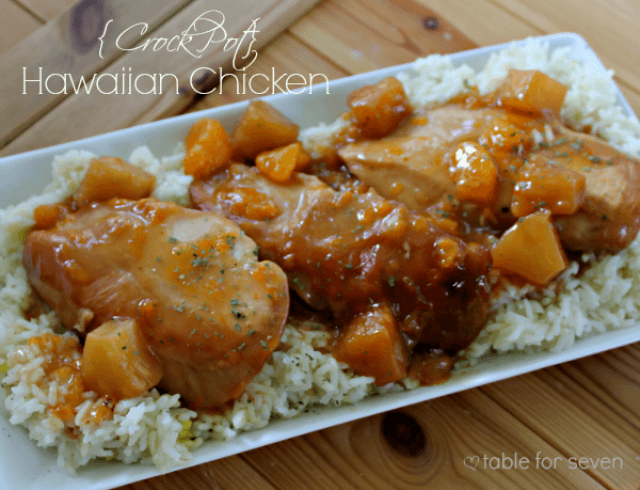 We recently purchased a chest freezer for our basement. The freezer with our refrigerator is pretty darn small and was overflowing on a regular basis. To get something out of the freezer was at times, a major tactical operation.
Imagine, trying to get ice cream and having to remove a billion other things to get to it. A nightmare!
Yes, I could just stop buying ice cream (what!), but, no..I simply convinced Mr Plain that we needed a stand alone freezer to contain our overflowing freezer items.
I was so excited to get it.
It was going to be so fabulous! And it is. However, it's a good size and it looks kinda empty after I evenly distributed everything.
My next great idea was to start pre-planning meals and freezing them.
Have you seen this kinds of thing on Pinterest? A woman prepared enough meals for her family for about 6 months. It only took her a day or two!
Wonderful! Sounds like a plan.
I checked out the book Don't Panic, Dinner is in the Freezer, from the library and prepared to pull up my sleeves and get to work.
Did I do it? No.
It occurred to me, what if the power goes out? There goes a ton of food to waste.
Also,I am lazy. There..I said it. Not going to beat around the bush about it. After reading the amount of food to do it, I gave up.
Not proud of it guys. 🙁
However, my freezer is full of homemade bread, jam, banana bread and salsa.
So, I can feel good about our purchase!
It's also much easier to get out ice cream. 👍
However, in the book,this crock pot chicken recipe popped out at me:
This chicken is sweet, tangy and you just dump in the crock pot and cook it..Serve it over rice and you are ready to go!