Crock Pot Chicken and Noodles is dinner is one pot! Chicken and noodles cooked right up in your crock pot.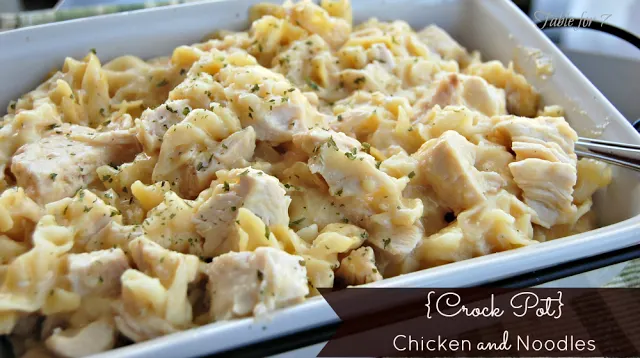 If you read my blog on a regular basis ( Thank you, by the way!) you know that there are three familiar factors in alot of my main dish recipes…chicken, cheese and the crock pot. This dish is no different.
Well, it doesn't have any cheese, but, it's chicken in the crock pot..two out of the three. 😉
This is nearly a whole meal right in your crock pot. You don't even have to cook the noodles before adding them.
Here are a few notes for this one:
If desired, whole wheat egg noodles works for this dish too.
When you are adding noodles, you should be able to stir them in. Remove the chicken and cut into pieces, add noodles, then, place chicken pieces back into pot. If needed, adding a little more chicken broth or water to the noodles is fine.
Important: Don't leave the noodles in too long! This will cause them to stick together and be pretty unappetizing. Keep a close eye on them once you put them in the pot.
Side this Crock Pot Chicken and Noodles up with a veggie and call it dinner!
Check out these chicken recipes for your crock pot too: