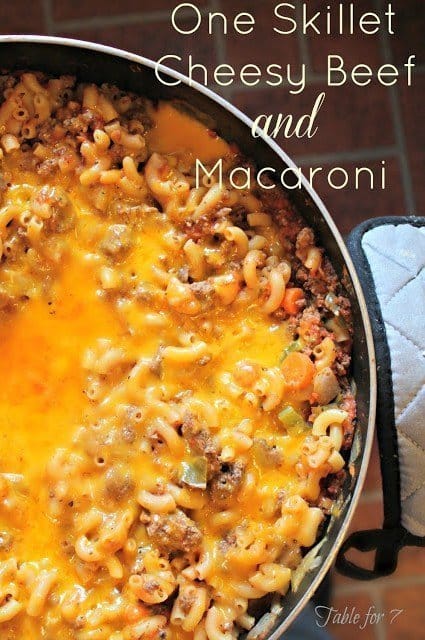 One Skillet Cheesy Beef and Macaroni- – -Your whole dinner in one big skillet..so cheesy and and yummy!
I love meals like this. LOVE them. Meat.Cheese.Veggies.Pasta: All in one dish!
Scoop it to serve and you are done.
This meal was unbelievably easy to make. It tasted great, was very filling and it makes a huge amount. You could seriously serve about 10(?) people with it.
We ate it for dinner and then, Mr Plain brought leftovers to lunch for two days.It's alot! Alot. If you need to serve a big crowd..this is your dish.
This recipe comes from a lovely cookbook that Mr Plain purchased for me: The Mom 100 Cookbook by Katie Workman (affiliate link). It's a great resource of recipes for families with or without kids. Heck..even if you cook for yourself..it's a great find!
Give this one a try and feed your family for a few days. 👍