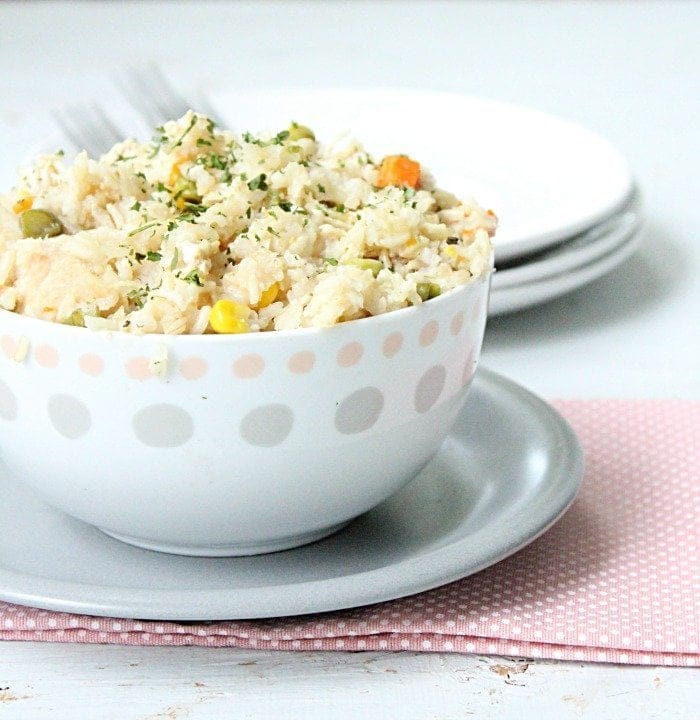 Dinner all in one pot! Use turkey or chicken in this simple, tasty dish.
My crock pot still gets used on a regular basis around here. I still love it, but, have been sticking to some of our regular family favorites.
That ends today!
How about turkey in the crock pot? With rice? veggies? It is a complete meal in a pot. That's your favorite kind of thing, right? (you know it is!)
Crock Pot Turkey (or Chicken) and Rice Casserole
Prep Time: 00:15
Cook Time: 06:00
Ingredients (Serves:8-10)
3 cups COOKED turkey (or chicken), diced or shredded
3 cups dry brown rice
2 cups frozen mixed vegetables
2 cups cream of chicken soup ( canned or homemade)
3 cups water
1 tsp garlic powder
1 tsp onion powder
1/2 tsp poultry seasoning
salt/pepper, to taste preference
Instructions
In a bowl, combine soup, water, garlic powder, onion powder, salt/pepper and poultry seasoning.
Mix well. Pour into crock pot.
Add all remaining ingredients to crock pot. Stir.
Cover and cook on low 6-7 hours or on high for 3-3 1/2 hours, until rice is firm, but, not too mushy.