Simple, delicious and flavorful! This Salisbury Steak is a a perfect weeknight dinner.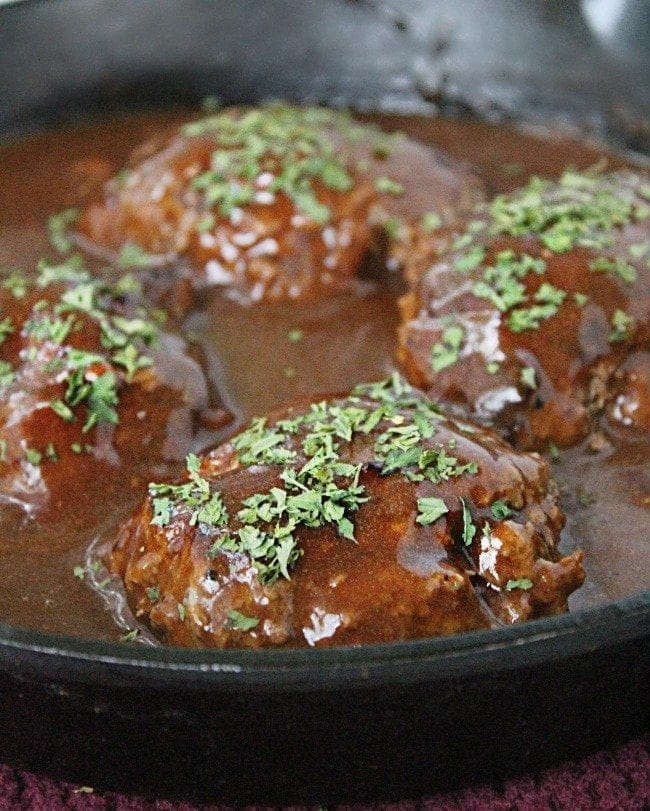 Our recipe today is a classic: Salisbury Steak
I have to be honest, in the past, my vision of Salisbury steak was the large package of them in the freezer section at the grocery store. My husband ate them when we were first married and they just did not look appetizing to me at all. I totally avoided them.
His frozen Salisbury steak eating didn't last long and I decided to make them homemade instead. A much wiser decision for all involved. They are really simple to make and taste amazing.
Ingredients Needed:
Ground beef
Bread crumbs
Ketchup + Worcestershire sauce
Minced onion + garlic powder
Brown gravy mix + Water
Oil, for pan
How to Make + Recipe Notes:
Start with your ground beef. I usually purchase ground sirloin for these, but, go with what your family likes. Even ground turkey could work!
Make your patties. With l lb of meat, I make 4 good size patties. However, you can decrease the size of the patties and make more, if desired.
When cooking your patties, cook them approx 5-7 minutes of each side. But, if your patties are thicker or thinner, adjust the cooking time appropriately.
We aren't mushroom fans at my house, but,you can add them to this dish. After cooking patties, remove them from the pan and set aside. Add a bit more oil to the pan and cook 1 cup of sliced mushroom until soft. Add the meat back into the pan with the cooked mushrooms and continue the recipe as noted.
Mix your gravy ingredients. The gravy is a basic recipe using dry gravy mix. I use a brown gravy, but, a beef gravy mix should work fine too.
Add your gravy to the pan and cook until thicken. Do this over medium heat and it should take about 3-5 minutes. You don't want the gravy too thick, but, if it is, just thin it out with a little water.
This Salisbury Steak is a great meal that is hearty, flavorful and simple to make. Serve with a side of your favorite mashed potatoes to complete the meal!