Stay warm and make some creamy potato soup right in your crock pot!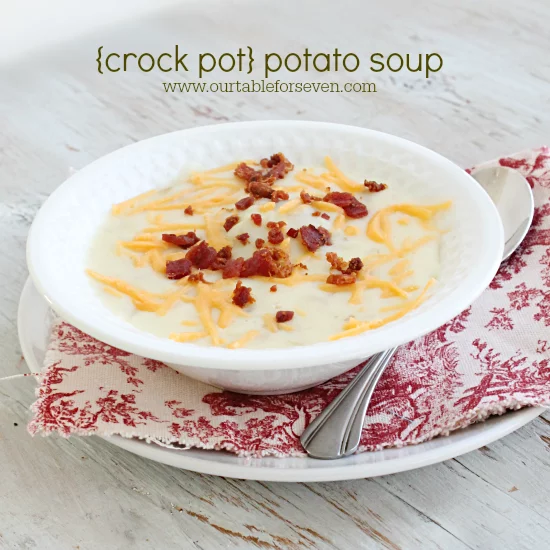 Ingredients List:
Potatoes, diced
Cream cheese
Chicken broth
Minced garlic
Minced onion
📌 Pin it for Later:
Do I Have to Peel the Potatoes? Actually, it's your choice. I have made this with peeled potatoes and unpeeled potatoes. Both ways are delicious!
Can I Use Fresh Chopped Onion & Garlic? Yes. I do recommend soften them both up in a skillet beforehand.
Can I Use Unsalted/Low Sodium Chicken Broth? Yes. Check in the recipe card for the brand I prefer.
How to Make:
First, add diced potatoes into the crock pot. Then, add in minced onion, garlic and chicken broth.
Cover and cook.
Next, cut up the cream cheese into cubes. Stir into the potatoes. Continue cooking until the cheese if fully melted. This should take approx 30 minutes.
Once the cheese is melted, puree the soup to desired consistency. You can do this using your immersion blender.
If you don't have an immersion blender, you can use a hand potato masher or carefully, transfer the soup into a regular standing blender, then, return it to the crock pot to keep warm.
Topping Ideas:
Chopped bacon
Shredded cheddar cheese
Sour cream or plain Greek yogurt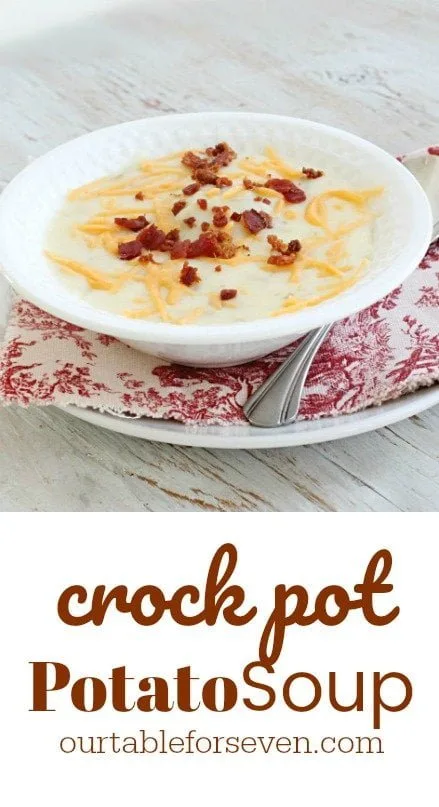 More Soup to Try: