Just a few simple ingredients for this flavorful chicken.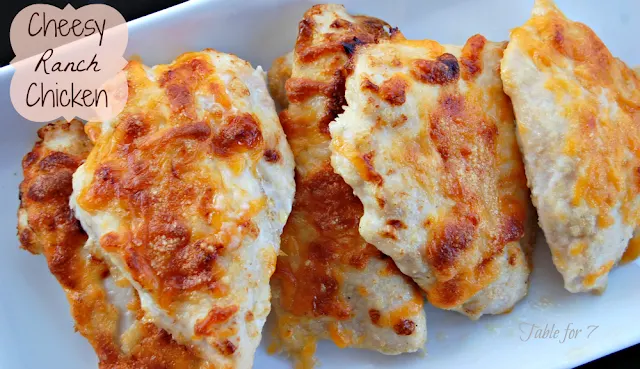 I know what you're thinking…how much chicken do these people eat? Seriously? How much cheese can one family consume?
Here's your answer: alot. Yep, alot.
We love it!
Chicken. Cheese. And this one has a bit of ranch. #Yum
Here is what you need for this recipe and a few notes:
Boneless chicken breast: approx 1 1/4 lbs or 3-4 medium size breasts. Your average cooking time will be about 30 minutes, but, that could vary, depending on the size/thickness of your chicken breasts.
Ranch dressing:

go with your favorite bottled version or

homemade

will work too!

Grated Parmesan cheese.
Shredded cheddar cheese.
A large, flat rimmed baking sheet
Foil and non stick cooking spray
It's not required, but, adding your chicken under a preheated broiler gives the cheese a crispy texture. It only will take a few seconds..so, watch it carefully.
This Cheesy Ranch Chicken takes nearly zero effort in the prep department. You could toss it together after a long day and have dinner on the table in 30 minutes.
The tangy ranch, the crunchy cheesy topping..you too will be a chicken and cheese family in no time flat.