Beer Bread is simple and tastes amazing! Served it sliced a bit of butter or cut into chunks with your favorite creamy dip.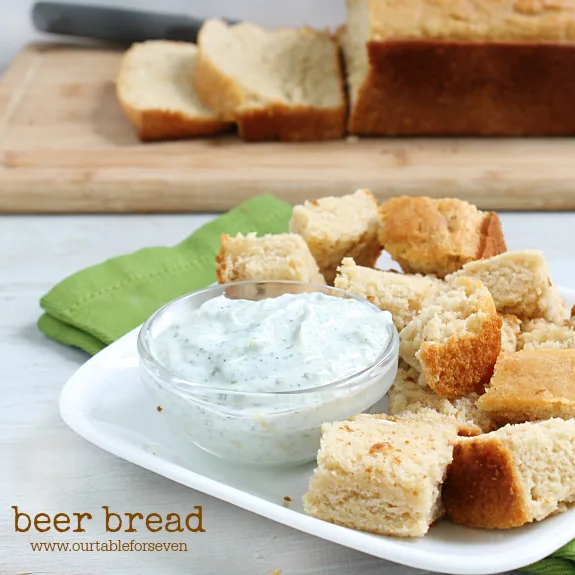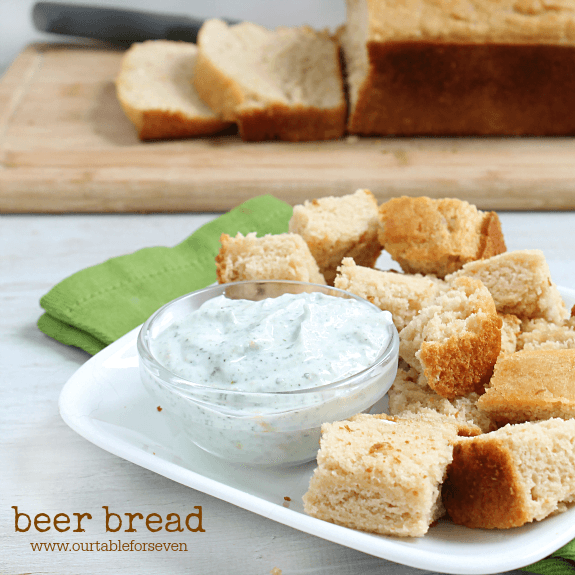 Many years ago, my sister in laws were hooked on beer bread from Tastefully Simple.
It was served at every family event for the past million years.forever. Birthday parties, baptisms, holidays, you name it! (It was really good, so, who could blame them?)
Buying the package from Tastefully Simple wasn't convenient for me, so, I found a recipe to make it right at home.
You only Need Four Ingredients:
Self rising flour
Sugar
Beer
Melted butter
Self Rising Flour: If you don't have any on hand, replace it with regular 3 cups AP flour, a dash of salt and 6 teaspoons of baking powder. Proceed with the recipe as noted.
Beer: I like to use a light, pale ale for cooking and baking. We are not really beer drinkers and this gives the bread a nice beer flavor without being overpowering. However, you can go as light/strong as you desire with the beer. Non- alcoholic beer will also work.
Carbonated Beverage: Since we don't drink beer, it's not just sitting around our house. At times, I have replaced it with a lemon lime soda and once, cocoa cola. When used, it still turned out great. Stick with something carbonated and the same size 12 oz size.
A few notes:
Do not over mix your dough! Simply mix until there are no dry spots left. Over mixing may give you a dense bread.
Storing: Keep any leftovers in a covered container and eat with 2-3 days. You can leave it at room temperature.
Freezing: If desired, you can freeze this bread. Store it in a freezer safe, covered container/storage bag. It will be good for a couple of months.
Self Rising Flour Recipes: