If you want juicy, flavorful turkey burgers, look no further than this recipe from the Barefoot Contessa. They can be grilled, baked, or cooked on the stovetop, among other methods.
The Barefoot Contessa's Turkey Burger Recipe is one of my favorites because it only requires a few basic pantry staples and the finished product is a delicious homemade burger. These burgers are held together and made more juicy by the addition of an egg. The seasoning for these turkey burgers, made with just a few simple ingredients, is absolutely delicious.
Is Barefoot Contessa's Turkey Burgers are Healthy?
This turkey burger from Barefoot Contessa is packed with nutritious ingredients like fresh lettuce, tomato, red onion, avocado, and/or guacamole, and turkey itself is a lean, low-fat meat. Ketchup, mustard, and mayonnaise are not exactly health food choices. So, if you're looking for a nutritious meal, try making these turkey burgers with only healthy ingredients.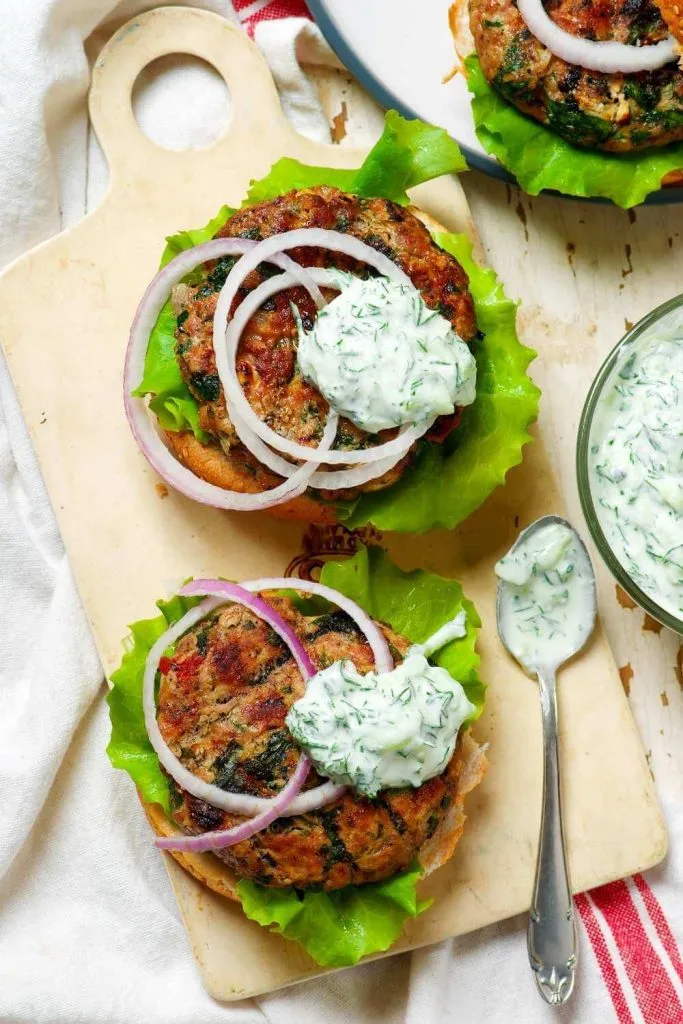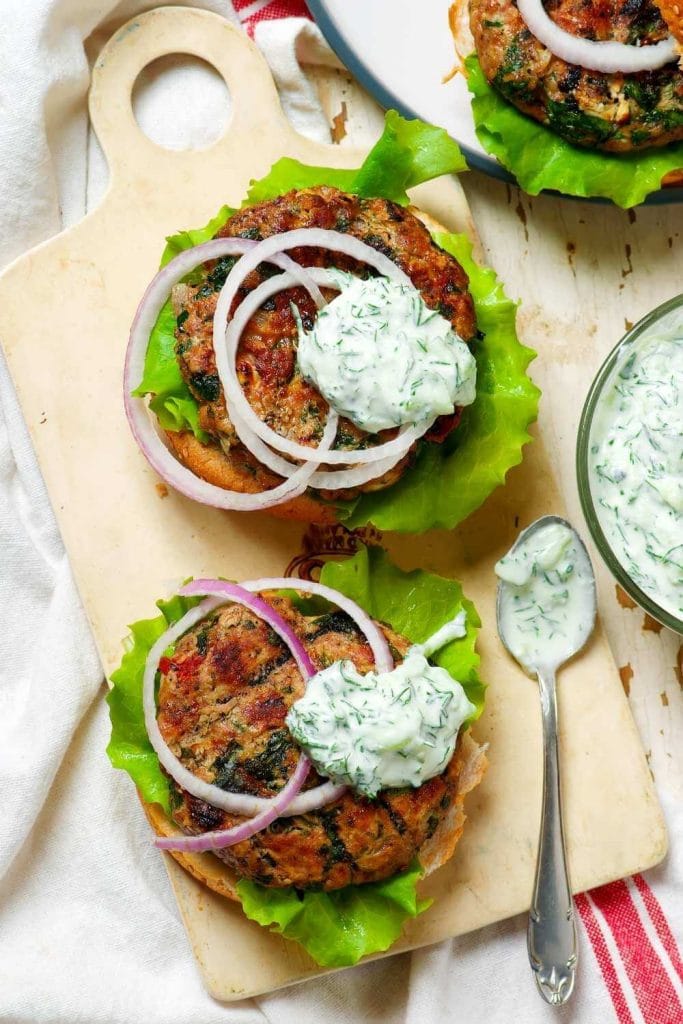 Ingredients That You'll Need:
Ground Turkey: If you're going to grill your turkey burgers, it's important to find ground turkey that isn't too wet.
Fresh Parsley: Turkey burgers benefit from the addition of parsley because of its bright, clean flavor. In the event that you don't have it on hand, you can omit it.
Worcestershire Sauce: Although it is not required, the burgers will be even more delicious if you add this delicious extra layer of flavor.
Onion Powder & Garlic Powder: Turkey burgers get their robust flavor from onion and garlic powders.
Salt and Pepper: You can't go wrong with salt and pepper when making turkey burgers.
Egg: The egg not only adds moisture but also helps bind the mixture, making for more succulent burgers.
In Place Of An Egg, What Else Could I Use In This Turkey Burger?
If you don't want to use an actual egg in your Turkey Burger, try one of these options instead:
1 tablespoon of olive oil.
2 tablespoons plain Greek yogurt.
2 tablespoons of ketchup.
1/2 cup grated zucchini (squeezed of excess moisture).
2 tablespoons mayonnaise (use vegan mayo for egg-free burgers).
What to Serve with Barefoot Contessa Turkey Burger?
How to Make Barefoot Contessa Turkey Burger?
Grilled Turkey Burger:
It's recommended to freeze the patties for 30 minutes before grilling.
Spread the patties out in a single layer in a baking dish lined with parchment paper, and place in the freezer.
For the best results, grill at medium-high heat with clean grates.
Cook the turkey burgers on the grill for 3 to 6 minutes on each side, or until they are thoroughly cooked.
Skillet Turkey Burger:
Put about a tablespoon of oil, such as olive oil, into your hot skillet or grill pan.
Cook the burgers for about 5 to 6 minutes on each side, or until they reach an internal temperature of 165 degrees Fahrenheit.
Typically, I cover the skillet with a lid while they are cooking on the first side to prevent overbrowning and ensure that they cook thoroughly.
Oven Baked Turkey Burger:
Use parchment paper to line your baking sheet to reduce the risk of sticking and facilitate cleanup.
Bake turkey burgers at 400 degrees Fahrenheit for 20 minutes, or until an internal temperature probe registers 165 degrees F.
Burgers should be flipped after the first 10 minutes of cooking time.
Note: Please keep in mind that the cooking time for Turkey Burgers will vary depending on the thickness of the burgers and the chosen cooking method.
What Toppings Are Good For This Turkey Burger?
Turkey Club: bacon, lettuce, tomato, and mayo
California Style: hummus, avocado, cucumber, and sprouts
Caprese Burgers: basil pesto, sliced tomato or roasted red peppers, and fresh mozzarella
Recipe Tips
Soak your hands in cold water before forming the patties if you don't want them to stick to your hands.
Keep the burgers in the fridge until just before you're ready to cook them.
If you want to be sure your burgers are cooked through, use a meat thermometer to see if they have reached 165 degrees Fahrenheit.
Prevent the patties from sticking to the grill by brushing them with olive oil before placing them on a hot grill.
Burgers should be refrigerated until just before cooking.
Set a slice of cheese on your burger 5 minutes before it's done cooking for melted cheese.
If you're looking for a low-carb alternative, lettuce buns make a great substitute for the bread.
FAQ Section
How Do You Know When Turkey Burger is Done?
Turkey burgers are done when their internal temperature reaches 165 degrees Fahrenheit. Always make sure that your turkey burgers are cooked to a well-done state.
Can My Turkey Burger Be Pink In The Middle?
Yes, it's fine if the middle of turkey burgers is still pink. The temperature inside the meat must reach 165 degrees Fahrenheit for it to be considered fully cooked. To kill the bacteria that cause food poisoning, heat to this temperature for at least two minutes.
How To freeze Turkey Burgers?
Place in the freezer for about 30 minutes, or until firm. Then, individually wrap each burger in plastic before storing them in a freezer-safe bag with a label and date. Chill for as long as two months. Burgers should be thawed in the fridge overnight before being cooked.
Why Is My Turkey Burger Getting Dry?
It's possible that overcooking your patties will result in a dry texture, so remove them from the grill as soon as they reach the desired internal temperature.
How Long Does Turkey Burger Last?
Your cooked turkey burger will keep well in the fridge for 3-4 days, or you can freeze it for up to 3 months. Allow the burgers to cool to room temperature before storing them in the fridge or freezer. To avoid any unpleasant surprises, reheat them after a full thawing.
Are Turkey Burgers a healthier alternative to regular hamburgers?
Beaver argues that ground turkey has a healthier fat profile than hamburger because it contains less saturated fat. Instead, ground turkey has a higher proportion of polyunsaturated fat, a beneficial and healthy type of fat.
How do you keep Turkey Burger from falling apart?
Add some dry breadcrumbs to the turkey mixture before forming the burgers. The egg acts as glue, and the breadcrumbs soak up the moisture to help your burgers hold their shape.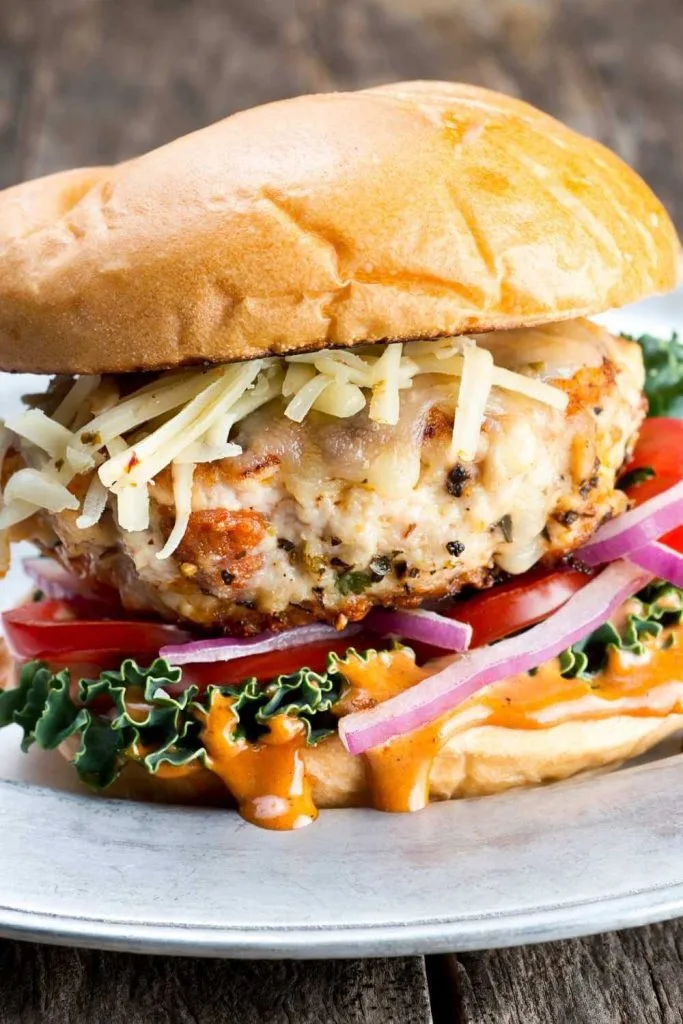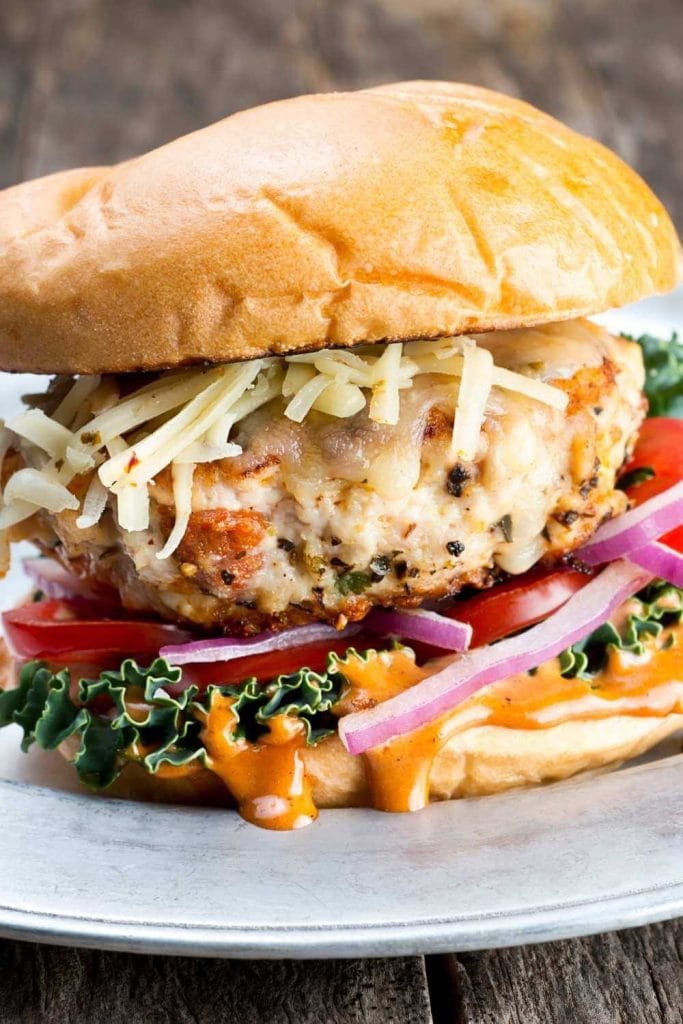 Barefoot Contessa Turkey Burger Recipe Nutrition Facts
Amount Per Serving
Calories 216.8
Total Fat 11.5g
Saturated Fat 2.9g
Cholesterol 87.5mg
Sodium 272.6mg
Potassium 264.7mg
Total Carbohydrate 2.6g
Dietary Fiber 0.4g
Sugars 0.3g
Protein 24g
Vitamin A 2.4%
Vitamin C 1.6%
Calcium 2.8%
Iron 10.2%
More Recipes: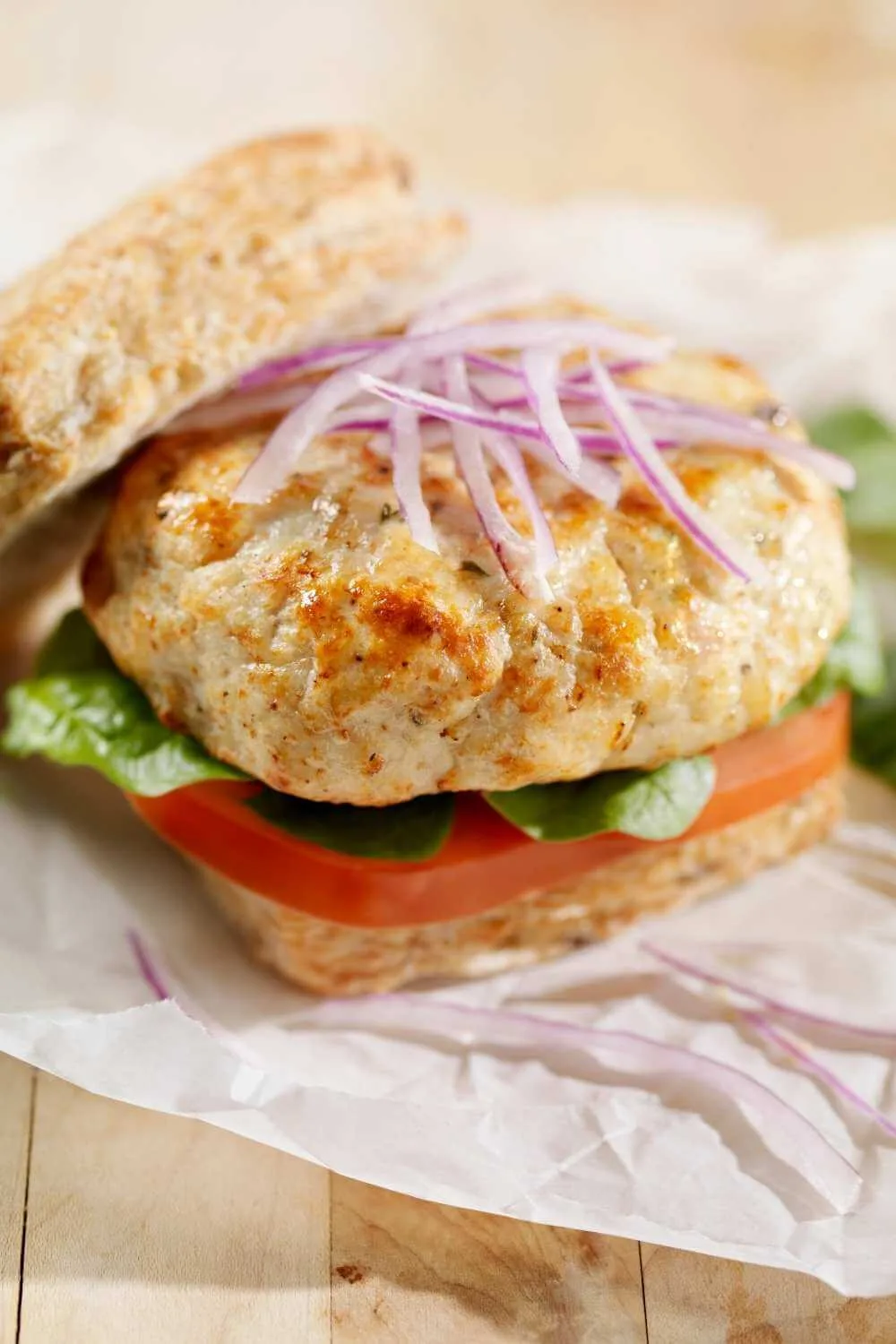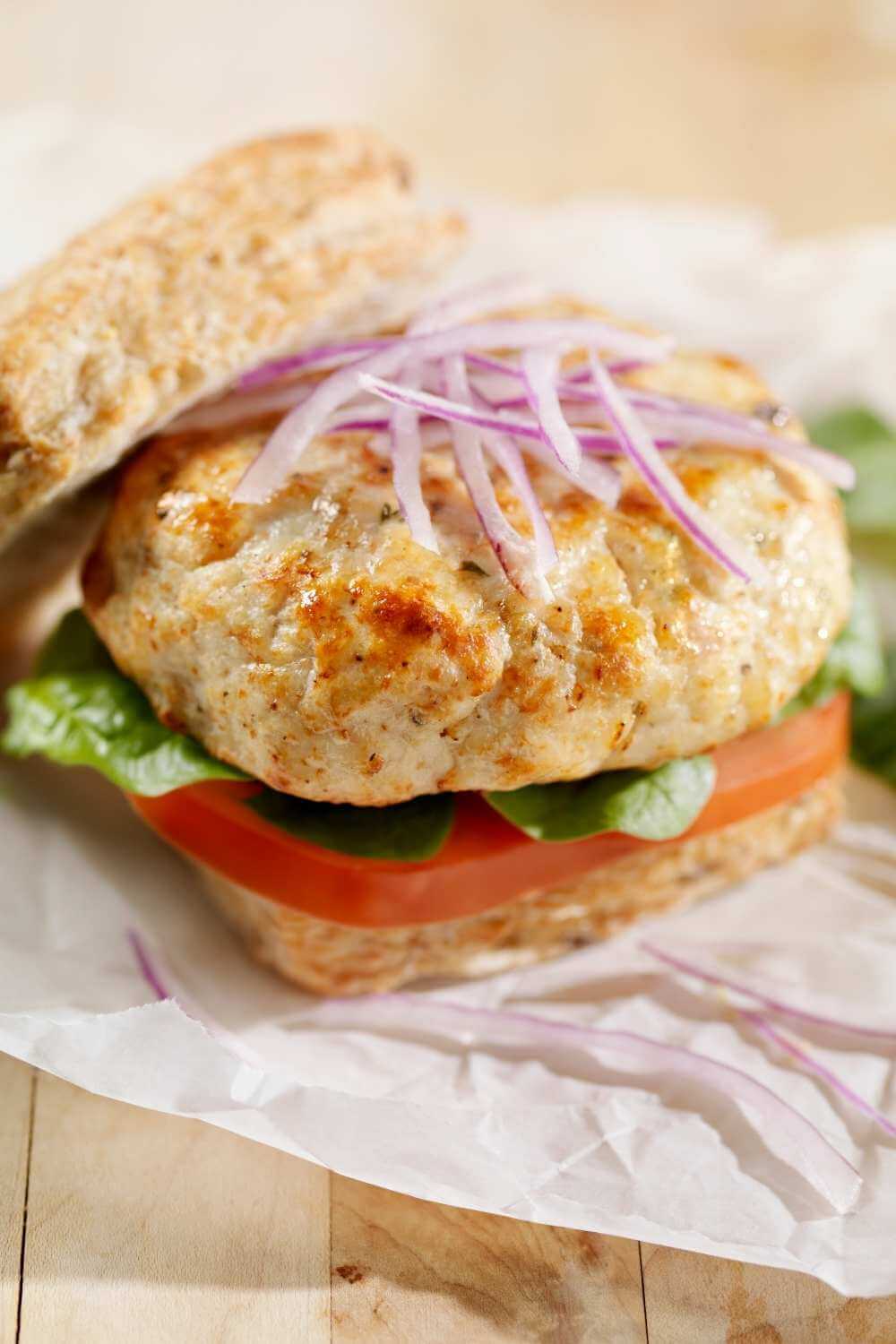 Barefoot Contessa Turkey Burger Recipe
Description
These burgers are held together and made more juicy by the addition of an egg. The seasoning for these turkey burgers, made with just a few simple ingredients, is absolutely delicious.
Instructions
In a large bowl, combine the egg, parsley, Worcestershire sauce, garlic powder, onion powder, salt, and pepper. Mix with a fork to combine.
Into the same bowl, go ahead and add the ground turkey and mix gently with the fork until just combined, make sure not to overwork the meat.
Divide the turkey mixture into four equal portions and shape it into 1/2-inch-thick patties.

Grilled Turkey Burger

Since turkey tends to be more delicate than beef, you'll want to freeze the patties for about 30 minutes before grilling. Arrange the patties in a single layer in a parchment paper-lined baking dish and freeze.
Ensure that your grill grates are clean and that the grill is heated to medium-high temperature. Oil the grill grates well to prevent sticking.
Grill your Barefoot Contessa Turkey Burger for about 6 minutes per side, until they are cooked through.

Skillet Turkey Burger

Heat up your skillet or grill pan on medium heat and add about one tablespoon of olive oil or other cooking oil.
Cook the burgers for 5 to 6 minutes on each side, until they're cooked through. I usually cover the skillet with a lid while they cook on the first side so that they cook through without over-browning.

Baked Turkey Burger

Line your baking sheet with parchment paper to prevent sticking and to make cleanup easier.
In a 400°F oven, bake turkey burgers for about 20 minutes, or until they reach 165 degrees F.
After the first 10 minutes of cooking, flip the burgers over to the other side.
Barefoot Contessa Turkey Burger Recipe, Ina Garten Turkey Burger Recipe, Turkey Burger Recipe
Servings 6
---
Amount Per Serving

% Daily Value *

Total Fat 11.5g

18

%

Saturated Fat 2.9g

15

%

Cholesterol 87.5mg

30

%

Sodium 272.6mg

12

%

Potassium 264.7mg

8

%

Total Carbohydrate 2.6g

1

%

Dietary Fiber 0.4g

2

%

Sugars 0.3g

Protein 24g

48

%
---
Vitamin A

2.4

IU

Vitamin C

1.6

mg

Calcium

2.8

mg

Iron

10.2

mg
* Percent Daily Values are based on a 2,000 calorie diet. Your daily value may be higher or lower depending on your calorie needs.