Sandwiches can be a great side dish for chicken noodle soup if they are crispy, savory, and worm, like grilled cheese sandwiches, or BBQ Ham sandwiches.
They are a great snack to go with your chicken noodle soup, since they do not take very long to prepare, in addition to adding more flavor to your dinner.
So in this article, we are going to share the top 20 sandwiches recipe that you can serve with chicken noodles soup.
Egg salad is such a classic that combines really well with chicken noodle soup, and while you might not have a desire to take it with you on your next flight or train, there is no denying it's creamy and delicious.
I love the idea of mashing cooked yolks with chopped egg whites and mixing them together.
There is no better way I have found to get that fantastic yolk flavor in every bite and a silky smooth texture every time.
Whenever I have a craving for grilled cheese late at night, I turn to white bread or sourdough bread as my go-to bread. To make sure that you can hold all of the cheese inside, you simply need to ensure that your bread is thick enough and sturdy enough.
There is nothing better than a nice white bread that grills so nicely and neutrally that the cheese takes center stage.
A grilled cheese sandwich is also perfect for an artisan bread that is nice and crusty. Ensure that the pieces are not too lacey and open, as well as not too dense and thick.
Brioche or challah would be excellent options. The slices need to be thin so the cheese can melt, but not so thick that the cheese does not melt.
If you serve it with a warm soup, it is sure to put the dinner on a whole new level of deliciousness.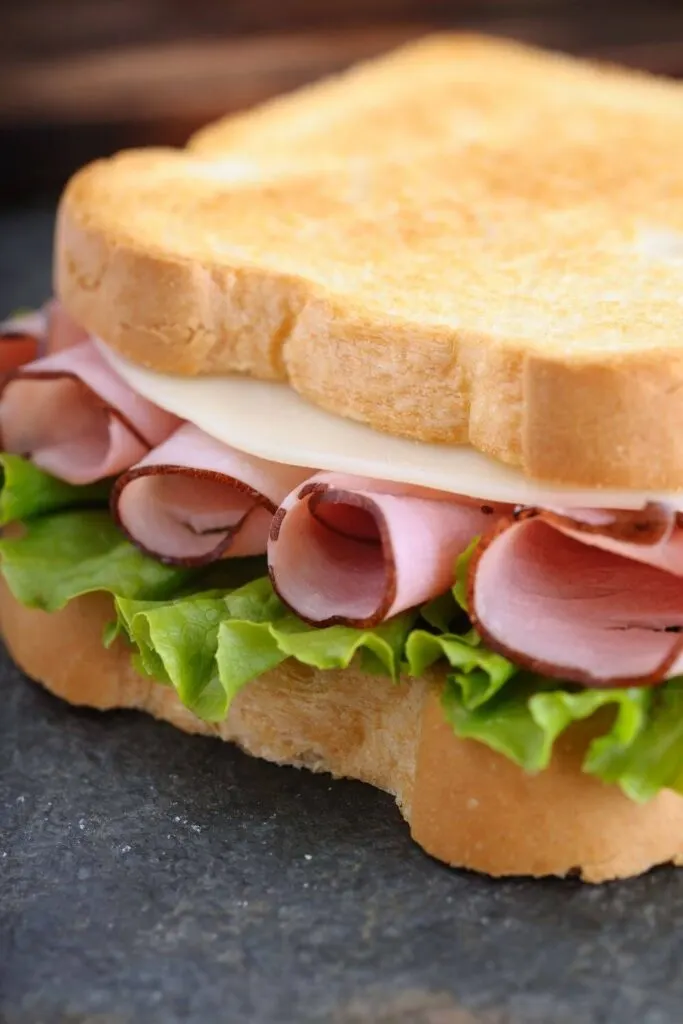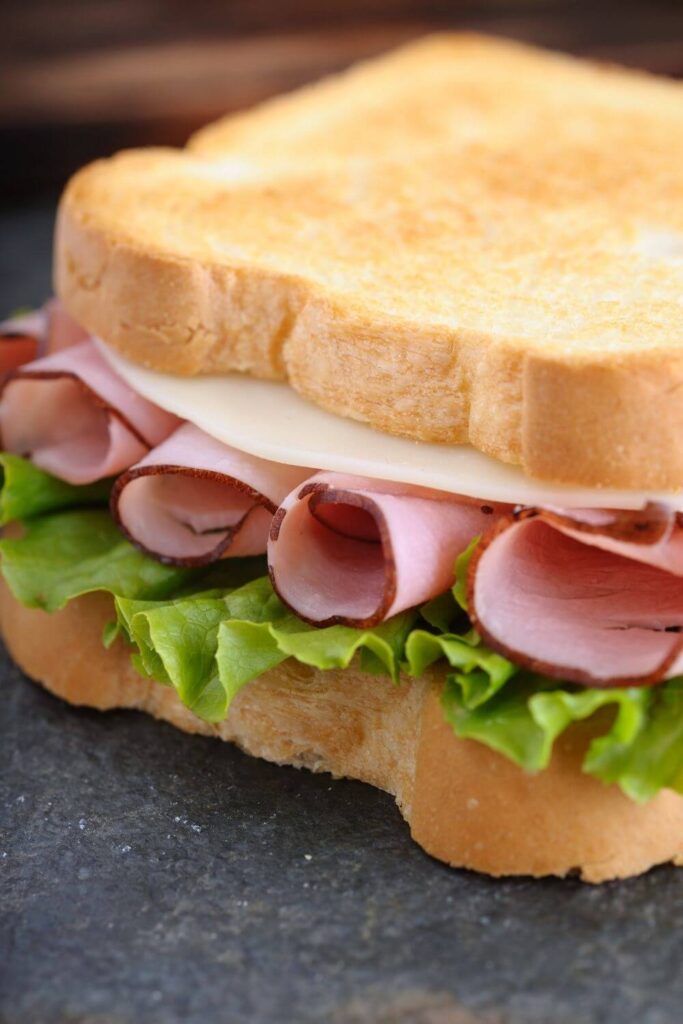 There is no doubt that this claim is bold, and, no doubt, some of you will disagree with it. However, in my opinion, this sandwich is pretty remarkable. It may seem like a strange idea that a ham sandwich would work well with chicken noodle soup, but trust me it's a really tasty combination.
The combination of the crusty bread and the spicy pepper jam won me over.
If you combine that with a bit of salty ham and some tangy goat's cheese, you'll create a flavor combination that will blow your mind.
In my time working in a small vegan cafe, I was fascinated by how they used chickpeas in their recipes. For example, do you know of any recipes using chickpeas? You will be blown away by what you will find!
Among all the items that I tried, the sandwiches were my favorite. It is because chickpeas are so mild in flavor that you can add so much great stuff to the mix.
If you mash them, you'll get something similar to the texture of mashed potatoes and then serve it with noodle soup.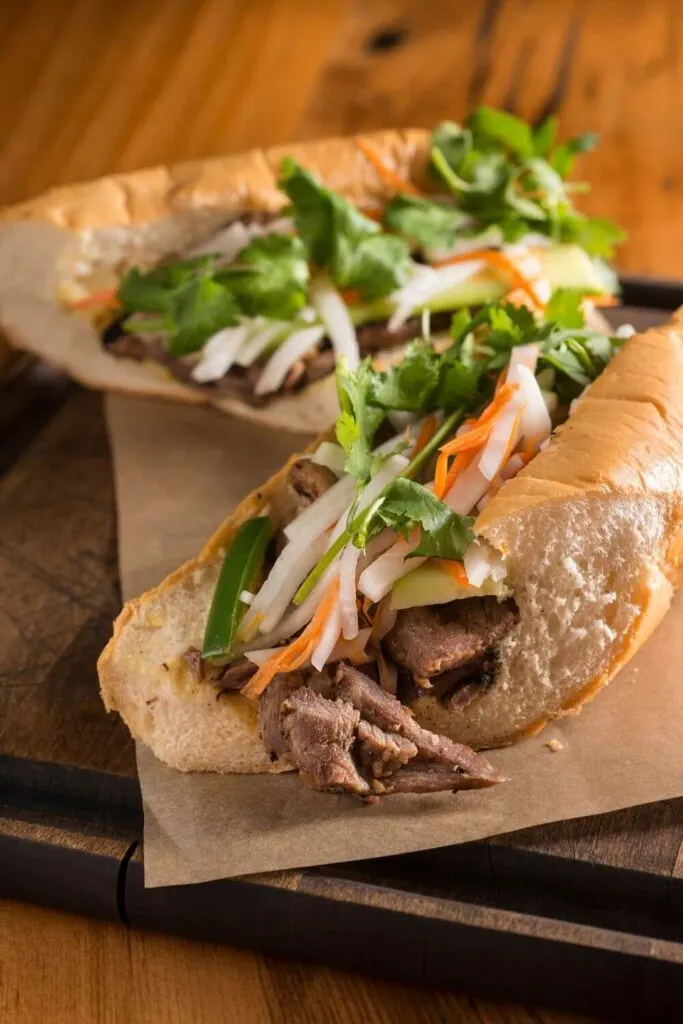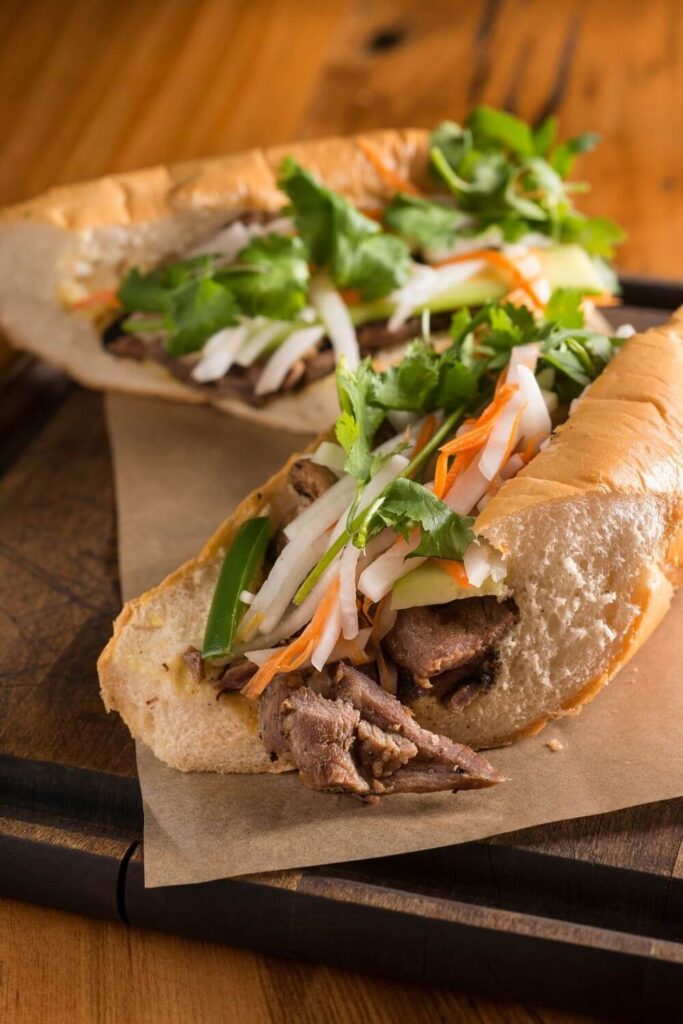 Often referred to as a baguette-style sandwich, banh mi is a Vietnamese word that means "bread."
It's a hugely popular street food usually containing pickled carrots, mayo, daikon, chiles, cucumber slices, and some protein.
In order to make this recipe, you need tofu, but you can also use any other vegetables that you may have in your pantry.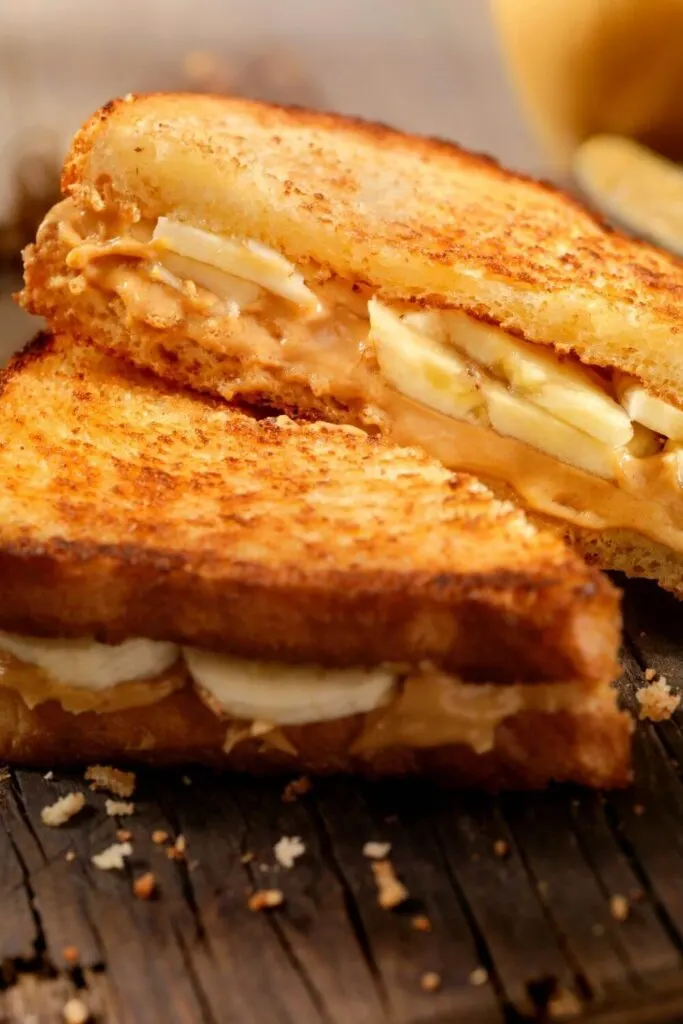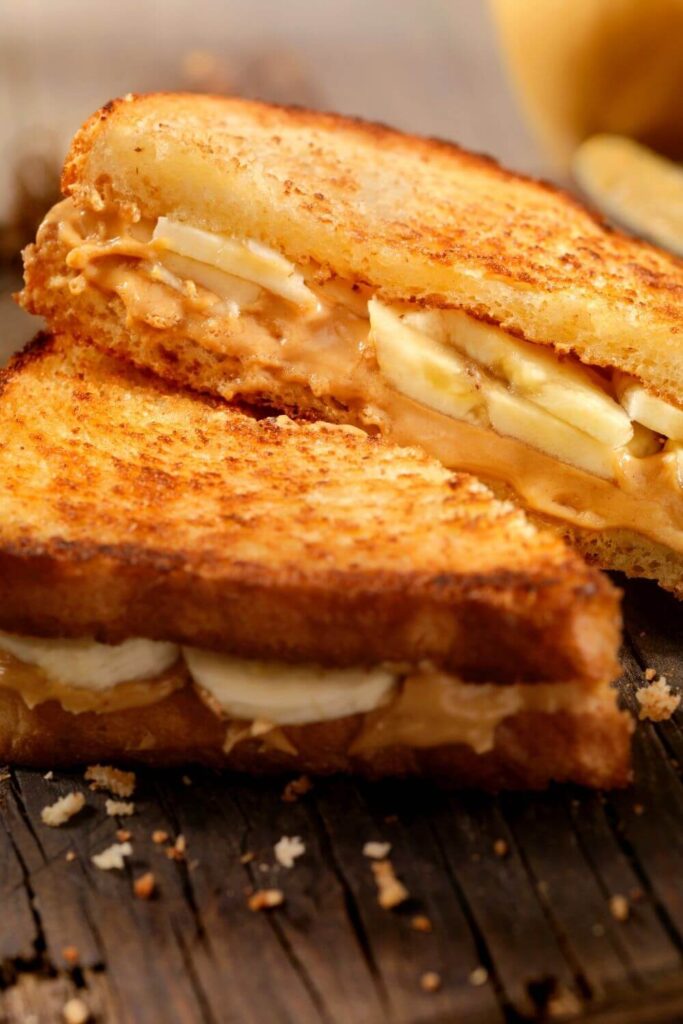 We have already talked about this sandwich before, and I know you were intrigued by it at the time. I think we've reached a time when there is no better time to do this than now!
There is no question that Elvis knew what he liked, and he liked a lot of indulgent stuff.
This sandwich not only contains peanut butter and bananas but it is also topped with bacon and drizzled with honey as well.
It' can be different from usual but it can be good to serve with chicken noodle soup.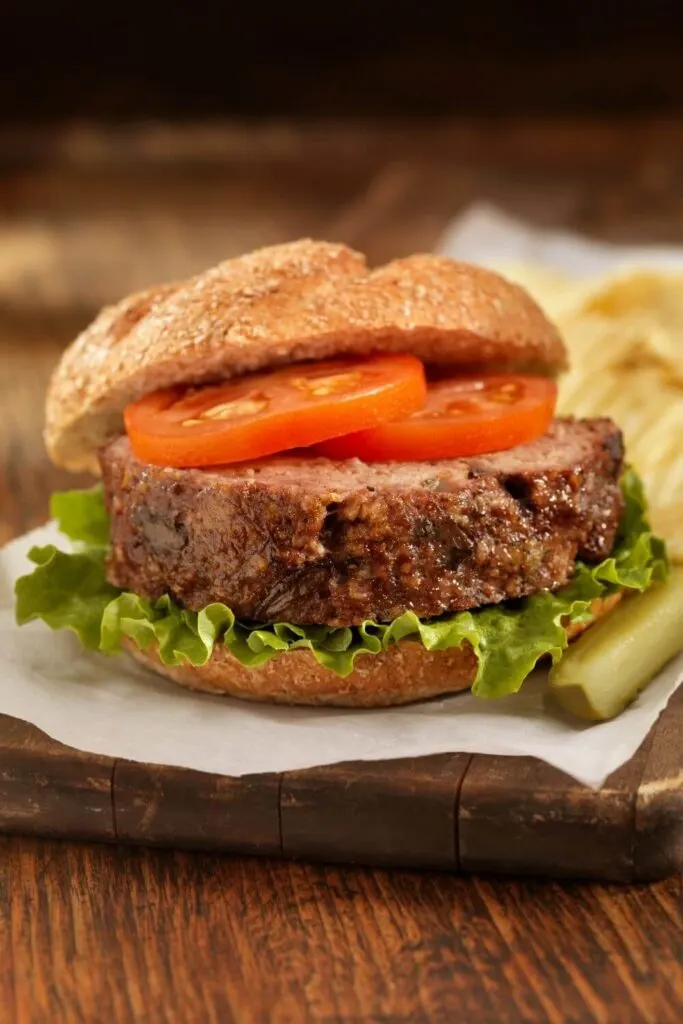 In many ways, this sandwich is similar to a burger, and I appreciate the way it uses sliced bread rather than a thick bun, making it a great alternative to a burger.
I believe that meatloaf is incredibly flavorful, in my opinion, and it makes for one delicious faux burger.
A thick slice of sourdough bread would be better than a burger bun for this, but you can use a burger bun as well.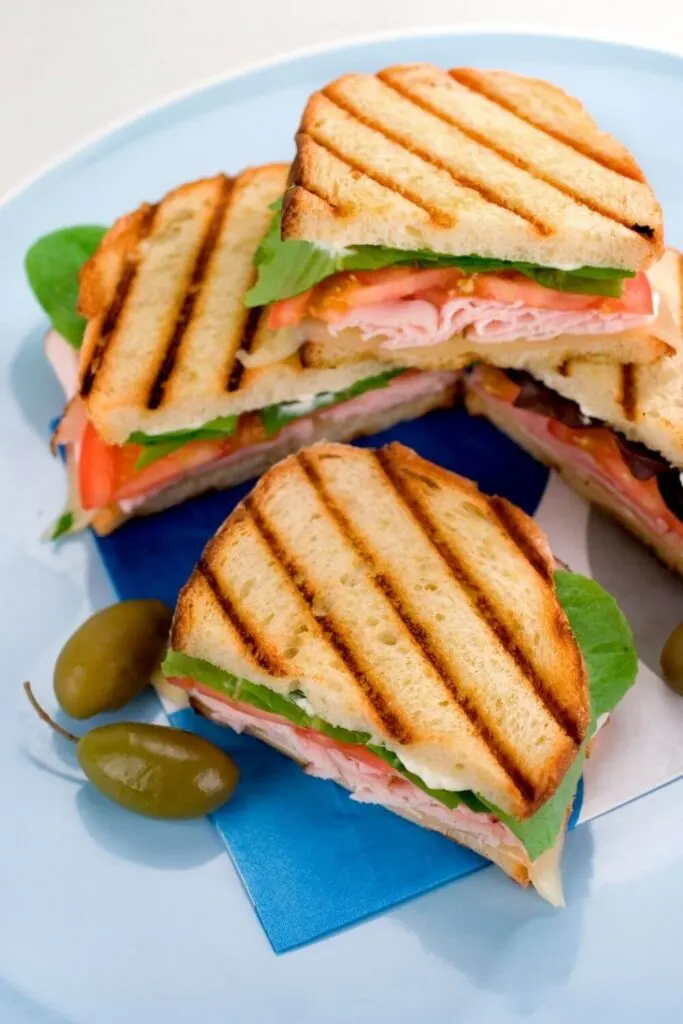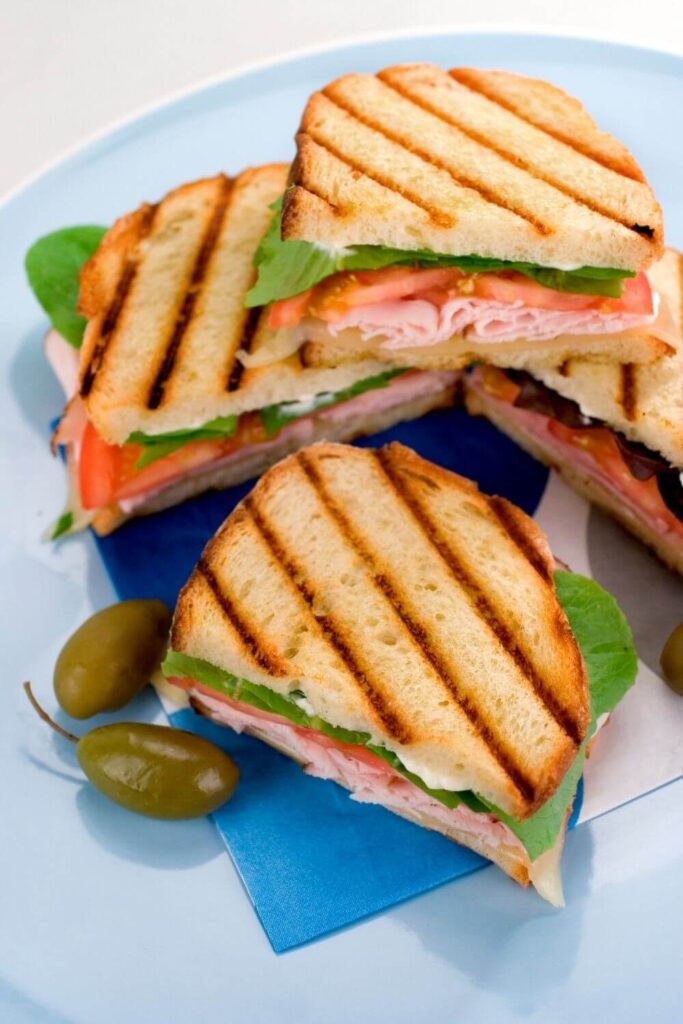 The funny thing is that if we see this on a menu, we'll go home and try it out, but if we see it in a grocery store, we'll stay away?
These are so simple to make, and the sweet and salty flavors will elevate your sandwich game in no time at all.
If you want to get fine slices of apple, you could either use a mandoline to make sure you get those thin slices or you could dice the apples and mix them with the mustard for a chunky spread. That would be good with soups like chicken noodle soup.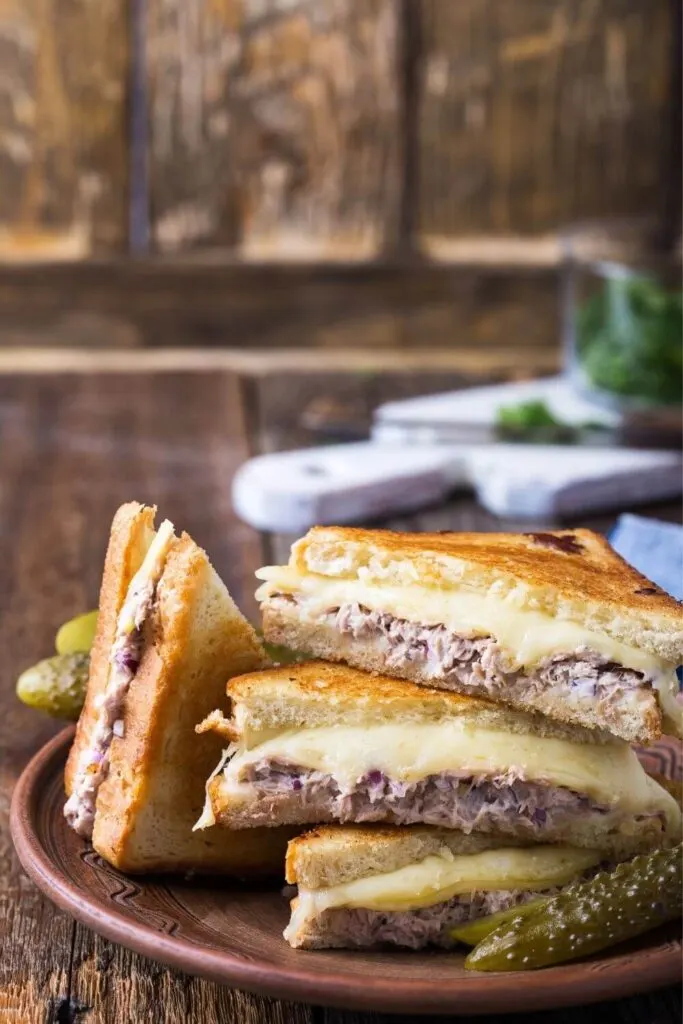 Honestly, I'm not a big fan of tuna melts, mainly because I find them to be a bit overpriced. It's not sure if it is the smell, or the combination of tuna and cheese, but it just does not work for me.
The thing about these is they are wildly popular, so I had to include them here for those who love tuna!
This toasted English muffin melt looks delicious even to me and I have to admit that it looks pretty good. Maybe they will win me over!
At first, I was skeptical about the whole thing. A sandwich with spaghetti on it? The taste may not be to everyone's liking, but I can't lie; it's actually pretty good.
Having spaghetti with meat sauce and lots of cheese is one of my favorite meals, and I usually include a side of garlic bread as well. With this convenient package, you get all of those things!
Another great sandwich to pair with chicken noodle soup is the grilled potato sandwich. This is a carb-lovers dream. It's a sandwich with potatoes in it. That sounds wonderful to me.
This is one of my favorite recipes and I make it quite often. I love the spicy flavor. Normally I don't have leftovers, but when the occasion arises, this is the best way to make sure that they are all used up.
You simply mash them a bit and add a little bit of cheese and you will have such an interesting and tasty grilled sandwich.
My childhood memories are so nostalgic when it comes to sloppy joes. When I take a bite, I feel as if I am transported back to those summer camp days.
The perfect comfort food meal would consist of a crispy chicken sandwich paired with fries, chips, a bowl of chicken noodle soup, or some crunchy pickles.
For this recipe, it is best if you use brioche rolls as they are softer, and you won't have to worry about the filling leaking out as you bite into them.
The only thing you need to worry about is making a mess since these are called sloppy joes.
There are so many veggies in this mixture which make it so great for bulking up.
The kids will not even know that you are using anything but fresh tomatoes and squash because you can use anything from diced carrots to peppers.
There is nothing quite like this vibrant sandwich full of goodness, and you will not miss the meat at all.
With its combination of thick and juicy tomatoes, grated carrots, spinach, and slices of cucumber, it is a deliciously filling dish that can be eaten with chicken, noodles, or soup.
The hummus that I use as a sandwich spread adds a bit of flavor as well as moisture into the sandwich mix. By omitting the cheese, the sandwich can even be made vegan.
If you want the dish to have a cheesy, savory flavor, replace it with a sprinkle of nutritional yeast.
There's something about club sandwiches that just gets to me. You can almost always count on me ordering it if it's on the menu.
In my opinion, the best way to serve mine is with some grilled chicken and some avocado, but turkey or ham is a great option as well. But the key to making a perfect club sandwich lies in the bread that you use.
So, I suggest having one, two, or three slices! When you don't add the middle piece, you won't be able to assemble your sandwich properly, and things will start to slide out of place.
I had never seen this recipe before, and boy am I glad I did. It was a recipe I would definitely use again. What about you, are you a fan of mozzarella sticks? In that case, you're in luck.
The only thing you will need is some white bread and some slices of mozzarella, then you can dredge it in some egg and breadcrumbs, as you would with chicken tenders.
It is always fried to perfection so the whole thing is golden and crunchy on the outside, with an ooey-gooey, cheesy center inside. You have no idea how much Is a tasty mozzarella sandwich with chicken noodles soup.
I suppose that these are more like wraps than sandwiches, but I like to believe that they're all part of the same family of foods.
In spite of the fact that falafels are super tasty, putting them in bread might be a little too much. There is no better way to hold all of that together than to use the lighter wraps.
Alternatively, if you are not a huge fan of tahini, you can use mayo or Greek Tzatziki Sauce is another excellent choice to complement the falafel and salad.
Those of you who are suspicious of this wonder fruit, I sympathize. That's what I thought as well! The only question is, how is it possible that it tastes like pulled pork?
However, it is true, you guys!
The jackfruit has a very meaty texture, so if you cover it in BBQ sauce, you might think that you were eating meat, and I'm sure you would fool the most avid meat eater. Besides, it creates a perfect sandwich side for a bowl of noodle soup with chicken and cheese on top.
I recommend you book your flight to Miami ASAP if you have never had a Cuban sandwich!
The salty, pickle-loaded sandwich was my first and I fell in love with it.
As long as there's ham and pork on the menu, you don't have a chance of going vegan. In case you are not a fan of pickles, I suggest you move on to the next because they are equally essential.
You can fill up on cauliflower steaks even if you're not a meat-eater (or trying to cut back).
For something truly decadent, top it off with some vibrant Romasco sauce as well as garlic greens.
I have made a similar romesco sauce, but I have used breadcrumbs instead of almonds if you want something nut-free.
If you are allergic to nuts, you can still enjoy the same great, thick texture without having to worry about it.
When it comes to Chicken Noodle Soup, this sandwich can be paired very well
There is absolutely nothing more cute, crisp, sweet, or healthier than these little fruit stacks than a carb-loaded sandwich.
One of the best things about these is you can indulge in some peanut butter, or even Nutella, without having to worry about overeating.