Two Ingredient Sherbet Punch! Perfect for your next party.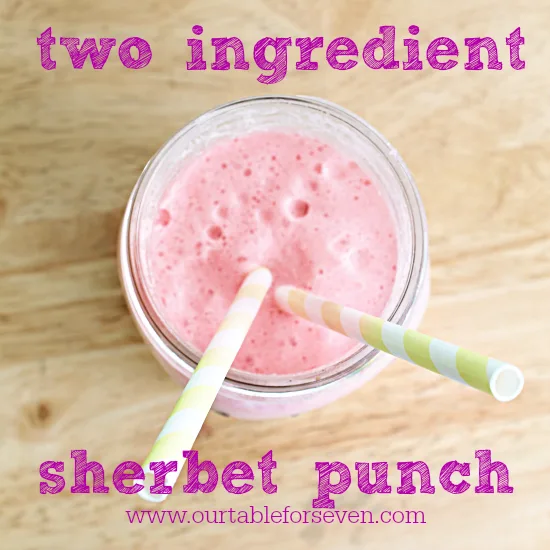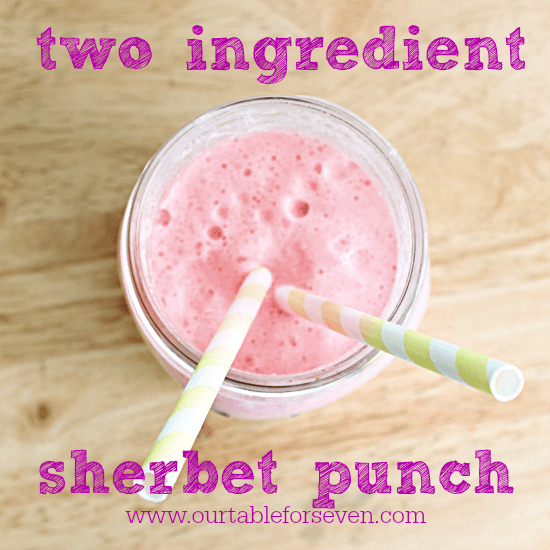 A few weeks ago, we had the first family party at our house.
Three of my kids have spring birthdays and we had a combined, birthday celebration and people-wanting-to-see-our-new house party. It was about 35-40 people? I can't remember the exact number, but, the house was full.
My dilemma with these parties is always what to serve people to drink. We get juice for kids, but, I don't like getting pop (or soda, depending on where you live). After a party, all there seems to be left is cans of soda left all over and they are always half-full.
Kinda frustrating.
Same with liters. Half-full cups everywhere. Water seems to do well, but, it's a party. Let's just serve water? Sounds like a blast, doesn't it? 🤔
So, for a change up, my mom suggested punch.When I was a kid, she made this punch for all types of parties. Kid parties, as well, as adults. Well, the adult parties did a little something of the alcohol variety poured in with it, but, the kid parties were always just the two ingredients.
Pop and sherbet. That's it!
I'm so glad I made it. It was a huge success. HUGE. People were super sad when it was gone. So was I. That's why the kids and I made another batch on just a random, sunny, Tuesday afternoon to enjoy it again 🙂
It's great fun and does help cool you down. The perfect addition to your warm weather parties!