Forget frozen, store bought or the take out version! Make crunchy homemade chicken egg rolls right at home in your air fryer, oven or stove top. Great for dinner, lunch or snack.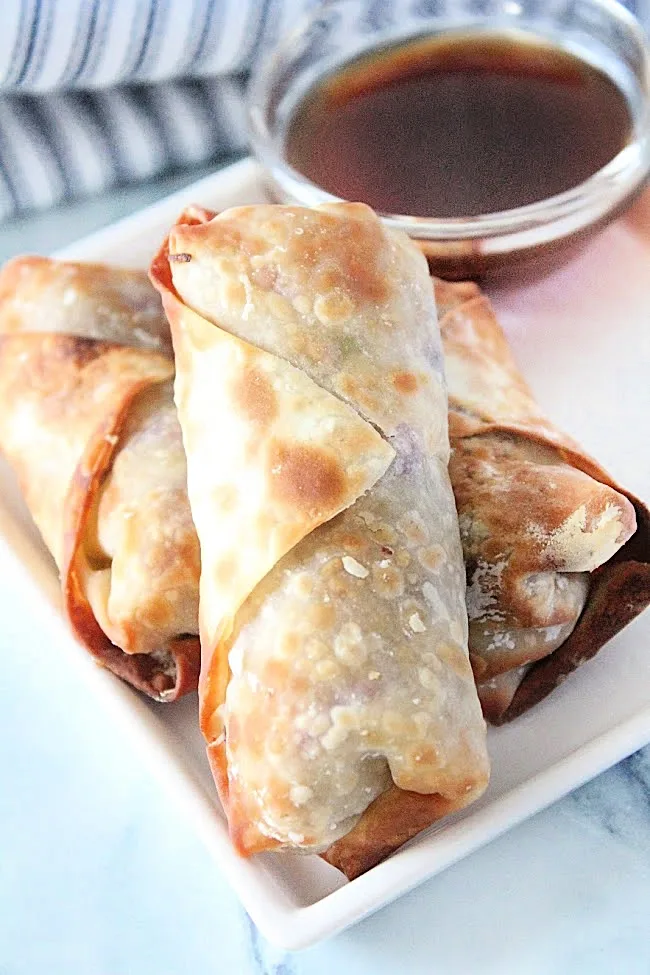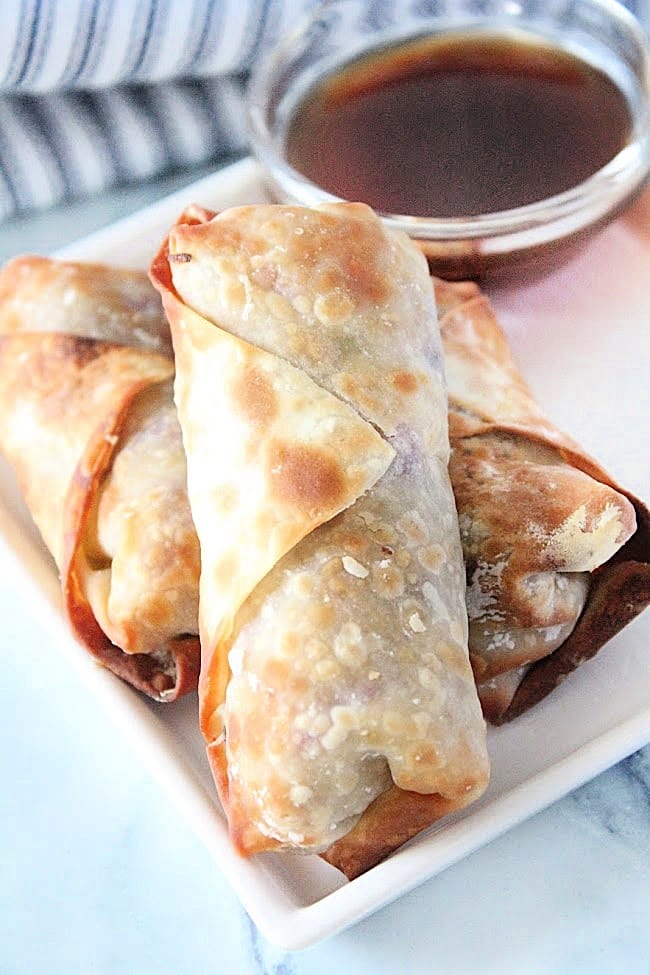 I do love a good dose of take out now and then. OK, more than, now and then. I like a good dose of take out quite often. While it's always nice to have somebody else make dinner, it is healthier and cheaper to make a few of our favorites at home.
Egg rolls included.
Ingredients Needed:
Ground chicken or pork
Cabbage mix with shredded carrots
Minced garlic
Ground ginger
Soy sauce
Oil ( canola/olive/vegetable)
Flour
Water
Egg roll wrappers
Oil, if you are frying
For Sweet & Sour Sauce:
Sugar
Ketchup
White vinegar
Soy sauce
Garlic powder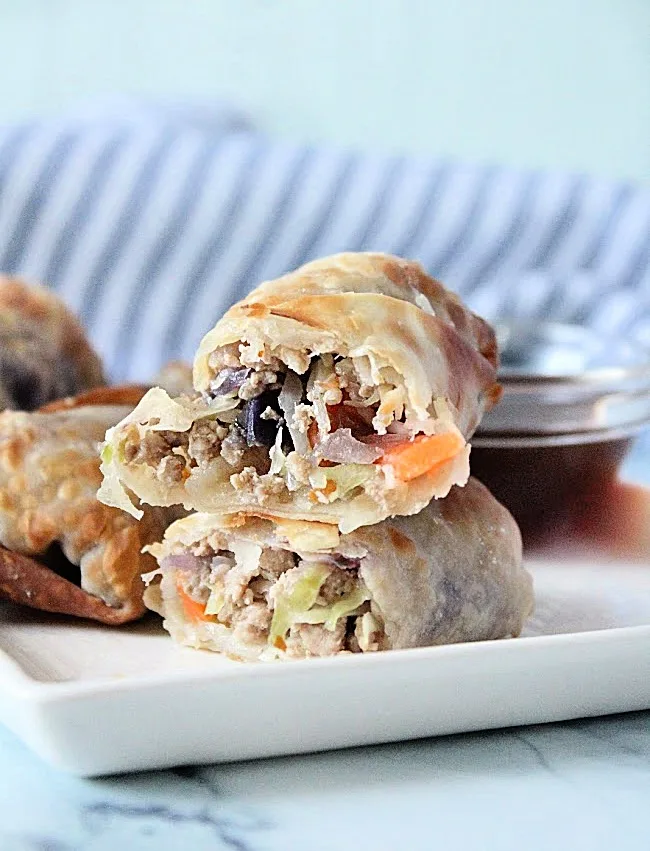 Ground Chicken or Pork: The recipe card is noted for ground pork. If desired, you can use ground chicken as a replacement. However, the nutritional information below may differ.
Cabbage Mix: I simply grab a pre made bag from the produce section at the grocery store. You can find them in the same area as the pre made bags of lettuce/salad kits.
Egg Roll Wrappers: In my grocery store, these can be found in the produce section. However, they could be different in other stores. Just be sure you get egg roll wrappers, not wonton wraps! The wonton wraps are much smaller.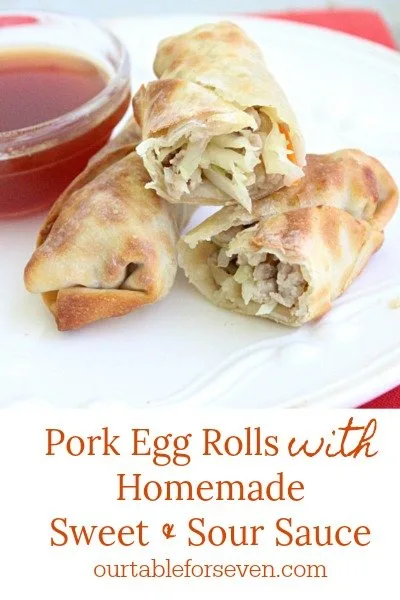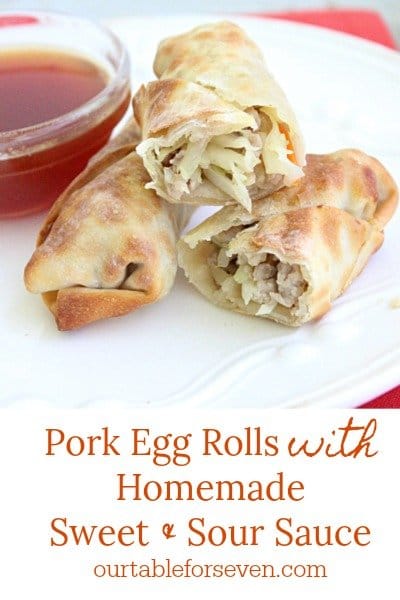 How to Make:
First, cook ground chicken in a large skillet until no longer pink. Use a spatula or wooden spoon and crumble the chicken as it cooks. Add in the remainder of ingredients, with the exception of water and flour. Continue cooking until everything is well combined and heated.
Then, mix the flour and water together in a small bowl. This is going to be your "glue" to seal up the egg rolls.
Next. scoop 1/4 cup of the mixture and place it diagonally in to the wrapper. F

old bottom corner over filling. Fold in both sides of wrap. Roll tightly and seal with a flour/water mixture.

Need a visual? See below video. 🖒
For Air Fryer:

Lightly spray the basket of your air fryer with non stick cooking spray. Cook 2-

3 rolls at a time for just 5 minutes at 390 degrees. If you can fit more in your basket, that's fine. Just don't overcrowd the basket.

For Oven: Preheat oven to 425 degrees. Grease a baking sheet lightly. Bake rolls for 10-15 minutes or until browned. Turning half way through cooking time.
For Frying in Oil: Pour canola oil into skillet about 1/4-1/2 way. Heat oil to approx 350 degrees. Carefully place rolls in oil. Cook for 2-3 minutes on each side or until browned. Remove carefully and drain on paper towel.
A few last notes:
For Air Fryer: Cooking time may vary, depending on your brand of air fryer.
These egg rolls freeze great! Keep them in a freezer safe container or storage bag and they will be good for the next few months. Simply reheat them in your oven when you are ready to enjoy them. I wouldn't recommend using the microwave to reheat, as it might make your egg rolls soggy.