Country Fried Pork with White Gravy is a classic! Crispy fried pork with a creamy white gravy.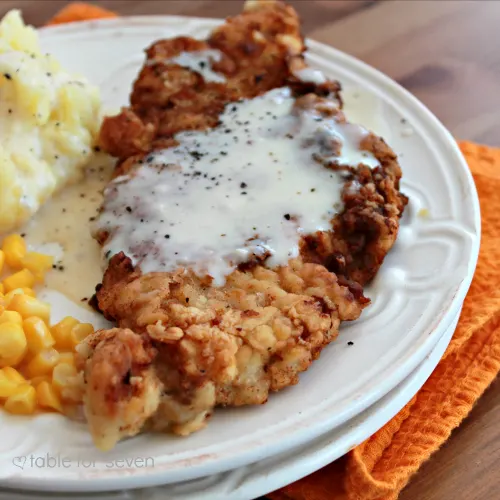 Are you ready for the weekend? I am!
As the school year gets closer to ending, it's getting tougher each day to the kids and myself motivated to head out the door every morning.
Is that happening at your house too?
I blame the enormously long and dragged out winter. It seems to just knock everyone for a loop. My 10 year daughter asked to stay home from school today. She just didn't feel like going. I just had to let her stay home. What's the harm, right? Everyone needs a break every now and then.
This weekend will bring rain, but, warm temps. I'll take it!
OK..let's talk about comfort food. Got some for ya' today.
Yes, that is a ginormous size of pork, isn't it? They were my great sale find a few weeks ago. Buy 1 pack, get another 1 free. Plus, each pack was butchers special..$1 off. Such a deal!
Oh,they are actually not pork chops. They are a pork-cubed-steak-type of tenderloin. (If it's not chicken, ground turkey/beef or pork chops, technical meat names are not my thing..so sorry)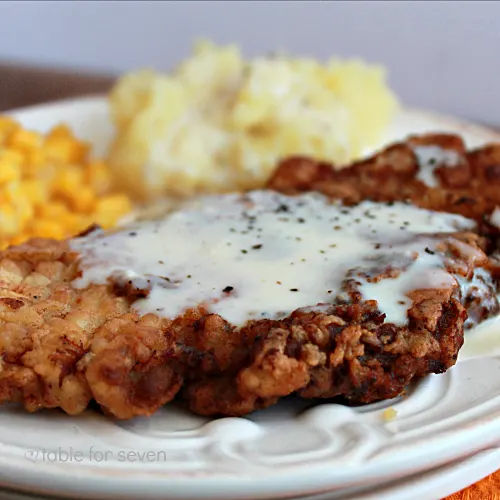 You can also use this recipe for actual pork chops or beef. What ever floats your boat. You are essentially deep frying your meat, therefore, whatever kind it is, it'll be good. 😉
It's served up with a basic white gravy that goes perfectly with it. Add in some mashed potatoes and corn..you got yourself some great dinner.
This Country Fried Pork with White Gravy is comfort food at its best!
Happy Friday 🙂