Classic pound cake with the added bonus of chocolate chips.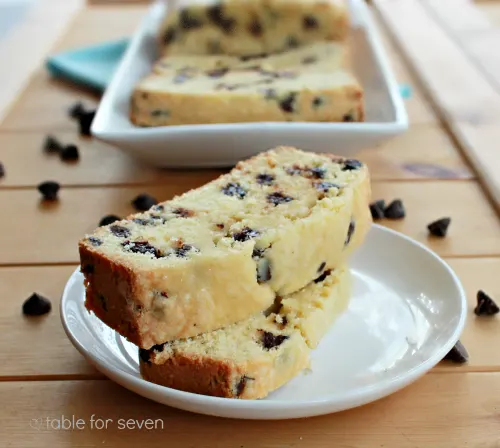 Isn't pound cake a wonderful thing?
It's pretty much flour, eggs, butter and sugar. So simple,delicious and great for just about any occasion. You can dress them up or just leave it plain. Yum. 😋
This pound cake is a pretty simple recipe. Nothing too fancy or flashy. Although, it is packed full of chocolate chips and you can't go wrong with chocolate chips. Not possible, guys.
Add chocolate chips to something and it's instantly better. That's the honest to goodness truth.
Here is what you do:
Grease a 9 inch loaf pan, well. You can use butter or a non stick cooking spray, but, just be sure to grease it well.
Whisk your dry ingredients in a medium size bowl. Then, set aside.
In a mixing bowl, beat your butter until fluffy. Make sure your butter is softened! It makes for smoother batter and a lighter cake.
Add in eggs and egg yolks. The eggs are for holding your cake together and the egg yolks are for a sweeter and more moist cake. So, don't forget to separate your eggs.
Gradually, add flour into your wet ingredients. Don't over mix your batter..only mix until your ingredients are fully combined. Then, you will fold in the chocolate chips.
Bake!
Be sure to let the cake cool for a good 20-30 minutes before removing from the pan. Then, still let it cool another 15-20 minutes before serving. A cooler cake will hold together better.
Simplicity at it's finest. 😉
Go make this Chocolate Chip Pound Cake and find yourself some simple happiness!