Soft croissants soaked in a sweet cream custard and topped with two kinds of chocolate! This bread pudding is a decadent treat that is best served warm with a dollop of whipped cream or vanilla ice cream.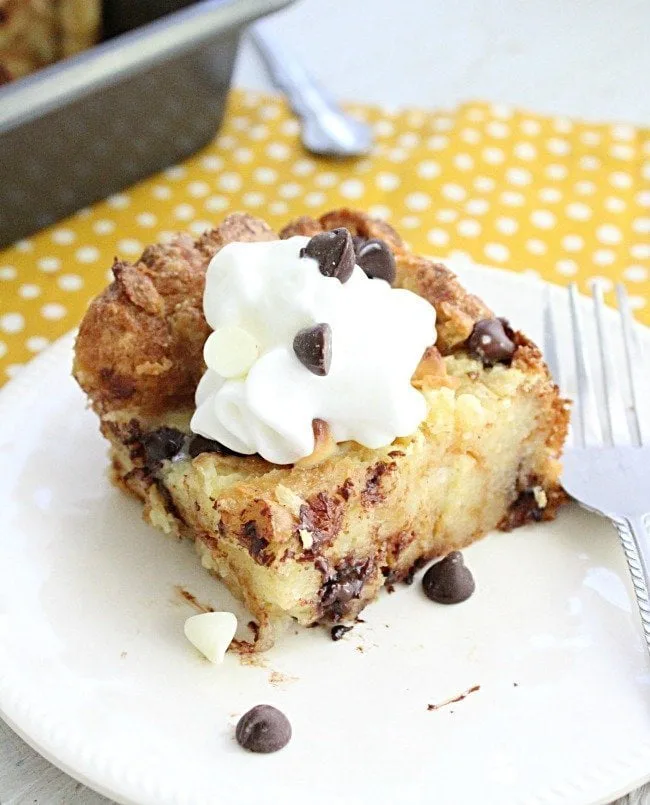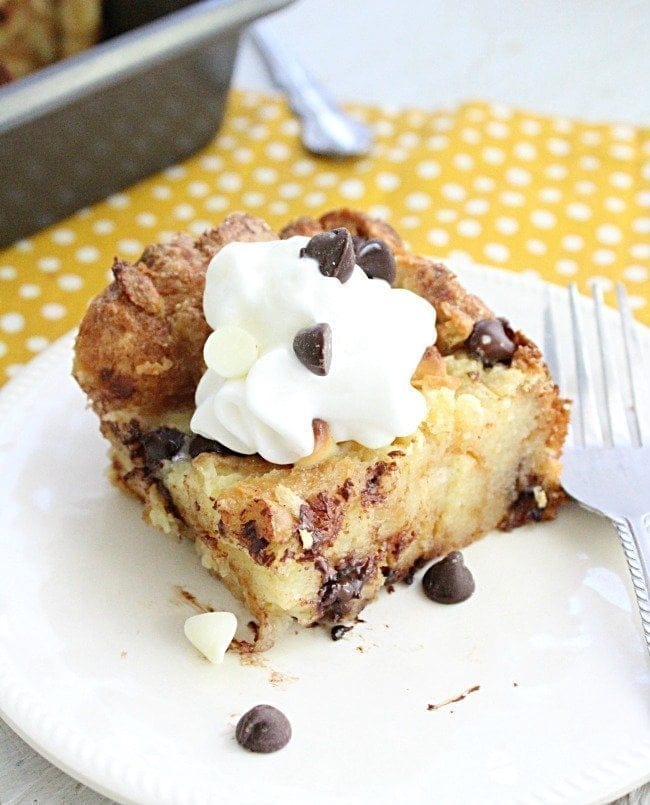 Is it Wednesday already?!
Goodness, this week has been crazy busy. I'm taking somebody, somewhere every day this week and it's been a bit of a whirlwind. So, I apologize for missing my regular scheduled Monday post! Honestly, I just never had a chance to sit down and get it done.
#Crazy 🤪
We do, however, have a super amazing dessert for you today…bread pudding!
This bread pudding is a little different, it's made with croissants, instead of regular bread. It's also topped with two kinds of chocolate chips, plus, it's decadent and delicious.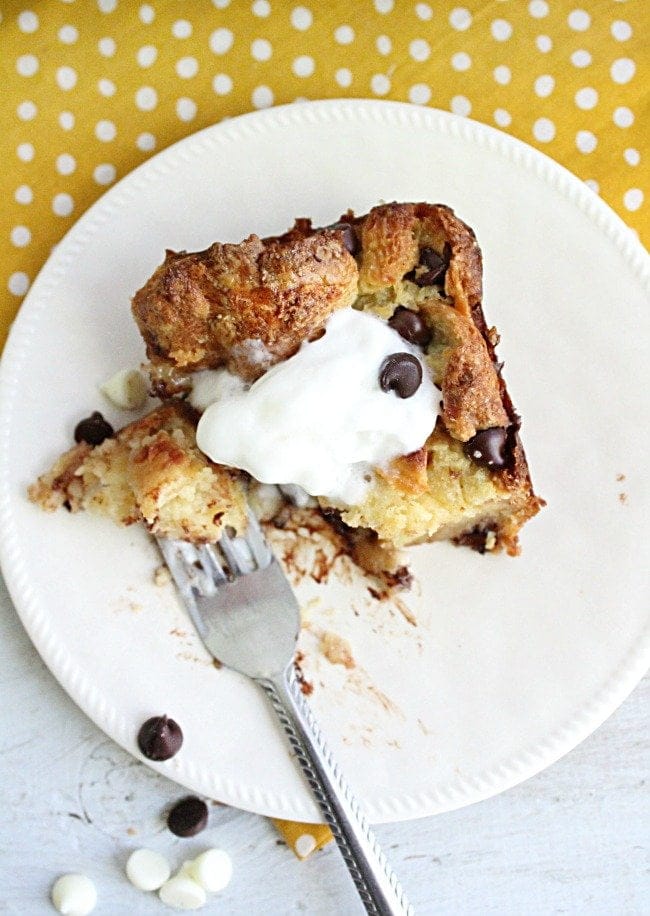 What Do I Need to Make Croissant Bread Pudding?
🗸 9 x 9 baking pan + non stick cooking spray
🗸Large mixing bowl.
🗸 Wire whisk.
🗸 Wooden spoon.
🗸 Croissants.
🗸 Baking chips ( semi- sweet and white chocolate)
🗸 Egg yolks.
🗸 Milk.
🗸 Whipping cream.
🗸 Vanilla.
🗸 Ground cinnamon.
🗸 Sugar.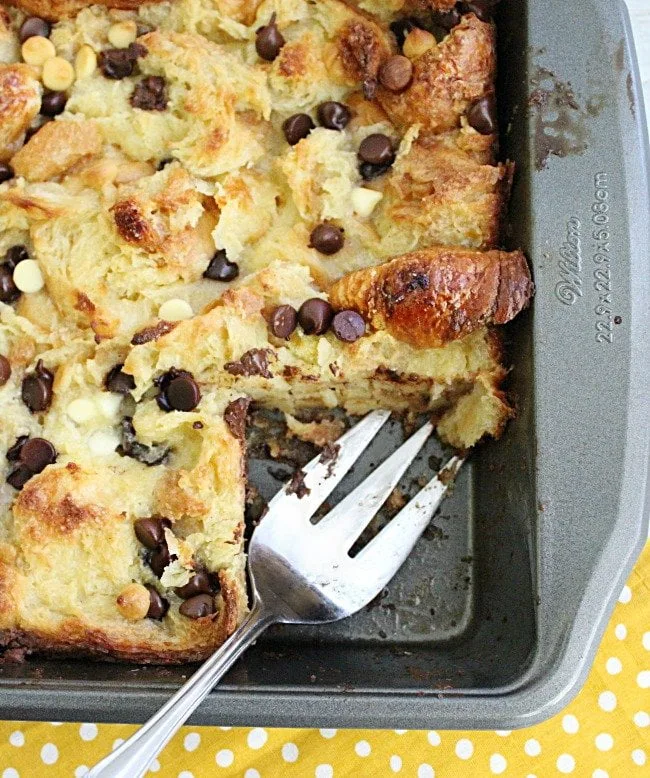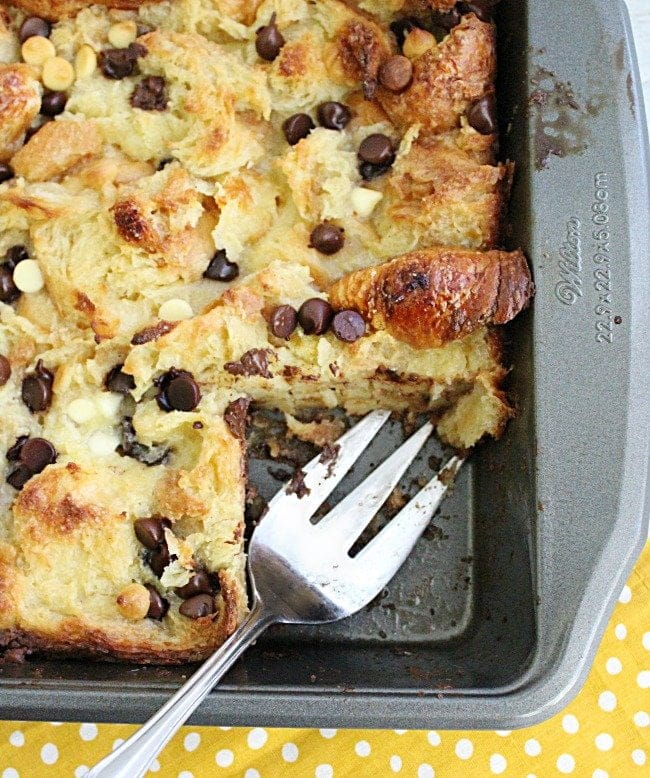 A few recipe notes:
If you can't find 6 large croissants, 8-9 small croissants will work fine. "Day Old" croissants will work too!
Don't forget to grease the sides, as well as, the bottom of your pan. This make removal much easier.
After 20 minutes of baking, cover the pan lightly with a piece of foil. Don't forget this step! It will help in preventing the top from burning too quickly.
Dig in!