cheez-it crackers, are one of the magical ingredients that you can make from it a bunch of recipes, such as casseroles for dinner, snacks for a party, dessert, sweets, and much much more.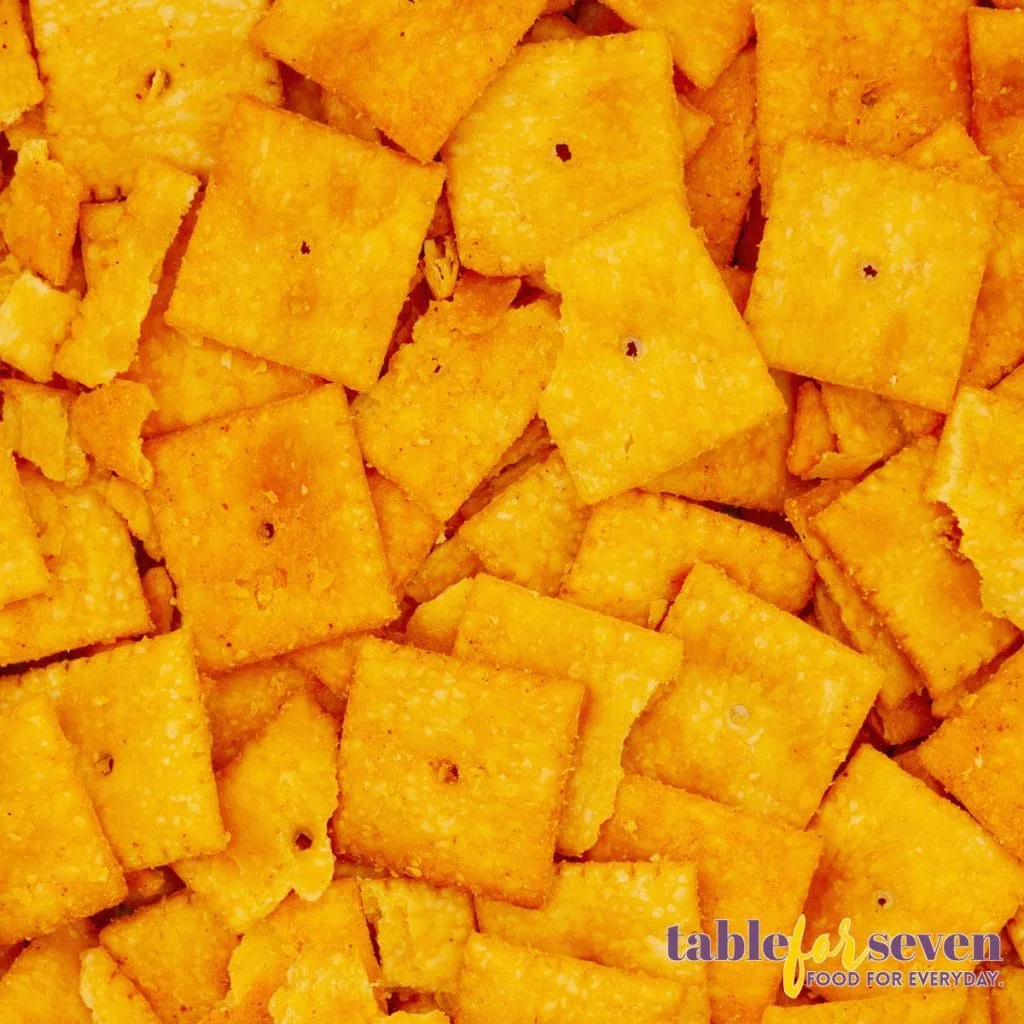 So I gather for you a list of 20 delicious recipes that are made using cheez-it. If you still have other ideas about more cheez it recipes, feel free to share them in the comment.
This Cheez-It Fiesta Baked Chicken is a delicious dish that the whole family will enjoy. It has a satisfying crunch from the cheese crackers and a smooth finish from the sauce.
Chicken breasts cooked in a sauce and cheese mixture are grilled for a delicious dinner. Diced green chilies in the sauce are a delicious complement to the Cheez-It crackers' signature salty crunch. Shredded Monterey Jack cheese was the finishing touch on some chicken breasts I prepared for dinner, and they were delicious.
Each and every time, these Cheez-it Chicken Tenders turn out to be wonderfully crispy!
When I need a recipe for something fast to make for dinner, I always turn to these Cheez-it Chicken Tenders as my go-to option. They are not only simple to prepare but also delicious, and you only need a few basic ingredients.
My Cheez-its take around 30 seconds to make in the food processor. You may also place the Cheez-its in a Ziploc bag and pound them to crumbs with a rolling pin. That which serves your purposes best.
In a preheated oven, cook for 15-20 minutes, or until the meat is browned and the liquids are clear.
Ideal for feeding a crowd, whether over a salad, in a mound of mashed potatoes, or with a side of your preferred dipping sauce.
These homemade Cheez-Its are incredibly simple and quick to prepare, and if you enjoy the store-bought variety, these will almost certainly satisfy your cravings for that flavor. And the entire process, from beginning to end, takes no more than an hour to complete!
But let me forewarn you that although while it might look like you have a countless number of little Cheez-Its lined up in a row on your baking sheet, you won't have nearly as many as you think you have since they will go very soon. Simply because they have a very strong potential for addiction.
These smoked Cheez It crackers are the next level of cracker enjoyment. Cheese crackers can be turned into flavor bombs with just three ingredients, including some smoke and heat.
If you want a stronger smoky flavor, smoke it for a longer period of time; I find that an hour is perfect for me. However, this is just a starting point; feel free to experiment with other smoking times.
These smoked crackers store incredibly well in sealed containers, and while they are best enjoyed fresh (like immediately chilled, but also when heated), they are great at any time. Any airtight container will do, but mason jars are my favorite. The key concern is preventing them from becoming stale due to moisture absorption.
Keto Cheez Its are a healthier alternative to traditional cheese crackers, plus they're tasty on their own! They are a replica of a popular dish that is healthy because they don't include any almond flour but still taste great. The ideal treat for a family snack time!
These homemade cheese crackers are almost identical to store-bought Cheez-Its in flavor. It's ideal for those on a ketogenic, low-carb, or gluten-free diet.
When the dough has finished processing, just spread it out between two sheets of parchment paper, place it on a cookie sheet, cut it into small pieces using a pastry cutter or pizza cutter, and bake.
There is nothing better than a chicken broccoli pasta casserole that is rich and delicious. Simply place any leftover chicken or chicken from a rotisserie in a casserole dish along with broccoli, noodles, soup, yogurt, and cheese.
Top with Cheez-Its and bake. During the hectic weeknights when you just don't have the time to cook, this supper is not only simple to prepare but also simple to clean up, and it provides you with a deliciously nutritious meal.
What I'm about to share with you is the world's greatest recipe for Cheez-It Macaroni and Cheese. The crispy cheez-it topping bakes directly into the dish, making it extra creamy, cheesy, and one-of-a-kind.
It's neither too cheesy or too milky, and the pasta is cooked just al dente. It's perfectly cooked, and the Cheez-Its on top are a tasty substitute to bread crumbs thanks to their satisfying crunch. Never again will bread crumbs do!
If you're a fan of Stephanie Izard's cooking and of Cheez-Its, you might be interested in hearing about her Cheez-It cake. The Top Chef and James Beard winner had a four-tiered Cheez-It cake made for her wedding, which later spawned retail iterations by other bakers.
As a rule of thumb, each cake has about as much Cheez-It cracker as there is in a whole box, according to Chef Stephanie. Cheez-Its are ground into flour, Cheez-It shortbread is used for the filling, and dulce de leche white chocolate is drizzled on top.
Half of the cake is made of Cheez-it crackers. Izard thinks the Nesquik-flavored crimson frosting "fits perfectly with the saltiness of the Cheez-It crackers" because of its "sweet, nostalgic flavor."
Cheez-It® crackers, shredded sharp cheddar, and cream of chicken soup are just a few of the simple, commonplace ingredients in this wonderful Southern-style broccoli casserole.
When serving a big group, it may be convenient to keep the baked southern broccoli casserole warm in a slow cooker set to the "warm" setting.
We have not tried this yet, but it seems plausible that a serving may be simply scooped out of the slow cooker and onto a plate, eliminating the rectangular, "casserole" aspect. (In the event that you are in desperate need of a warming method but have limited oven space.)
You may use fresh broccoli instead of frozen, use a different flavor of cheese or Cheez-It® crackers, or prepare other kinds of soup. Take into account that making alterations can affect the cooking time and, perhaps, the final product. Keep that in mind, and be sure you take the test!
A delicious Broccoli Casserole topped with Cheez-Its is today's featured dish. This dish is anything but standard; it's packed with flavor and guaranteed to satisfy your hunger. If you're intending on making this for dinner or visitors, give yourself plenty of lead time.
This Chicken Fajita Casserole is really simple to prepare, and the end result is a feast that is one of a kind in both flavor and presentation thanks to the use of Cheez-Its.
this Chicken fajitas were one of my favorites, though. Hot sauce, baked snack crackers, and the main course were included. If I were to choose one of the meals from the package, it would be a combination of the three. I made this tasty dish as a nod to the good old days of field cooking.
The Cheesy Yellow Squash Casserole will quickly become one of your go-to dishes for the upcoming celebrations. This delicious and versatile side dish is made by combining yellow squash with cheddar cheese, bacon pieces, pimento, and Cheez-It crackers. The end result is a dish that is both rich and flavorful.
When it comes to the preparation, may I do it in advance? Sure, go ahead. About 20 minutes are needed for preparation before placing in the fridge. Bring to room temperature 30 minutes before baking for optimal results in the oven, then bake for 45 minutes.
For this, you'll need to bring a few inches of water to a boil in a medium saucepan over medium heat.
Put the chocolate, peanut butter, and butter in a dish that can withstand high temperatures and place it over the saucepan. Stirring constantly, melt the ingredients over the hot water.
Put them in a bowl with the Cheez-Its when they've been taken off the stove. To prevent clumping when adding the powders, toss to coat and then let alone for 10 to 15 minutes.
Mix the cocoa powder with the powdered sugar. Use with the coated Cheez-Its and toss.
Over a grill or stove heat, toast the marshmallows. The marshmallow should be squished between two covered Cheez-Its as it melts.
Here you will get 3 different cheese it recipes:
Cheez-It cheesecake bites: It's not always appropriate to classify cheesecake as a sweet. This dish combines Cheez-It crackers to make a crispy and salty crust, perfect for serving as an appetizer at your next dinner party.
Cheez-It meatballs: Breadcrumbs in a meatball dish are often used for binding, but we thought they could use a little taste boost, so we tossed in some Cheez-Its. While broken crackers are somewhat denser than fresh breadcrumbs, they become the ideal texture after being soaked in milk and are infused with the tangy, Cheddar cheese taste.
Broccoli Cheez-It soufflé:This dish is proof that all you need is a little creativity when cooking with Cheez-Its. They provide a crispy, cheesy topping for the dish and complement the smooth broccoli filling.
When I thought Cheez-Its couldn't get any better, they did. Ugh. You most likely already own all of the ingredients required for this recipe in your very own house, and even if you do not, you won't even want a shopping basket to carry all of these ingredients to the store with you! You just need four components (Cheez-Its, dried red pepper flakes, canola or vegetable oil, and dry Ranch dressing mix) to make this delicious snack. Boom.
There's a good chance that Dilly Ranch Cheez-Its are the best snack of all the snacks.
Bringing together two of our most beloved tastes, together with a crispy and cheesy coating. The combination of Cheez-Its, chilled ranch dressing, and fresh dill makes for an appealing snack that is appropriate for any time of year.
Goldfish, bagel chips, rice chex, wheat chex, or any of the other flavorless chex cereals would work just as well. Any of them are fantastic pairings for it. Moreover, you might combine the various components to make your own unique snack mixes.
These are great served warm from the oven, or you can let them cool and store them in the fridge.
Keep in an airtight container for up to two weeks; however, that's highly unlikely to be the case.
Break up the remaining crackers and crumbs until you reach to the bottom of the container, then place them in a Ziploc bag and crush them with a rolling pin to make a cracker coating for meat or fish. I can't even describe how good it is.
I thought it would be a good idea to combine two of my favorite foods: meatballs and Cheez-Its. Diced jarred jalapeo peppers were incorporated in for an added flavor boost and a little more moisture. I used the smooth side of a meat mallet to smash the crackers that I had placed in a plastic bag with a zipper. All you have to do is crush them into powder. I added two eggs for extra bindery purposes.
making it In a large bowl, combine all of the ingredients. Roll meat into balls that are about the size of a tennis ball. For a hearty meal, smoke the meatballs for 30 to 45 minutes at 350 degrees.
Cheez-It Chicken Fingers are chicken tenders that are encased in crumbled cheese crackers and baked. Cheez-Its with baked food are OH MY GOODNESS delicious! These are a hit with both children and adults. Prepared in less than 15 minutes. Can be coated and frozen for baking at a later time.
Put the flour, butter, salt, and cheese in a food processor and mix it all together. Pulse the salt and cheddar until they break down into small pieces. When a dough develops, add ice water while the food processor is running. Make a ball with the dough, wrap it in plastic, and put it in the fridge for an hour.
Bake at 350 degrees Fahrenheit, preheated.
Flour the clean counter top. Cut the dough into 1-inch squares after rolling it out to a thickness of 1/4 inch. Insert a skewer into the middle of each square. Proceed to bake on a baking sheet covered with parchment paper. If you want your crackers to be somewhat puffed and golden brown, bake them for 15 minutes. Take it out of there and let it cool down.
Garlic powder, seasoned salt, chili powder, and cayenne pepper should all be mixed together in a small bowl.
Mix the cheez-its with the pretzels, Chex, and potato sticks. Spread the crackers out on a plate and drizzle the melted butter over the top. Sprinkle the crackers with the spice and toss them again. Microwave for three minutes, stirring once every minute, in a microwave-safe bowl. In order to chill the party mix, spread it out in a single layer on a sheet of parchment paper. Serve.
As a first step, I laid out a plateful of Cheez-It Grooves. Now, I wanted all the Cheez-It Grooves that were taken out to be adequately topped, so I worked really hard to disperse the toppings evenly.
After laying down a bed of Cheez-It Grooves as a foundation for my nachos, I started preparing the ground beef. Afterwards, I poured in about three quarters of a cup of water and my taco seasoning and let it simmer. I topped my Cheez-It Grooves with the meat mixture once it was cooked.
When the meat was done, I went on to the next stage, which was to sprinkle the shredded cheese over the top. It was crucial that the meat be hot enough to melt the cheese so that I could make them into melty, delicious nachos. Can't tell More, GO ahead and try the recipe.