Soft biscuits coated in a sugary cinnamon topping, mixed with sweet apples and drenched in a creamy caramel sauce.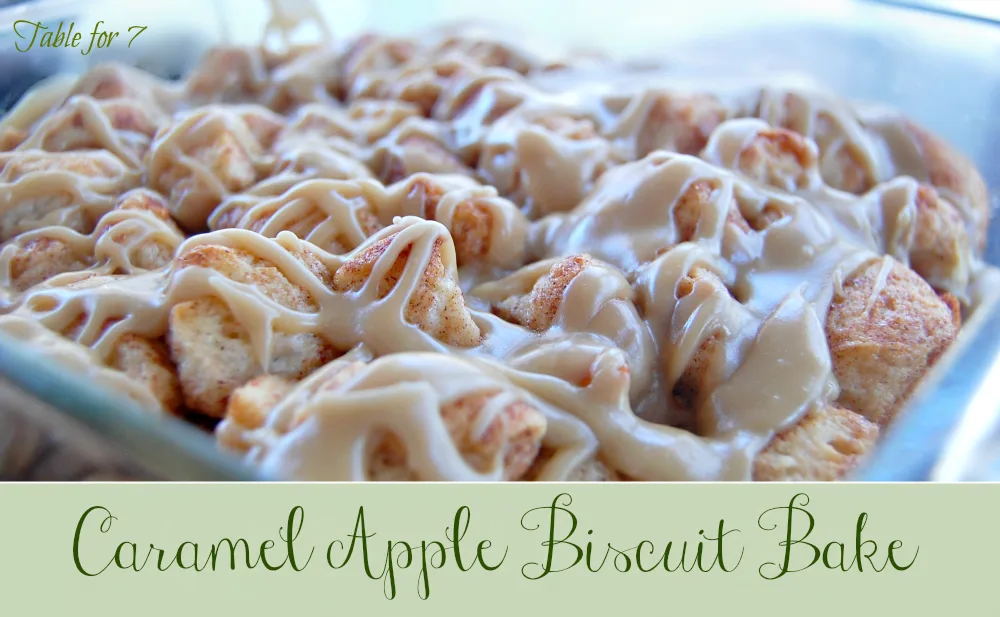 How is everybody's holiday shopping going?
Mine is done! My only task is to grab a few stocking stuffers and that wrap it up. To be honest, Mr Plain did all the shopping this year. He did it all online. He took care of it over one weekend.
It was pretty awesome. I highly recommend it.👍
Speaking of holidays and other lovely things….wouldn't this be tasty on Christmas morning or for a special breakfast or for a fancy brunch?
It's super easy and tastes divine.
Here is a breakdown:
1. The recipe starts with a pack of refrigerator biscuits. I used a 10 count buttermilk biscuit, but, any other type will work. Although, if you do use a "flaky" biscuit, you may have to adjust your baking time.
2. Next, cut the biscuits into pieces. A pair of sharp kitchen scissors is great for this task!
3. Toss the biscuit pieces with cinnamon, sugar, and apple pieces. Then, spread into your pan.
4. Bake!
5. Make the caramel icing. This should only take 5-8 minutes. Just be sure to keep a close eye on your saucepan! It can burn quickly. When you are finished, drizzle on top of the baked biscuits.
6. Eat!
This dish is amazing! Plus, it's tough to eat just one piece of it..you've been warned. 😉
I wanted to let you guys know too that this is my last post until after Christmas.
Tomorrow, my kids start their winter break and life becomes quite hectic. It is also gives me time to get away from the computer and spend some quality time with them. It has been quite a year as many of my readers know, and this Christmas season has been an emotional roller coaster. I am very much looking forward to some much needed family time.
Happy Holidays to you and your family!