This crab cake is filled with juicy chunks of crab meat and is bursting with fresh flavors. It doesn't matter how you prepare this staple American food, whether you bake it, grill it, deep-fry it or stir-fry it, you cannot forget about the sides.
The good news is that crab cakes are very versatile, and you can easily pair them with pasta, vegetables, salads, and so forth.
We have selected some of our favorite crab cake sides that are great for breakfast, brunch, and snacks!
There is something very special about crab cakes, but they are quite simple to make. We make them every year at our house, and it has always been our favorite!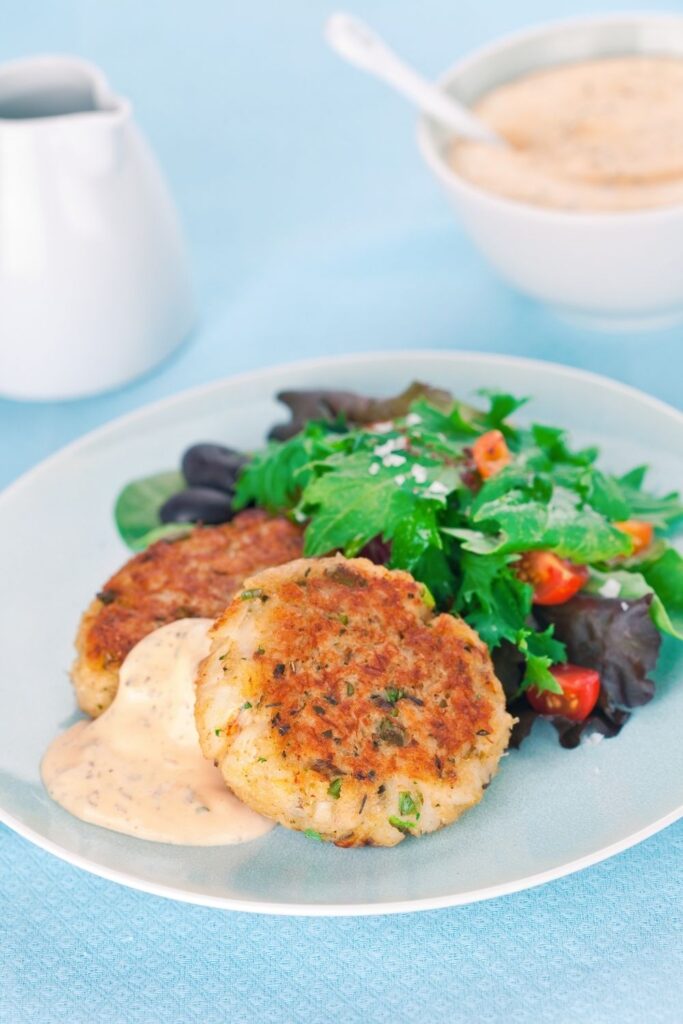 No matter what the occasion may be, here are some fantastic side dishes that complement crab cakes to perfection.
There isn't a dish on this list that won't be a hit with your guests, so feel free to try a few out! If you serve a few complementary sides with these crab cakes, this will become a crab cake feast.
Let me know how you liked them too after you try them.
More Sides Ideas:
What Goes Well With Crab Cakes As A Side Dish?
A grilled or baked potato is the best side dish for crab cakes. Although it might seem surprising to pair a starchy food with crab cakes, this is at the very least one of the most comforting foods that pair perfectly with the saltiness of the crab cakes.
You can also serve crab cakes with gazpacho or remoulade sauce, which is another excellent side dish that is perfect with crab cakes. In addition, the extra bit of spice compliments the crab, while the sauce soaks into the cake, creating a moist and flavorful cake.
Pasta To Serve With Crab Cakes
I believe these are some of the past pasta dishes that can be a great accompaniment for a dinner or lunch of crab cakes.
Crab cakes are a tasty appetizer, but what could be better than a creamy dish that can be made in just 10 minutes?
To make a tasty meal, avocado, basil, garlic, lemon, and olive oil are combined with pasta to make avocado pasta. This dish is suitable for vegetarians as it is made with vegetables!
Although I am 100% sure that Spaghetti Bolognese works well with beef or lamb meatballs, I am also 100% sure that it can work very well with crabcake as well. It is important to make sure to add a lot of sauce to the spaghetti and for the crab cakes make them crispy with a nice dark brown encrustation on top.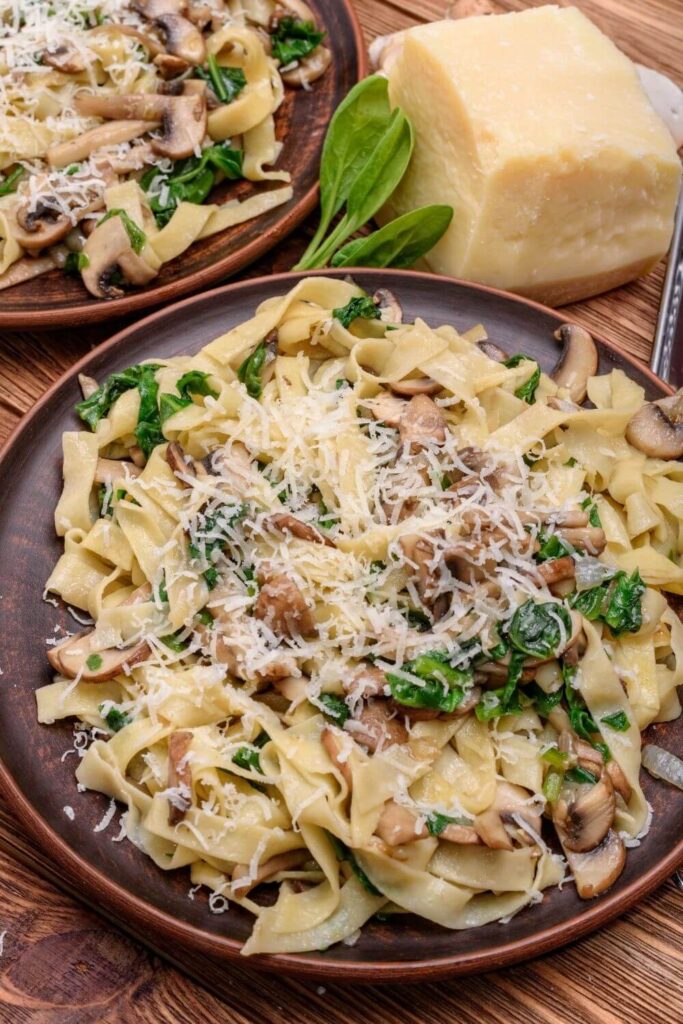 The creamy lemon pasta is also full of flavor, and the best part is that all the ingredients are cooked in one pot.
You should always use the zest of a lemon for a better flavor, and you should always take care to use fresh parmesan to melt the pasta to its proper consistency.
Salad To Serve With Crab Cakes
There is no denying the fact that salads are the magical sides that work both with a warm and crispy crab cake as well as with nearly any main course you may ever prepare. There is a good chance that I will serve salad with another salad someday, hihihi.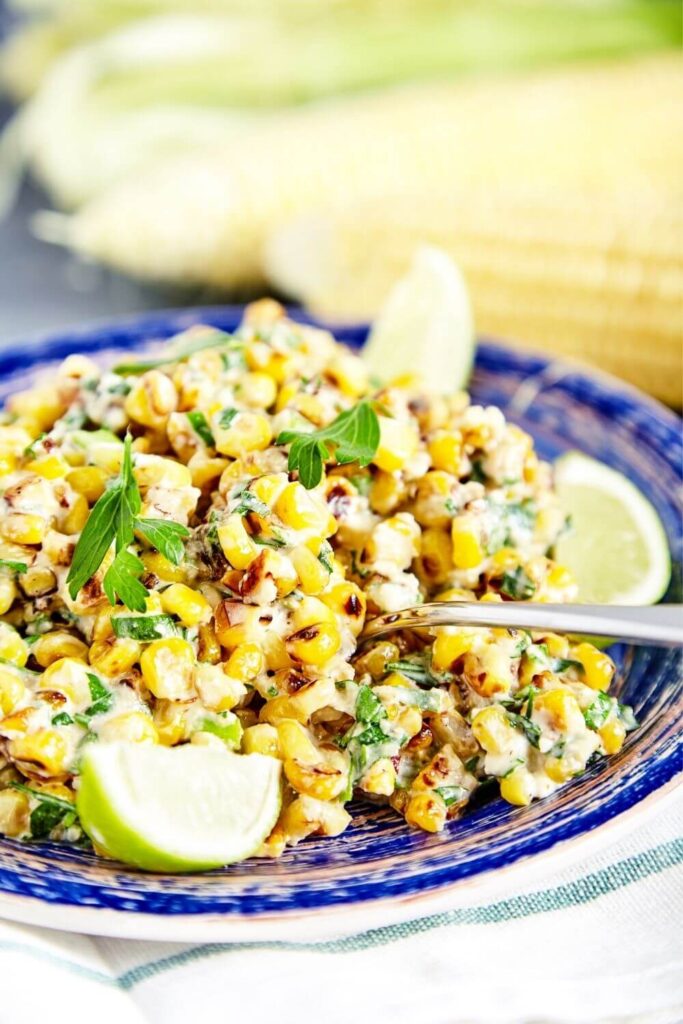 There's no doubt that crab cakes evoke a sense of summer, but if you want to go for that summer feel, then you might want to pair it with a light and refreshing corn salad. The combination of crab cakes and corn is one of the things that screams summer like nothing else.
You will need corn kernels, basil, and scallions to make this dish. Then you will drizzle a salt-and-vinegar dressing over the corn. It would be exquisite to have a sweet, crunchy, and tangy bowl of corn salad accompanied with a plate of soft and flaky crab cakes – isn't that wonderful?
In addition, a succotash salad is also a fantastic accompaniment to crabcakes while we're on the subject of corn. The combination of lime beans and corn makes for a vibrant and flavorful salad that will round out your crab cake dinner perfectly.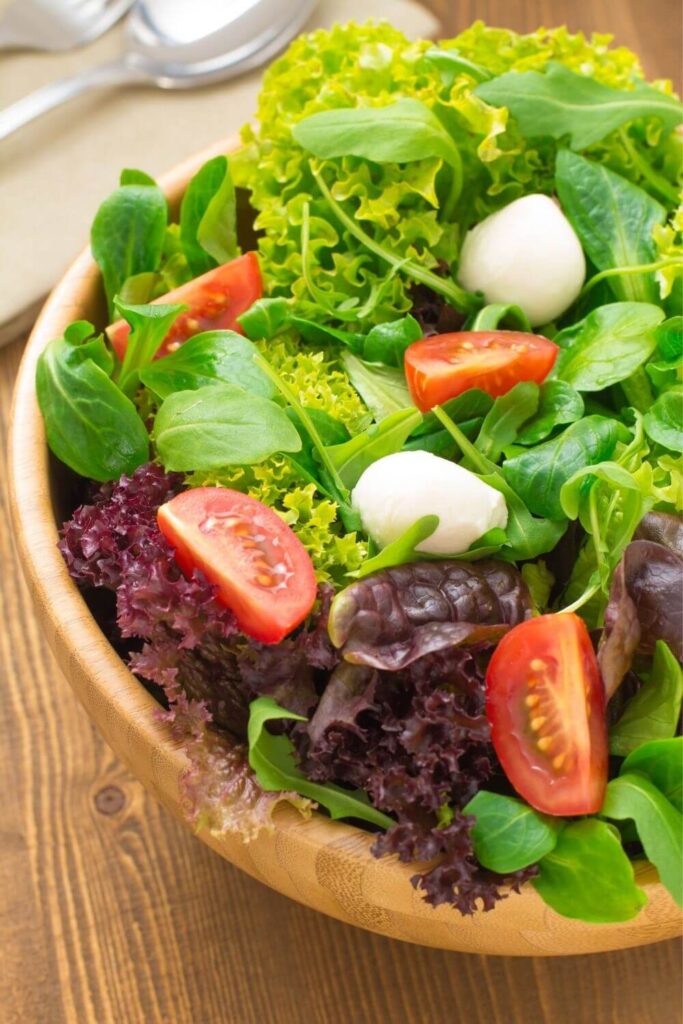 No matter if it's arugula and radish or mustard greens in a vinaigrette, green salads are always a great dish to serve with crab cakes. There are many health benefits to this drink. It is light, refreshing and full of nutrients. On top of that, it is not hard to prepare at all.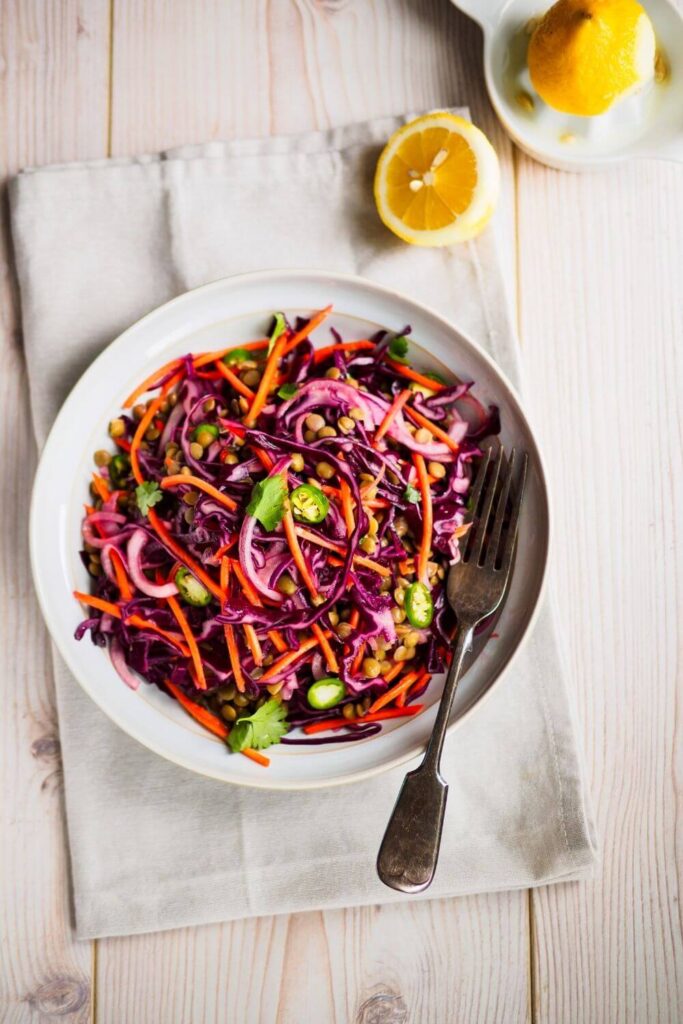 Who says slaw vegetables can only be cabbage and carrots? Try adding some color to this refreshing side dish!
Mix one bag of pre-shredded coleslaw mix and one bag of sunflower seeds with a glob of creamy salad dressing and you have a salad. Pour on a little white vinegar dressing and serve. Sugar is also a good addition for a bit more sweetness if you like.
There is no denying that crab cakes benefit greatly from the combination of flavors that are used here, but there is also the added benefit that the vibrant colors of the ingredients will make your plate more attractive.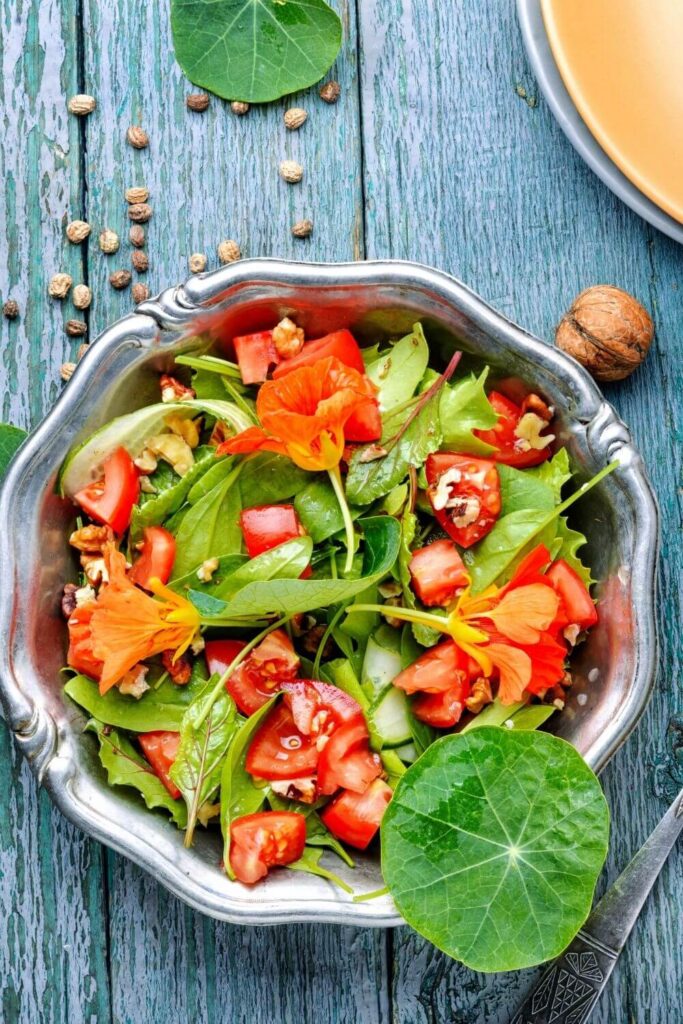 In a skillet over medium heat, grill the corn, tomatoes, bell peppers, cucumbers, and radishes until they are soft and hot with a little bit of olive oil, and you'll be on your way to a salad to remember. I think that the secret to this salad is the addition of a little feta cheese.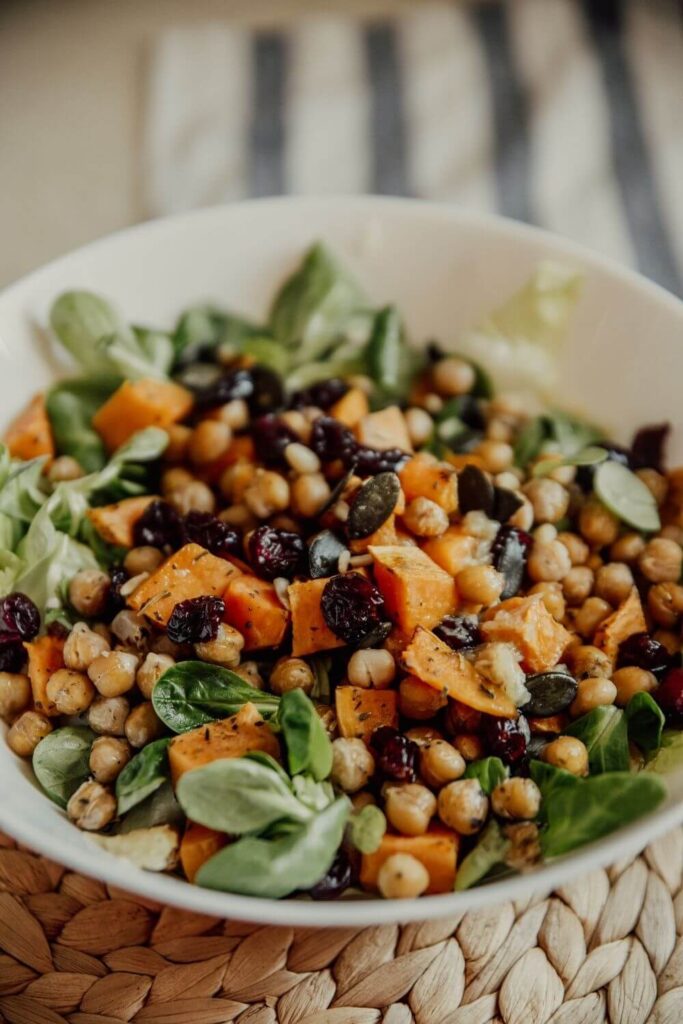 The salad that follows is another colorful dish that goes very well with crab cakes. There are chickpeas, parsley, and celery covered in a tangy, lemon herb dressing with chickpeas, parsley, and celery. In a nutshell, this dish is crunchy, refreshing, filling, and nutritious – everything you ever wanted in a side dish.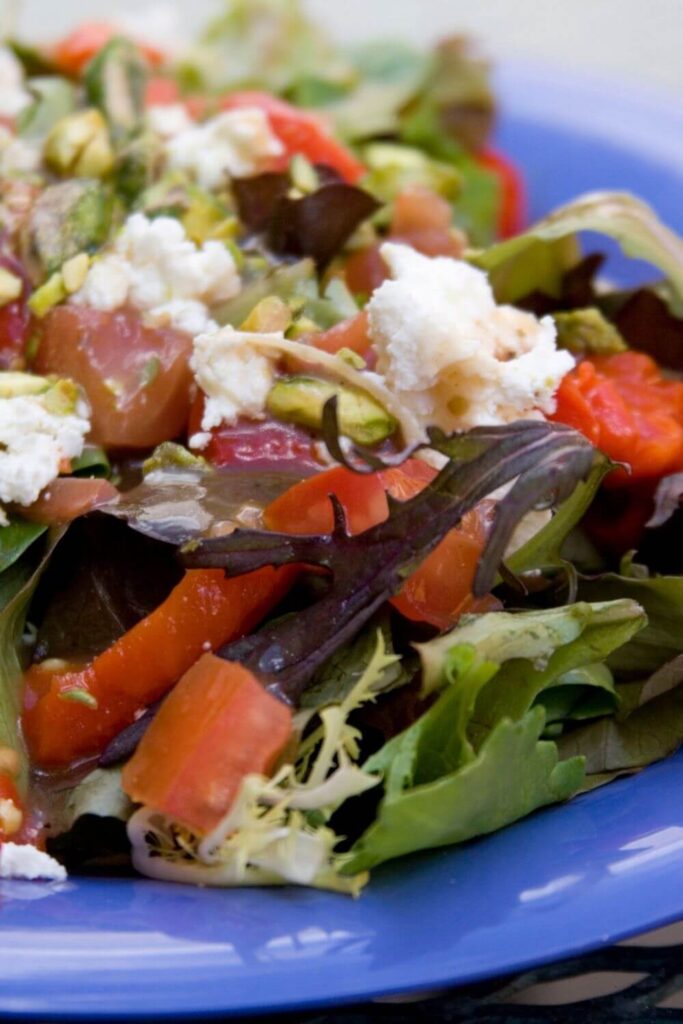 We have decided on a new favorite back pocket concept for crab cakes that would make a great side dish to serve with them: the Goat Cheese Salad with Arugula! Despite being simple and easy to prepare, this dish has so much flavor! I think the crunch of the apples, the creamy goat cheese, and the fluffy arugula are the perfect combination with the tangy sweet dressing.
Best Vegetable Side Dishes For Crab Cakes
The following is some information I will share with you regarding the best vegetables that can pair well with crab cakes. As a rule, I always serve veggies with crab cakes for a healthier, more delicious meal and as a bonus, it has a great variety of colors. My personal opinion is that, if you are looking for a great way to serve crabcakes,grilled veggies are fantastic.
Would you like to serve a simple side dish with your crab cakes? Then how about broccoli grilled to perfection! In this incredibly genius recipe, you can cook this green vegetable to a charred and tender state without even preheating your oven. Just throw it in the broiler with a few lemon wheels, and it comes out just like roasted asparagus but even better.
Grilled veggies sautéed to perfection complement crab meat's sweet and savory flavors beautifully. It is perfectly acceptable to serve a crab cake alongside some grilled corn, eggplant, squash, asparagus, and onions which have a smoky char to them.
In addition, they will add some wonderful colors to your plate. You should have a fantastic meal, that not only tastes great, but also looks fantastic!
Grilling is one way of giving your vegetables a nice char and smokiness while roasting them is another way of bringing out their natural sweetness.
You can make crab cakes that are rustic yet elegant just by roasting your veggies first, so if that is what you are looking for, then go ahead and preheat your oven! You can make this dish by just scattering some fresh parsley and basil on your vegetables before putting them into the oven. Just let the vegetables roast for a couple of minutes and you are done.
Whether you're hosting a barbecue, outdoor gathering or enjoying a summer meal, corn on the cob is one of the must-have dishes.
You can cook your corn on the cob to perfection by leaving out the salt in the water and instead opting for sugar for your cooking water. This is one of the best vegetables to pair with crab cakes because of its taste and texture.
A delicious combination of avocados and crab cakes goes without saying.
But did you know that the perfect addition to avocados is their healthy fat content? You can grill them! All it takes is a few minutes on the grill to sear your avocados. It is easy to prepare by placing a pitted and peeled avocado half on a griddle and cooking it for 2-3 minutes on one side. Afterwards, turn the avocados over and grill for a further minute.
A nice twist on grilled avocados is to add them to a salad to take them to a whole new level. Assemble lettuce, red onions, cherry tomatoes, coriander, and sliced grilled avocados on top of the salad.
Blend chives, basil, lime juice, avocado, garlic, a bit of hot sauce, white wine vinegar and extra virgin olive oil, salt, pepper, and a bit of hot sauce for the dressing. Salad should be dressed with the dressing and crab cakes should be served with it.
How do you prepare a salad with Brussels sprouts? There is no doubt that one of the best ways to make feathery, delicious salad greens is by using the mighty sprout. In combination with apples, dried cherries, and a sweet and tangy Djion Mustard Dressing, they make a pretty darn tasty side dish when served with crab cakes.
Sauces To Serve With Crab Cakes
I think it would be great if you served crab cakes with a creamy and savory sauce. Which sauces do you recommend for crab cakes? There are two common ones out of the three, but there are a few more unique ideas to consider: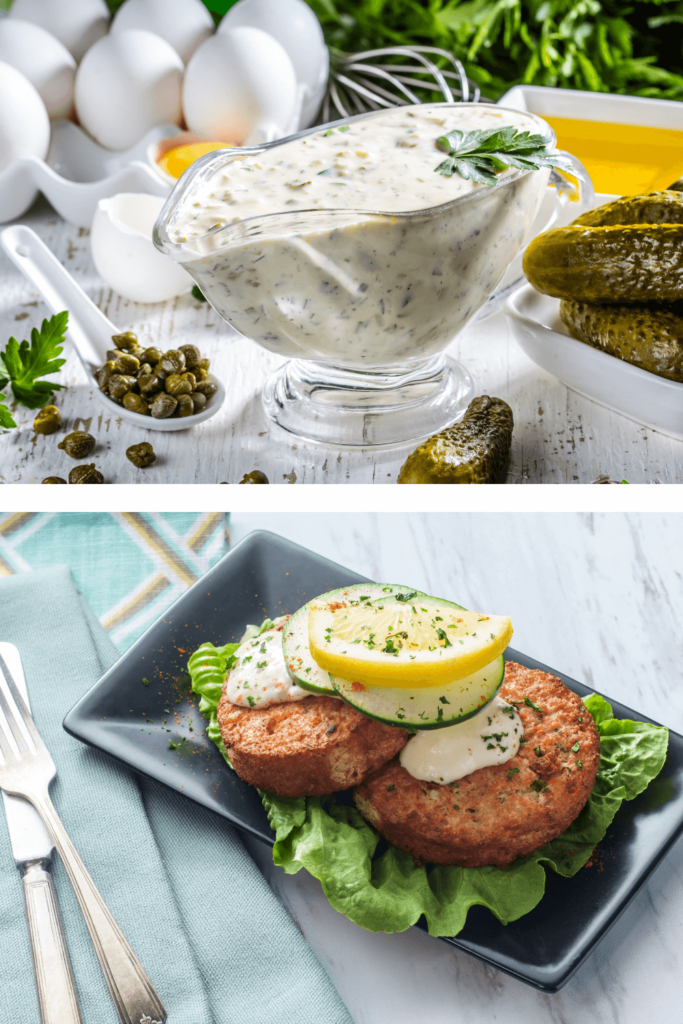 The tartar sauce is one of the most important ingredients of fish! If you don't mind dipping that in as well, or even spreading a small layer over top, you can easily do that too!
I strongly advise you to not worry if you do not like pickles or relish because the mixture of mayonnaise, mustard, sugar and dill will overpower the sweetness to render the dill merely a complement rather than a focal point.
It is also possible to add additional flavor to your crab cakes by giving them a tasty dipping sauce as well. There is no doubt that remoulade may be one of the most popular dipping sauces for crab cakes. However, what does it exactly do?
There is a dish called Remoulade which is a French condiment that has a base of aioli or mayonnaise. This sauce has the same color as tartar sauce, but it is more yellow. Sometimes, it is seasoned with curry, paprika, capers, horseradish, or anchovies and flavored with paprika, capers, and horseradish. The sauce was originally intended to season meats, but has now become a staple for serving fish cakes with.
It takes only a few minutes to make remoulade sauce by combining mayonnaise, ketchup, mustard, horseradish shreds, capers, parsley, onion, and lemon juice. In case you want to, you can add Cajun seasoning and pepper to it.
It is generally accepted that sauces work well with fried foods, which is why gazpacho is the perfect partner for crab cakes. I enjoyed the contrast between the crispiness and richness of the crab cakes and the smooth, sweet, and tart cold soup.
Gazpacho can be made by soaking day-old bread in water overnight. The following ingredients should be added to the tomatoes: onion, garlic, celery stalk, cucumber, bell pepper, olive oil, lemon juice, cilantro, mint leaves, salt, sugar, and pepper. It's as simple as that!
How about putting some summer fruit in a gazpacho to enjoy it to the fullest? What about mangos? Make your gazpacho with some ripe mangoes added to it and you will be amazed at how much better it will go with crab cakes.
We have used diced tomatoes and green chilis in this Pioneer Woman Salsa Recipe, but feel free to choose any brand of diced tomatoes and green chilies that you think suits your taste. After all, you are the one that will appreciate this delicious salsa with your cripsy crab cakes.
Do you know how to make it? Using a blender or food processor, combine the diced tomatoes, whole tomatoes, cucumber, cilantro, onion, garlic, jalapeno, cumin, salt, sugar, and lime juice.
During the process of pulsing, adjust the consistency of the salsa to suit your taste. I find that it takes about 10 to 15 pulses to get the correct consistency. You can test the flavoring by putting it on a tortilla
crisp and adjusting it as needed.
When the salsa has been refrigerated for at least one hour, you can serve it with the crab cakes.
I have always had a soft spot for Pioneer Woman Cranberry Sauce, which I am sharing with you today. In just a few minutes, you and your family can prepare a delicious and flavorful Cranberry Sauce together. Crab cakes go well with this sauce as well.
It is unlike any other salsa that we have tried – not only does it use ripe mangoes, but it also uses a refreshing ingredient. The flavor of salsa is usually associated with chips, however, it is also an excellent accompaniment to crabcakes. I guarantee you that the taste of those tender cakes will blow your mind when dipped in a bowl of salsa.
In addition to the fact that mango salsa tastes great whether it is hot or sweet, I also like how versatile it is. If you don't want to add a jalapeno kick to your tropical sauce, you can keep it simple, or you can keep it simple and just add a little jalapeno kick to it.