Classic bread pudding with a touch of lemon and warm chocolate. Serve it with a dollop of whipped cream or vanilla ice cream for a delicious finishing touch.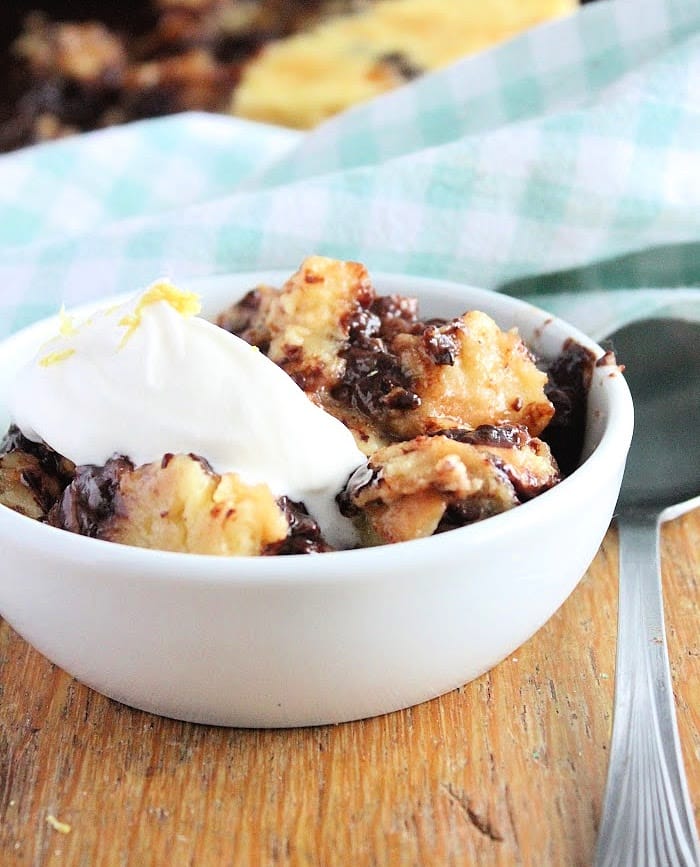 Ingredients Needed:
Bread
Heavy cream
Vanilla
Eggs
Lemon
Chocolate chips
Pin it for Later:
Bread: A thicker bread will work best for bread pudding. The thicker the bread, the better it will absorb the cream mixture. You will need 4 regular size slices of bread.
Lemon: Lemon zest and lemon juice are both needed. So, one lemon will do the trick. Feel free to increase/decrease the amount of lemon, to match your taste preference. If you don't want to use a fresh lemon, regular bottled lemon juice will work just fine.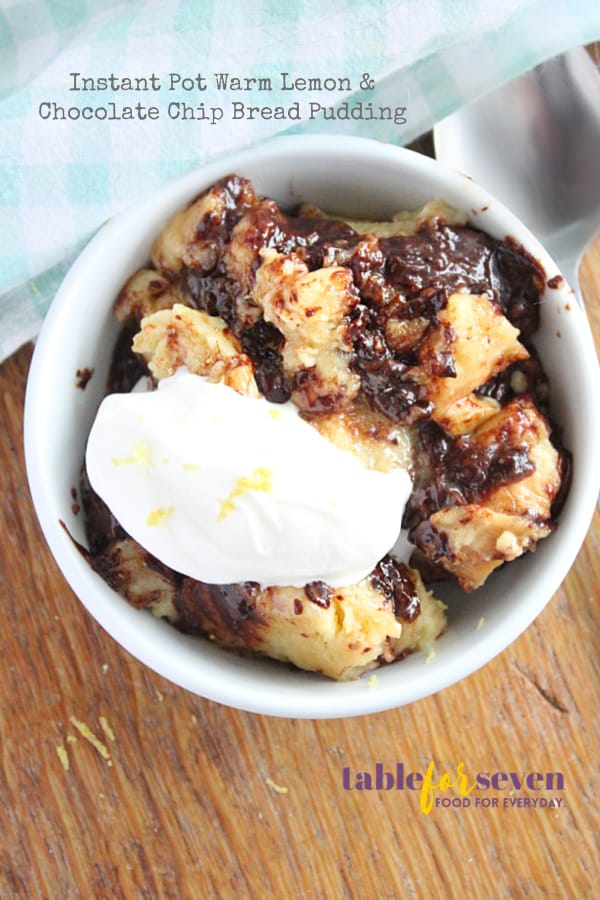 How to Make:
First, grease a 6-7 inch baking pan. See the recipe card for the one I used. Add 1 1/2 cups of water to the bottom of the instant pot and place steam rack into the bottom of the pot.
Then, whisk together all the ingredients ( except the bread pieces and chocolate chips) in a mixing bowl.
Once they are fully mixed, stir in the pieces of torn bread and chocolate chips.
Transfer the mixture to your prepared pan and cover it with foil.
Cover the pan with foil and place on top of steam rack.
Cook on high pressure and do natural release for 10 minutes, then, a quick release.
Carefully, remove pan from pot and uncover. Invert pan on to a plate/serving platter for serving. It's very hot! Let it cool for 15-20 minutes before eating.
Top it off With:
Whipped topping ( ex: Cool Whip)
Powdered sugar glaze