Layers of ground turkey, cheese and chili are just a small part in this easy, delicious casserole.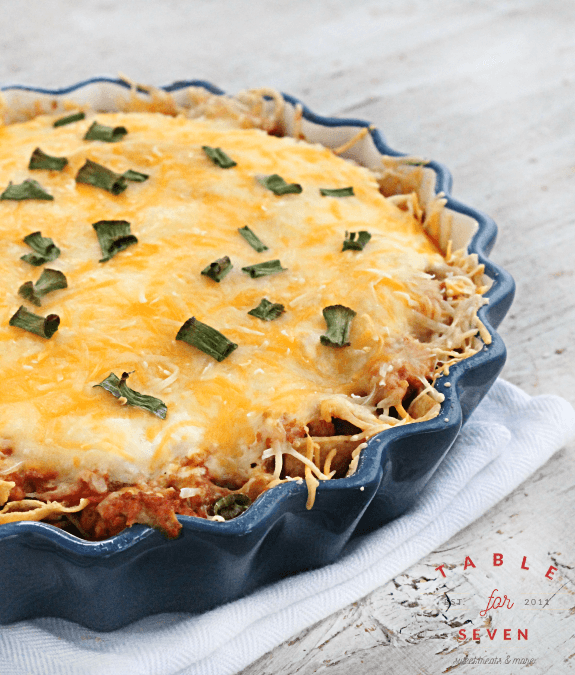 Hey! I made a video! Yep, sure did.
I know, they are all the rage in blogger land. So, I had to get right into it. Hope you guys don't mind 🙂
Technically, I didn't make this video by myself. My son helped. He's 11 years old. I took the pictures and added the text, but, he put the video together with the music. Not too shabby, right? He even found the music for me.
What a wonderful kid. Seriously. I had zero clue what I was doing. Thank you to my PixelGamer! Please note: I didn't name my kid "PixelGamer", but, that's is his YouTube name, so, he asked me to share it with you guys 😉
Please give it a view. He did a really nice job on it.
Thanks friends!
Let's talk about this delicious dish now….
I'm going to be straight up honest with you guys…this is not a pretty looking dish. Delicious, but, not attractive. So, don't let these pictures deter you from making it.
It is also easy. Simple. Basic of the most basic. A cinch.
You get the point.
Here are the layers:
Crunchy nacho chips
Seasoned taco meat mixed with chili and tomatoes.
Greek yogurt (or sour cream)
Cheese. (Taco blend or sharp cheddar)
Green onions.
Layer them all up and dinner is done in less than an hour! Just watch the video..you will see 😉
My casserole is filled with ground turkey, plain Greek yogurt and bean-less turkey chili. However, feel free to use ground beef, sour cream and your favorite bean-filled (or less) chili. All will work deliciously.
This Turkey Taco Chili Casserole is perfect weeknight meal that will soon become your family's favorite!