This is the best Ahi Tuna Poke Bowl you'll ever have; it's created with chunks of fresh tuna, avocado, cucumbers, spicy mayo, and scallions sliced on the bias and served on a bed of steaming rice – YES PLEASE!!
Create your own tasty ahi tuna poke bowl at home. This dish is loaded with nutritious rice, salad, and veggies, and it's topped with marinated tuna poke.
It may appear to be daunting, but guess what? These are very simple to make at home! I'd like to share this recipe for an ahi tuna poke bowl with you. These lovely bowls are a filling light dinner that requires little to no preparation. If this sounds appealing, let's start marinating!
The Best Fresh Ahi Tuna Poke Bowl
I awoke with Hawaiian fantasies in my head. To be honest, I awoke with the image of Southern California in my head – which to me implies avocados, sun, flip flops, and availability of every sort of food under the sun!
This homemade Best ahi tuna poke bowl dish is comparable to the fresh fish salad bowls that first gained popularity in Hawaii and have subsequently spread to other cities such as New York.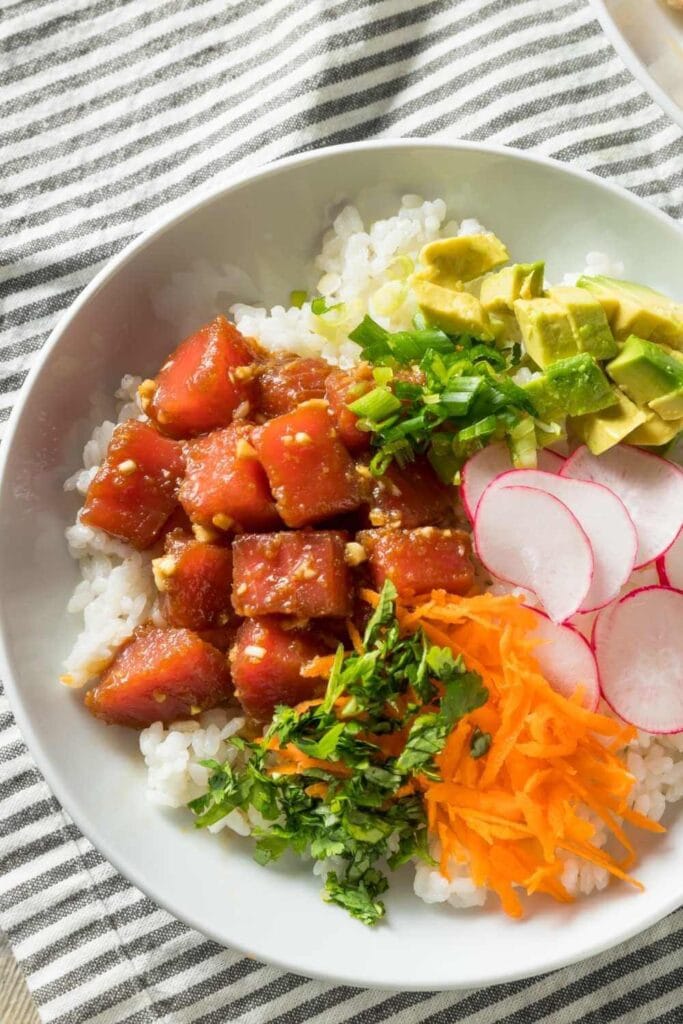 Why This Recipe Works:
Making poke bowls from home allows you to tailor them to your preferences. Choose your vegetables, substitute brown rice for white rice, and replace the protein with salmon or any other fresh fish available.
For the price of one poke bowl at a restaurant, you can cook enough for your entire family.
Dressing might be as much or as little as you choose. I like to top mine with more citrus ponzu sauce!
What exactly is Poke?
Poke, a popular meal in Hawaii for decades is generally made with fresh raw fish served over rice with toppings such as onions and seaweed.
What Is The Meaning Of Poke Bowl?
The term "poke" refers to fish slices or pieces served in a bowl. In Hawaiian, poke signifies "chunks" or "to slice or chop." A poke bowl, like a burrito bowl, is just a lunch or dinner bowl with protein, nutritious starch, veggies, and toppings that constitute a whole meal, generally a healthier one.
What Is The Best Rice For Ahi Tuna Poke Bowl?
Use short-grain Japanese sushi rice for an authentic Hawaiian Poke Bowl. Short grain white rice and long-grain white rice both perform well. Cold fish and veggies are placed over warm steamed rice in the greatest poke bowls.
Is Ahi Tuna Poke Bowl Healthy?
Yes! Depending on the toppings and sauce, an Ahi Tuna Poke Bowl may be quite healthy. I use tuna and avocado for this poke dish, which has healthy fats and is served over brown rice for added fiber. I make a low-calorie poke sauce using a modest quantity of light mayo and soy sauce. I include cucumber and green onions, but you can certainly add more vegetables for extra nourishment.
What Is In An Ahi Tuna Poke Bowl?
The Ahi Tuna Poke Bowl is a quick and easy method to serve popular seasoned raw fish with other ingredients (or side dishes). The most popular poke bowls are made with rice and crispy fresh raw veggies, then topped with nuts or seeds and, occasionally, creamy sauces or spicy spices.
When entertaining, a poke bowl is also a terrific recipe to create. Place the ingredients on a table and allow your guests to create their own bowls. Here are some suggestions for the ideal DIY poke bar:
Fish: Cooked shrimp, sushi-grade salmon, or tuna
Base: Brown rice (I use Trader Joe's frozen rice, which cooks up in three minutes), sushi rice, black rice, or mixed greens for a low-carb option, cauliflower rice, or zucchini noodles
Vegetables: Cucumber, avocado, green onion, pickled onions, shredded or pickled carrots, shredded cabbage, and edamame are some of the ingredients.
Toppings: Furikake (Japanese spice), cilantro, nori, and wasabi
Sauce: Spicy mayonnaise, sesame vinaigrette, soy sauce, sriracha, and lime juice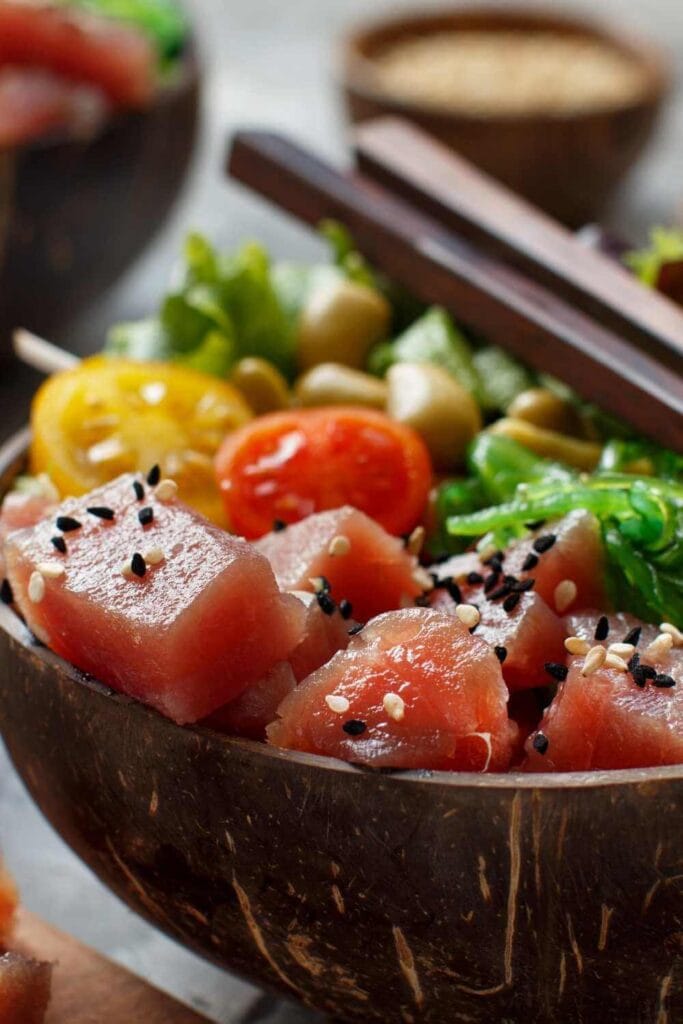 How Do You Purchase Sushi Grade Fish for the Best Ahi Tuna Poke Bowl?
Crowd Cow provides pre-cut sustainable sushi quality tuna poke. If you're not familiar with them, they transport hormone-free meat and sustainable seafood directly to your home. I began utilizing them when we were on lockdown and have continued to acquire crab legs, steaks, seafood, lobster, scallops, and other items. You may get a $25 discount on your first order by clicking here.
Locate a reliable fishmonger or market. Look for a company that sells in large quantities, receives frequent shipments, and has competent staff.
Pose inquiries. Always check with the vendor before purchasing the fish to ensure that it is safe for raw eating. If your fishmonger keeps unwrapped sushi-grade fish in the same refrigerated cabinet as non-sushi-grade fish, this is a major red flag.
Make use of your senses.
The fish should smell fresh like the ocean – never fishy – and be bright in color.
Is It Safe to Eat Raw Tuna?
Yes, as long as you get sushi-grade fish and eat it within two days. When fish is classified as sashimi-grade, it signifies it may be eaten raw. If the tuna you want to buy doesn't have this label, ask the fishmonger if it does. Raw fish is not suggested for pregnant women, the elderly, or anyone who is immunocompromised.
How long does an Ahi Tuna Poke Bowl stay fresh?
It's ideal to eat fresh raw Ahi Tuna Poke Bowl on the day it's made, but it may be stored in the fridge for up to two days.
Is The Rice In An Ahi Tuna Poke Bowl Hot Or Cold?
The Ahi Tuna Poke Bowl consists of super-cold tuna or fish served overheated sushi rice, brown rice, or black rice. The contrast between hot and cold is enticing.
What Is Ahi Tuna Poke Bowl Sauce Made Of?
For the best Ahi Tuna Poke Bowl sauce, I used spicy mayo. If you prefer it particularly hot, top your poke bowl with soy sauce and additional sriracha.
Spicy mayo is made using only two ingredients: mayo and sriracha. You may make it as spicy or as mild as you choose, and you can use full-fat or light mayonnaise. I prepare extra of whatever I have on hand and keep it chilled in a squirt bottle to sprinkle over my poke bowl.
What Do You Serve With Ahi Tuna Poke Bowl?
The Ahi Tuna Poke Bowl is often served with hot rice and seaweed. Poke is now available everywhere and is frequently served in a poke bowl! Feel free to serve your poke any way you like! Serve these poke bowls as an appetizer or as the main course at your next gathering. The possibilities are limitless!
You may find more serving choices for Ahi Tuna Poke Bowl here:
How Long Does Ahi Tuna Poke Bowl Last In The Fridge?
Refrigerated or frozen Ahi Tuna Poke Bowl should be consumed within 1 – 2 days. The same may be said for these poke bowls. They will be OK the next day, but any leftovers should be discarded.
The Best Ahi Tuna Poke Bowl Recipe Variations
Low Carb Poke Bowl – In place of rice, substitute cauliflower rice or mixed greens.
Vegetarian Poke Bowl – In place of the ahi, use firm tofu. Before serving, marinate the tofu for 30 minutes.
Cooked Poke – To make it a cooked poke bowl, substitute the tuna with cooked shrimp or crab.
Seared Tuna Poke Bowl – Set aside the tuna steaks after patting them dry with a paper towel. Pre-heat a big pan (ideally nonstick) with 1 tablespoon of canola oil (or avocado oil). Using a paper towel, pat the ahi tuna steaks dry. For medium-rare, sear the tuna for 2 minutes on each side. Remove from the skillet and start slicing!
Spicy Tuna Poke Bowl – Increase the quantity of Sriracha and/or top the bowl with the spicy poke sauce mentioned above. You may also add some red pepper flakes.
Costco Ahi Tuna Poke – Leave out all of the "bowl" ingredients and only create the marinated tuna. Top with green onion and flying fish roe (red tobiko caviar) to obtain the flavor of their spicy ahi poke without the harmful elements.
Roy's Ahi Poke Recipe – We discovered their precise recipe, although it includes ground cacao nut. We'll keep it in mind for our future visit.
Ahi Tuna Poke Bowl Nutrition Facts
Amount Per Serving
Calories 1120
Total Fat 69g
Saturated Fat 11g
Cholesterol 50mg
Sodium 2350mg
Total Carbohydrate 93g
Dietary Fiber 9g
Sugars 11g
Protein 31g
Vitamin A 6%
Vitamin C 20%
Calcium 10%
Iron 20%
Nutrition Facts Source: Source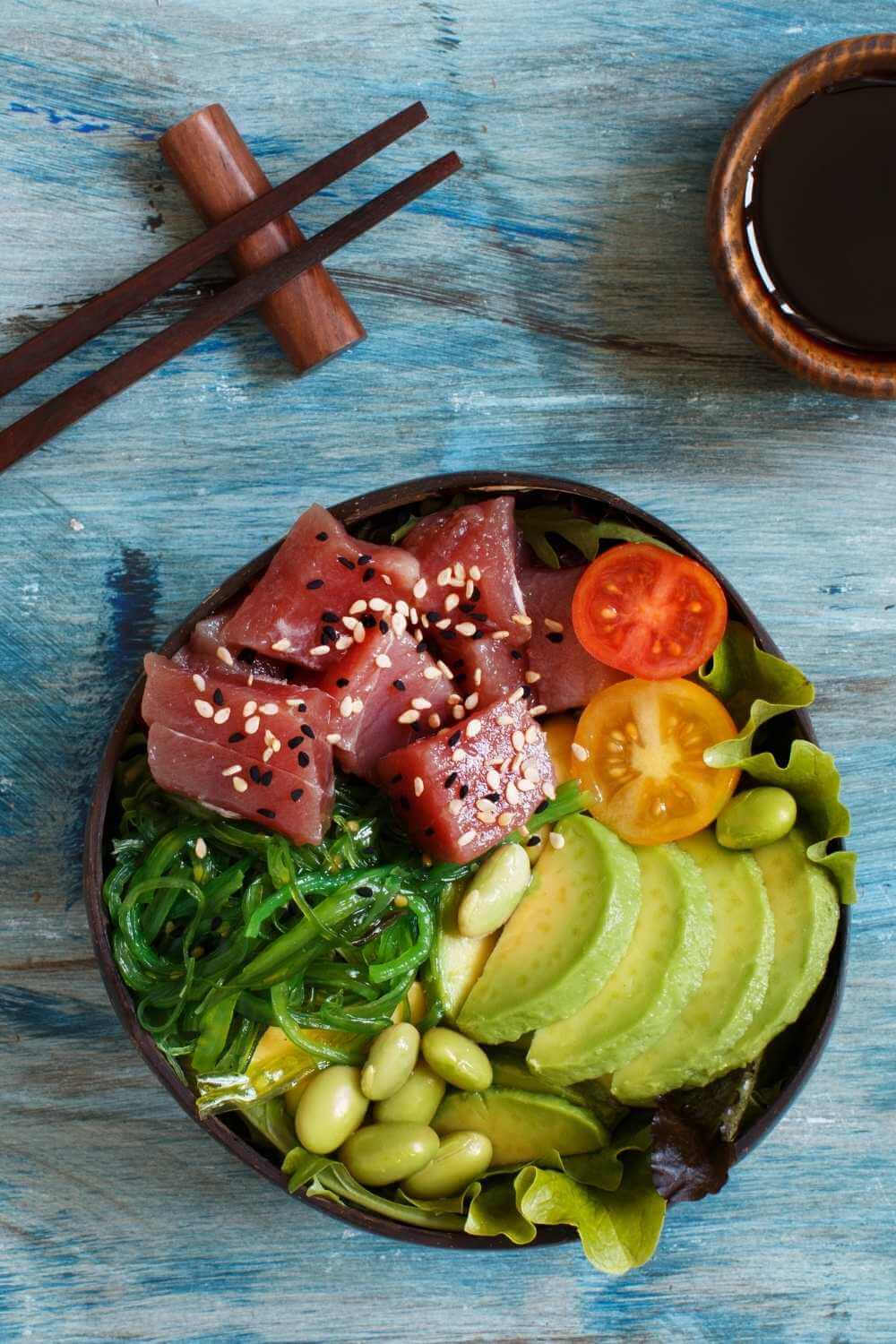 The Best Ahi Tuna Poke Bowl
Description
This is the best Ahi Tuna Poke Bowl you'll ever have; it's created with chunks of fresh tuna, avocado, cucumbers, spicy mayo, and scallions sliced on the bias and served on a bed of steaming rice – YES PLEASE!!
Ingredients
For the tuna

For the spicy mayo

For The Bowl
Instructions
Combine the mayonnaise and sriracha in a small bowl and thin with a little water to drizzle.

Combine tuna, scallions, soy sauce, sesame oil, and sriracha in a medium mixing bowl. Toss gently to incorporate and leave aside while you make the bowls.

Layer 1/2 the rice, 1/2 the tuna, avocado, cucumber, and scallions in two dishes.

Drizzle with spicy mayo and sesame seeds, if preferred, and serve with more soy sauce on the side.
The Best Ahi Tuna Poke Bowl
Servings 4
---
Amount Per Serving

% Daily Value *

Total Fat 69g

107

%

Saturated Fat 11g

56

%

Trans Fat 0g

Cholesterol 50mg

17

%

Sodium 2350mg

98

%

Total Carbohydrate 93g

31

%

Dietary Fiber 9g

36

%

Sugars 11g

Protein 31g

62

%
---
Vitamin A

6

IU

Vitamin C

20

mg

Calcium

10

mg

Iron

20

mg
* Percent Daily Values are based on a 2,000 calorie diet. Your daily value may be higher or lower depending on your calorie needs.