Many people believe that there is only one Tartar Sauce recipe, but this is incorrect; there are several Tartar Sauce recipes right here, ranging from avocado Tartar Sauce to vegan Tartar Sauce and copycat variants, as well as keto and gluten-free versions. So, in this post, you will find 23 Best Tartar Sauce Recipes that you will really like; all of these recipes are simple to prepare and require just a few ingredients.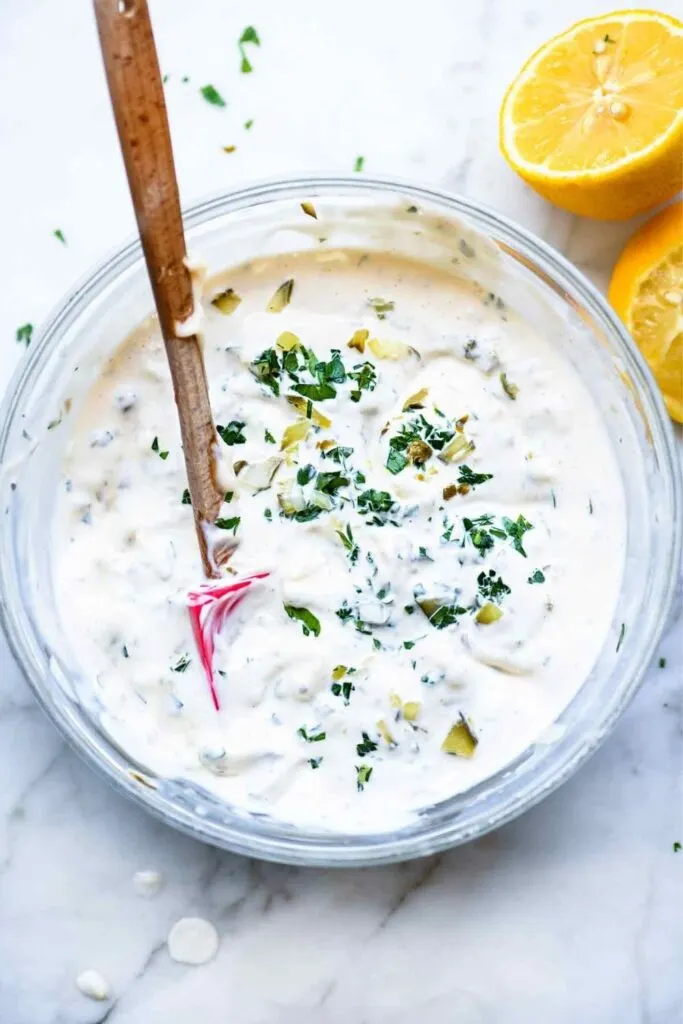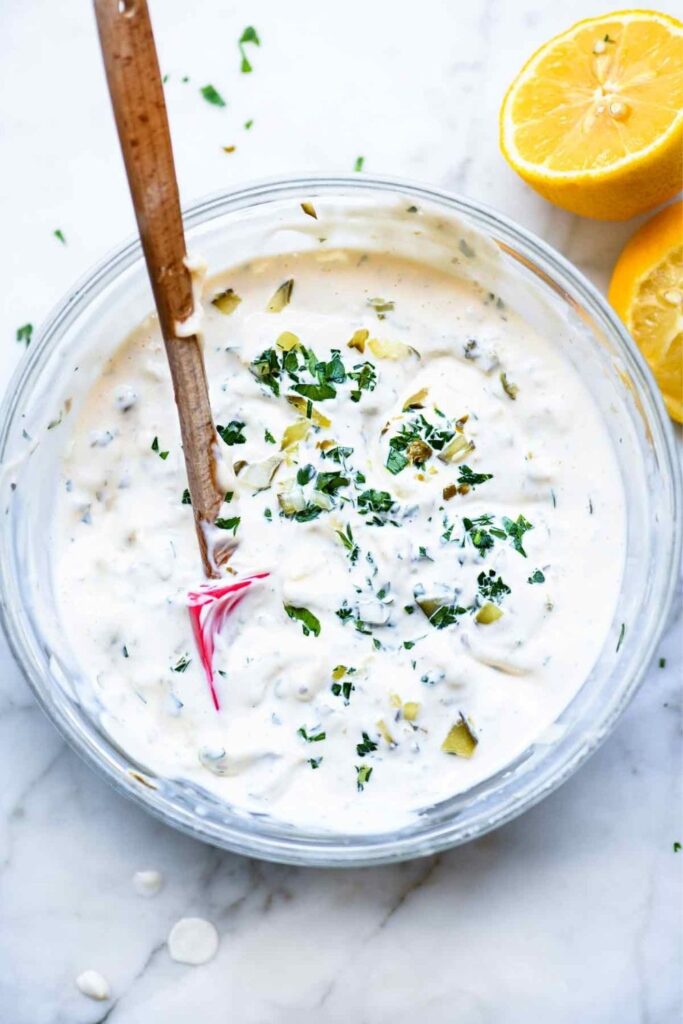 In order to make Gordon Ramsay Tartar Sauce, you will need mayonnaise (egg yolk, mustard or vinegar, bitartrate, oil) or aioli (olive oil, garlic), in addition to a few other ingredients like herbs and lemon juice. Mayonnaise is made by combining egg yolk, mustard or vinegar, bitartrate, and oil. Aioli is made by combining olive oil and garlic.

Tartar sauce is typically served with fish, such as fish and chips, and seafood, such as seared lobster, as well as meat and baked meals.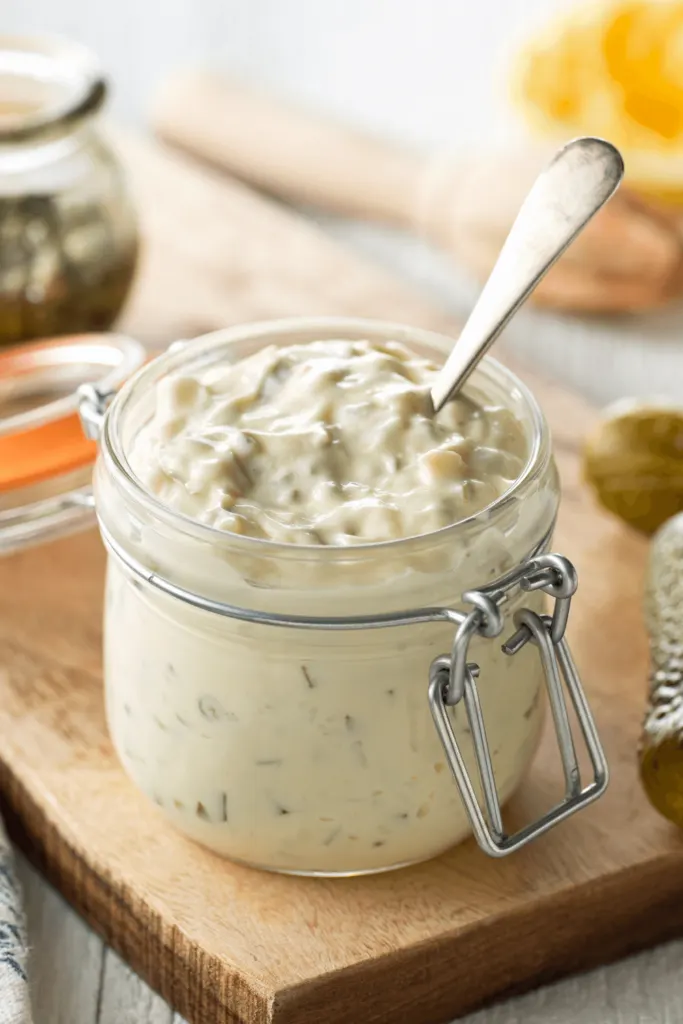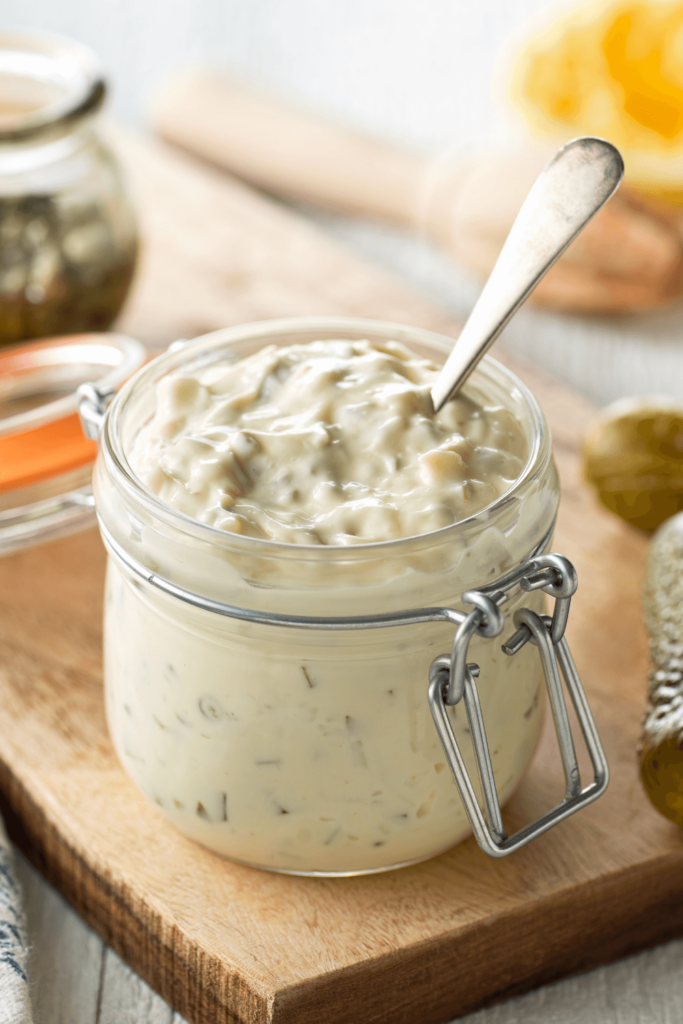 The ingredients for Paula Deen's Homemade Tartar Sauce are the same as those used in other classic tartar sauces: chopped pickles, onions, mayonnaise, lemon juice, salt, and black pepper. You may give the seasoning some of your own unique flair by using dried herbs like rosemary, basil, or parsley. If you like the flavor of garlic, you can add both fresh garlic and garlic powder to the dish.
I've seen chefs use smoked paprika or chili powder to amp up the heat in their sauces, which I found interesting. After all, you have the choice to include any of the tastes that are very appealing to you.
Classic Tartar Sauce can be created with only a few ingredients and in just a few minutes; after trying this sauce, you'll never buy bottled sauce again!
You and your family will enjoy this tartar sauce with Crispy Baked Fish Sticks, Beer Battered Fish, and even Beer Battered Crispy Fish Tacos for the little ones. It is the PERFECT alternative to using bottled sauce.
This delicious and simple Tartar Sauce recipe is something that everyone needs, and it won't let you down! With only a few simple ingredients, you can make this homemade Tartar Sauce with Dill in no time at all. Serve with grilled or battered fish for a delicious meal.
There are only six simple ingredients in this delicious tartar sauce recipe. However, this could be cooked differently from other recipes. You may adapt with different tartar variants by adding capers, tarragon, mustard, pickle relish or parsley. It's fine to experiment with other combinations of components, but these are the essentials.
This sugar-free, dairy-free Whole30 tartar sauce comes up quickly and is a far better alternative than store-bought. It's also a keto and paleo homemade sauce alternative that is a wonderful complement to any of your fish meals!
Tartar sauce is included on the Fish Filet sandwich sold at McDonald's; however, if you already have the ingredients at home, there is no need to ask for more sauce because you can prepare it on your own.
There is nothing complicated about this simple copycat of McDonald's Tartar Sauce. Only four ingredients are required: mayonnaise, sugar, dill pickle relish, and white onion, all minced finely.
Fried fish goes great with this tartar sauce! Alternatively, you might make your own handmade fish filets. You just need a fried fish fillet, a hamburger bun, and a piece of American cheese, and you may add as much additional tartar sauce as you like.
You absolutely must try your hand at making this quick recipe for Red Lobster tartar sauce. It is possible to produce tartar sauce at home, and it tastes exactly the same as the tartar sauce served in restaurants. You're going to be astounded by how simple it is to whip up some homemade tartar sauce!
I have a fun and super easy copycat recipe for you today – copycat Red Lobster tartar sauce. This recipe only takes 5 ingredients and it tastes just like the real deal that you would get at Red Lobster.
If you won't be using the tartar sauce right away, chill it for at least 2 hours or overnight. This sauce will taste much better if refrigerated for a few hours or even overnight.
Are you looking for a classic tartar sauce recipe to complement your fish? You don't need to worry about it because this recipe for tartar sauce is quite easy to follow. It couldn't be simpler! The use of capers lends this sauce a genuine flavor that is impossible to achieve with the store-bought kind. This easy homemade dish requires just 4 ingredients and can be prepared in about five minutes.
Because it allows the flavors to meld together, making this simple tartar sauce around an hour or two before we want to eat it is actually the way I like to prepare it. You may also prepare it one or two days in advance, if you like.
This recipe for old fashioned tartar sauce calls for few ingredients but yields a sauce that is bursting with the taste of fresh herbs and vegetables. After tasting the difference that freshly minced dill and freshly squeezed lemon juice create, you won't ever want to purchase the jarred condiment again.
You can purchase this classic condiment at the store, but once you've had a chance to do so, you'll never want to do so again. This is the perfect tartar sauce to use whether you are baking fish sticks or preparing a fish fry for your guests; it will take your dish to a whole new level of deliciousness!
Vegan Tartar Sauce is so simple to create at home, and it pairs wonderfully with Vegan Fish Sticks and other meals that are traditionally considered to be "fishy." Ready in only 5 minutes.
The nutritional information provided is simply an estimate and was determined using vegan mayonnaise purchased from a store, not vegan mayonnaise that was created at home. The homemade version will have less calories and less fat than the store-bought one.
In this recipe, I like to use my own homemade vegan mayo, but you could also use vegan mayo that you bought from the store instead.
You can make it even simpler by exchanging the chopped dill pickles with dill pickle relish instead of those pickles.
It is SO simple to make your own keto tartar sauce, and it tastes so much better than store-bought versions, in addition to removing the sugar completely. It takes only 5 minutes to prepare, is delicious, and has a velvety texture.
However, most tartar sauces are sweetened with either sugar or corn syrup, making this one of those items that might mislead you into thinking it has a low carb content when in reality it does not. Tartar sauce made with keto ingredients is here to save the day.
And just when you thought it was going to require a lot of ingredients or a lot of time, this low carb tartar sauce is made with only six simple ingredients and comes together in just five minutes. You won't ever want to return to the shop again once you've experienced how much superior the flavor is of this alternative.
Without appearing snobbish, this Old Bay Tartar Sauce contains several components that should be branded. Mayonnaise is the primary component. Make sure you're getting a reputable name brand! I wouldn't contemplate anything but Hellman's. Some other good brands include Duke's and Heinz. Miracle Whip is not mayonnaise, and thus should never be mistaken for it. It is not!
This tartar sauce has a sweeter flavor than my classic version. Instead of dill, I use a sweet pickle relish and a small amount of sugar in this recipe. You should not be concerned about the sauce being overly sweet. This is ensured with the Old Bay Seasoning and lemon juice!
It's possible that you'll be tempted to utilize the ubiquitous, store-bought lemon juice. But, don't do it! All you need is a single fresh lemon. It will make a world of difference in this sauce. Mayonnaise is hefty. The zest and freshness of freshly squeezed lemon juice are essential. Otherwise, the sauce tastes like what you can get in a bottle at the grocery.
This Zesty Cajun tartar sauce has just the right amount of zest, and the sweetness from the mayonnaise keeps it from being overpowering. Extremely simple to prepare using common, easily accessible components. It's so delicious that you can use it on everything from fish and shrimp to sandwiches.
This creamy Avocado Tartar Sauce is excellent with any and all forms of seafood, and it also complements certain pig preparations rather nicely. Every mouthwatering mouthful of the jalapeos that have been pickled delivers the ideal amount of heat. Not too bland, not too spicy. Just right. The perfect amount!
There are a few things that should be said about this luscious and creamy avocado tartar sauce. To begin, it is, without a doubt, very mouthwatering!
Second, it is ridiculously easy to prepare and goes exceptionally well with any and all types of seafood, especially fried seafood.
One of my "toppings" of choice for fish tacos, shrimp tacos, salmon cakes, crab cakes, coconut shrimp, and my lobster po boy tostadas is this sauce (look out for recipe this week). The following are a few dishes that spring to mind right away. This avocado tartar sauce pairs particularly well with some pork meals.
The combination of Greek yogurt and light mayonnaise in this healthy tartar sauce gives it plenty of flavor without adding a lot of fat. Dill relish is used in this recipe to make a simple homemade tartar sauce that can be tailored to your preferences.
Because you'll be using canned relish instead of entire pickles, all you'll need to do to prepare is squeeze a lemon and dice an onion. Then it's just a matter of mixing everything together in a bowl and adjusting the seasonings to taste.
While it may be served immediately, I like to let it sit for an hour or two (refrigerated, of course) so the flavors can mingle. This is a great dish to prepare ahead of time.
You can prepare a healthier tartar sauce for fish and shrimp by combining Greek yogurt, mayonnaise, dill weed, dill relish, and a few seasonings.
This tartar sauce is excellent when served on the side of fish or shrimp that has been grilled or fried, and it is also quite tasty when added to potatoes and vegetables.
Before you cook the fish, season it with the Warm and Spicy Fish Rub that you have. After that, accompany it with Roast Potatoes and Garlic Green Beans for a supper that is quite easy to make yet incredibly delicious.
This copycat Popeyes Tartar Sauce is really delicious. This is one of my favorite recipes to use as a copycat when I want to recreate the flavors of one of my favorite restaurants.
Both the preparation and consumption of it could not be simpler. This knockoff recipe calls for only seven components, but boy, does it deliver a powerful punch! It's incredible, and the horseradish gives it a wonderful flavor that's a bit on the pungent side. You may put it on anything, from fish cooked in an air fryer to fish sticks cooked in an air fryer!
This flavorful tartar sauce and vegetable dip is comparable to the one that is served at the well-known King's Inn restaurant on Baffin Bay in South Texas.
In the bowl of a food processor, combine the onion, olives, garlic, and jalapenos. until it reaches a finely chopped consistency. Mix the mayonnaise, relish, buttery round crackers, and saltine crackers together in a bowl until everything is evenly distributed.
Combine everything that was in the food processor with the rest of the ingredients, then season with curry powder. Before serving with fish or vegetables, let the dish chill in the refrigerator overnight.
The easiest tartar sauce ever is the perfect complement to any fish dish. A velvety sauce including capers, pickle relish, and other spices. Because it is so easy to prepare at home using ingredients that are already stocked in your pantry, you won't ever need to buy regular tartar sauce again.
In most cases, Tartar Sauce may be stored in the refrigerator for approximately two weeks if it is placed in an airtight container. If it did not contain any fresh herbs, I would have been able to store it for a little bit longer.
Making your own tartar sauce couldn't be easier. Isn't that shocking? It may not be suitable for the more experienced among you, but if you don't have any on hand, you can certainly throw one together fast.
Dill relish can be substituted for dill pickles if you don't have any on hand. These pickles will be coarsely minced close to a relish consistency.
If you want to make this dish healthier, use a light mayonnaise instead of regular mayonnaise. Because the mayonnaise accounts for the majority of the sauce's total calorie count, selecting a mayonnaise with a lower calorie content can help you achieve your goal of cutting back on the quantity of calories you consume.
You probably already have the majority of these goods stored away in your cabinet and refrigerator.
How, therefore, is Japanese Tartar Sauce distinct from its American counterpart? Imagine Japanese mayonnaise, onion, and egg, but interestingly, there are no pickled gherkins in this dish.
This tartar sauce is somewhat less tangy and spicy than the tartar sauce you might be used to, but it is just as tasty and can be made in a flash with very little effort.
You have just tasted the greatest Jalapeno Tartar Sauce there is to offer! The ideal condiment to use as a dipping sauce for fish sticks and crab cakes, as well as a topping for fish tacos and fried catfish.
It begins with mayonnaise purchased from the supermarket and jalapenos that have been pickled, and it is combined in the blender in only about 5 minutes.
When I prepare to serve fish or shellfish to my guests, I prefer to whip up a batch of this creamy tartar sauce first. The flavor of this sauce is outstanding, and you will be very pleased with it.
Mix all of the ingredients together in a low-sided basin. Refrigerate until ready to serve.