Cheesy, pasta with a taco twist that makes a great weeknight meal!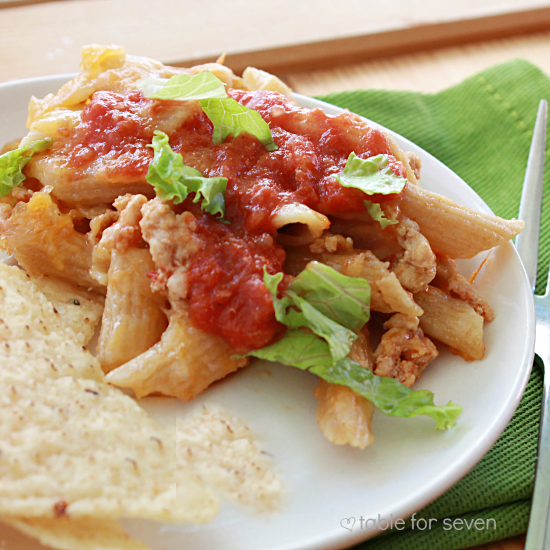 Question: How time a week do you/your family eat pasta?
We are currently at about six thousand times a week. Give or take a few thousand.
We eat so.much.pasta.
With the kids being home for lunch now, we eat it even more. All types, sizes, shapes, and with a variety of sauces. I have a few stubborn kids picky eaters who only want to eat pasta, no matter what we are having for dinner.
The age old question at my house: Are you making noodles for dinner? *sigh*
Have you been there? Please,tell me you have!
With all this noodle-eatin' going around, it's necessary to try and think up new dishes to satisfy both parties. Noodles for my picky eaters and something other than just noodles for the rest of us.
This dish is a winner at our table.
It's filled with:
Noodles
Cheese
Salsa
Ground turkey
Taco seasoning
A little bit for everybody and is a great dish to whip up on a weeknight. It's also great to make ahead, toss in your fridge/freezer and bake up when you are ready.
Add a veggie and a side of nacho chips and this Taco Pasta Bake is served.