Creamy dip with all your favorite taco flavors! Just a few simple ingredients and the addicting dip is ready to go.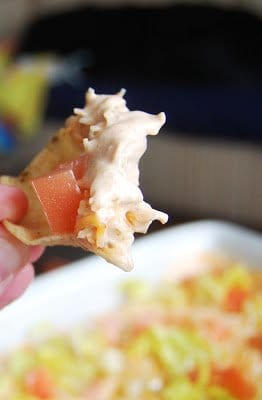 The other day, while walking through the grocery store, my daughter asked me: " Mom, who is playing in the Super Bowl ?"
I honestly answered: "I have no idea".
Who wasn't playing in the Superbowl? That, was a no brainer! Mr Plain is a Packer fan. They are not playing. Therefore, the Super Bowl doesn't really rank as an all important day for us.
But, I do know that Madonna is performing the half-time show and there is a car commercial with Matthew Broderick, aka…Ferris Bueller. 😉
OK, so, I do know now who's playing…Giants and Patriots…right?
❔ Is the Super Bowl a big event at your house?
❔ Are you having (or going to) a big party this Sunday?
❔ Do you love to make junk food and yell at the television?
❔ Or are you quietly going to get the re-cap on the evening news?
Anyway you answer….make this dip this weekend. Heck, make it today!
It's so quick and easy to make, plus, anywhere you serve it….it will disappear quickly. Creamy,dreamy and filled with lots of taco flavors. Top it off with your favorite garnish for the finishing touch.
A quick note:
If you would like to make a lighter version, just simply replace the sour cream & cream cheese with their low fat/non fat versions ore replace the sour cream with non fat plain Greek yogurt.