From chicken Stuffed Crescent Rolls to vegetarian Stuffed Crescent Rolls to breakfast Stuffed Crescent Rolls, as well as a lot of other options, this bakery has it all. This post features 22 delicious Crescent Roll Recipes that are stuffed with a variety of ingredients, including meat, vegetables, and fruits.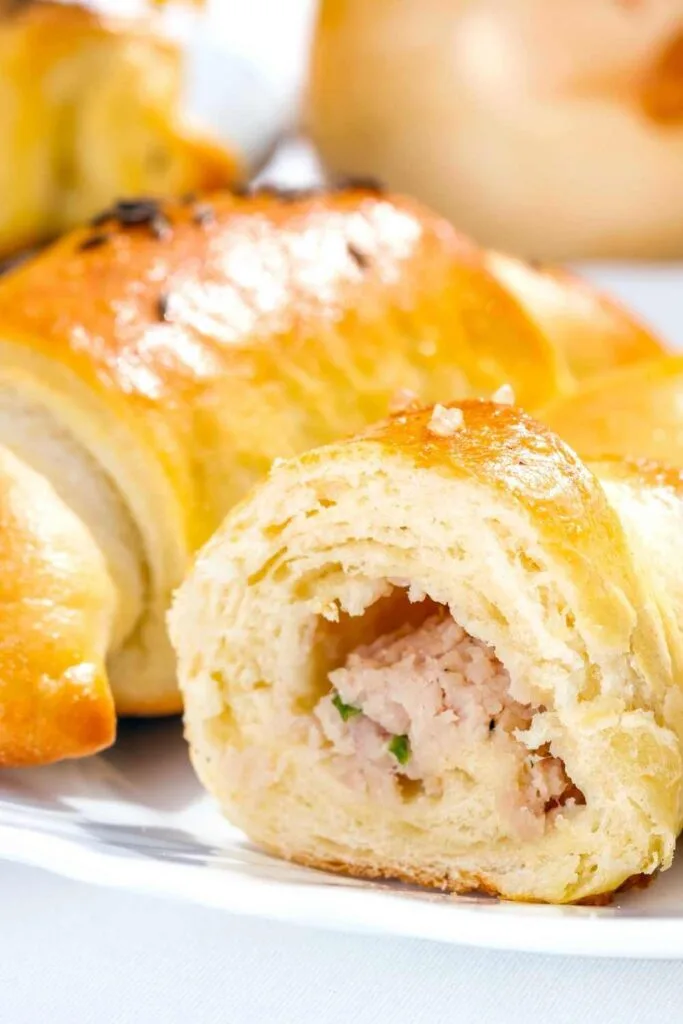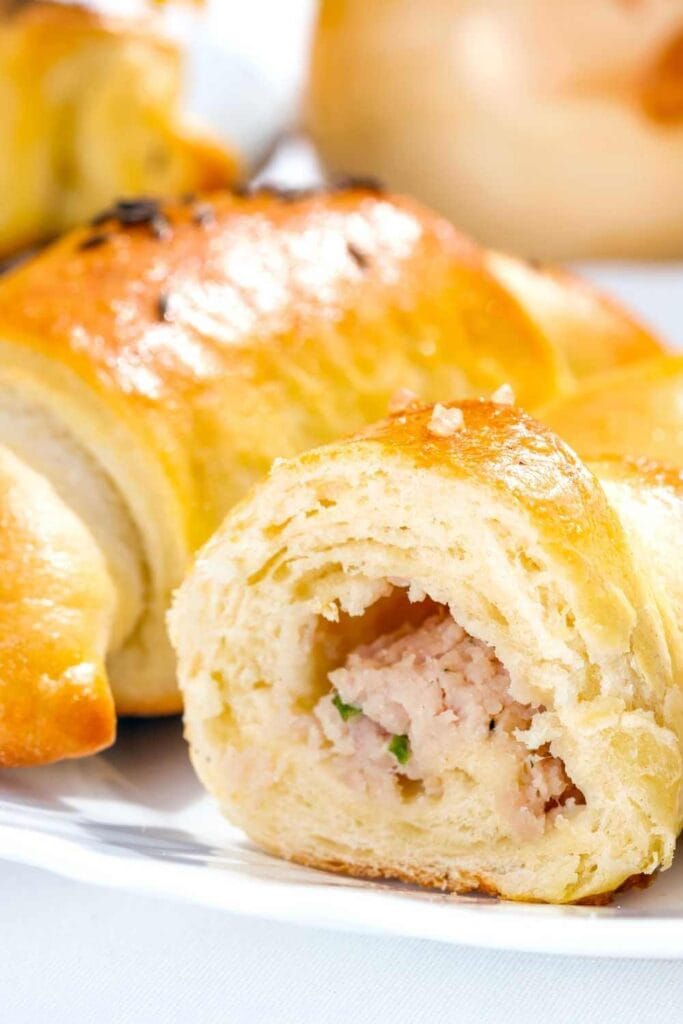 The Pioneer Woman's Creamy Chicken Stuffed Crescent Rolls are a weeknight supper that even the pickiest eaters will gobble up. Chicken breasts shredded and tossed in a creamy cheese sauce, stuffed inside of crescent rolls.
Because you can create your own shredded chicken or use meat from a rotisserie chicken, this recipe for Creamy Chicken Stuffed Crescent Rolls from The Pioneer Woman offers a great deal of flexibility. Even though we usually have frozen shredded chicken available in our freezer, my go-to choice is always rotisserie chicken when I don't have time to defrost the chicken or make more stock.
This simple Chicken Crescent Roll Casserole requires just 5 ingredients and can be ready in approximately 10 minutes thanks to its quick and easy preparation! The buttery, flaky crescent rolls have a cheese filling and are covered with a cheesy sauce. The inside consists of chicken. Either put broccoli and other vegetables on the side or incorporate them into the main meal.
shredded chicken combined with cream cheese, Italian dressing mix, and cream of chicken rolled up in buttery crescent dough! These Delectable Chicken Crescent Roll Bundles Have Quickly Become A Favorite In Our Household.
The whole preparation time for this meal is just around 30 to 35 minutes, making it an excellent option for our really active family. Because they have the flavor of a dinner that took sixty minutes to prepare yet only require thirty, this is probably why we eat them so frequently.
These cheese filled crescent rolls just only ten minutes and five ingredients to make, yet they are really delicious. They are the ideal accompaniment for a variety of foods, including soups, salads, roasted meats, and pasta dishes.
There is nothing more satisfying than soft, warm bread that has just been removed from the oven when served with a hearty bowl of soup on a cold winter day. In most cases, I will just offer a chunk of French bread, a salad, and one of my favorite soups, which are Curry Butternut Squash Soup and Creamy Broccoli Cheddar Soup.
These cheese-stuffed crescent rolls made in an air fryer are really simple to make, in addition to being extremely time efficient. These are wonderful as a dessert, a snack, or even as a side dish to go along with your favorite main course.
It's ideal to savor these cheese-stuffed crescent rolls made in an air fryer for the very first time you prepare them. The leftovers may be kept in the refrigerator for up to two days if they are sealed in an airtight container and placed in the coldest part of the refrigerator.
Recipes that call for crescent rolls and cream cheese might give the impression of being elegant, but in reality, they are really simple to prepare.
That is an essential consideration when you're a harried mother! You can make a delectable breakfast for the family with only four major ingredients, plus a little powdered sugar to sprinkle on top, and you won't need to spend the entire morning in the kitchen preparing the meal. In point of fact, these crescent rolls loaded with filling also make an excellent dessert!
These Jalapeno Popper Crescent Rolls are stuffed with a delicious cream cheese filling, fresh jalapenos, and shredded cheddar cheese, all of which are wrapped in a flaky crescent roll dough.
There aren't many recipes I love more than this when it comes to crescent rolls. In most cases, you can find a roll of refrigerated crescent dough in the refrigerator at all times.
Not only are they wonderful to offer for breakfast or supper, but they also make beautiful wrappings for appetizers.
When using crescent roll dough that has been premade and refrigerated, the preparation and cooking of these ridiculously simple Pepperoni Crescent Rolls takes only a few minutes. They are quite suitable for children and have their approval.
These Pepperoni Crescent Rolls may be a great and speedy option for either dinner or lunch. There are seven components, and you probably already have the most of them stashed away in your kitchen cupboards.
Scramble the eggs (approximately 5–6 for each can of crescent rolls), and once they are done, stir in half a block of cream cheese. Combine everything.
Place a can of crescent rolls flat on the table and squeeze the seams together. Cut both sides so that you may "tie it up" afterwards.
Place scrambled eggs all the way down the centre, and then top with the toppings of your choice. Add shredded cheese.
Tie the sides together by squeezing them together.
Brush the crescent rolls with egg wash and bake as directed on the package.
Place the feta and dill in a bowl of a medium size, and then put it aside.
When the olive oil in a saucepan of medium size is heated over medium-high heat, add the garlic and green onions and sauté for three to five minutes. After the spinach has been thawed and rinsed, add it to the pan and combine it with the garlic and onions.
After everything has been thoroughly combined, pour it on top of the feta and dill.
After that, pour in the juice of the lemon, and stir it all together. Place triangular crescent rolls on a clean surface and add one heaping scoop (I use a medium size Pampered Chef Scooper) of spinach mixture to each crescent roll. Fold and squeeze holes closed to seal crescent rolls.
Look at the photographs down below.
Put the rolls in an even layer on a baking sheet that has not been oiled, and bake them on the center rack of the oven for 12 to 15 minutes, or until they are golden brown. Take out and serve while still warm. Enjoy!
What could possibly be more delicious than buttery, flaky crescent dough stuffed with bacon and pepper jack cheese and wrapped up like a cigar? It could not be much simpler, and it is the ideal snack for a day spent watching sports. But rather?
This breakfast ring contains everything you need for a full meal: bacon, eggs, and cheese, all encased in a warm crescent ring! It might appear difficult, but I guarantee you that it's easy to make, and it's wonderful for breakfast on special occasions or on an ordinary weekend morning.
The most enjoyable way to begin the weekend is by beginning it with a breakfast that consists of warm scrambled eggs, melting cheese, and crisp bacon wrapped in freshly made crescent rolls. Egg-based breakfast recipes are some of the best, so if you like those, you're going to adore this.
These cheeseburger crescent rolls or meatball crescent rolls are so addicting, and they are our favorite crescent roll recipe, whether made with or without ground beef. Just right for munching on while watching the big game at home or taking to the stadium.
These Cheesy Meatball Stuffed Crescent Rolls are so delicious that whenever I make meatballs, I usually keep some away or make extra so that I can make a small batch of these rolls just for me since I like eating them so much. You can use whatever crescent roll recipe you choose.
The Easy Cheesy Sloppy Joe Stuffed Crescent Rolls are the fastest little appetizer or meal ever, which means that weekday dinner or snacks is only minutes away. These crescent rolls are stuffed with sloppy joe meat and melted cheese. You're going to find that this is one of those things that you turn to again and again as a go-to!
It is a food that is strong in protein. We always include protein-rich foods (such as meat, fish, poultry, beans, and tofu) in each and every one of our meals.
This is due to the fact that protein not only helps our bodies carry out processes such as the synthesis of muscular protein, which is necessary for the development and maintenance of our muscles, but it also helps us feel full and satisfied after eating it. This is why protein is so important.
Cheesesteak Crescent Every time I get a roll, it's gone! An appetizer or a main course, these flaky crescent rolls with sliced beef, sautéed onions and peppers, and plenty of ooey cheese are sure to please.
These Cheesesteak Crescent Rolls are a staple in our home's supper rotation and are always a crowd pleaser! They were an idea that came to me one evening as I was searching around for supplies to make supper, and I was pleasantly surprised by how well they turned out.
My family went through the entire batch in one sitting, and now it's one of the dinners that's consistently at the top of their want list. If you serve it alongside a fresh salad, you'll have everything you need.
These Philly Cheesesteak Crescent Rolls are packed full of meat, peppers, onions, and cheese all topped with crescent roll dough. These crescent rolls are perfect for serving as appetizers or even for supper!
When you cook the onions in the same manner as the peppers for some time, they will acquire a sugary and caramelized flavor. Take the whole twenty minutes to do this step since it has a dramatic impact on the flavor in a positive way. If you have 30, you should definitely go for it. It's going to be better!
Apples are the most versatile of fall fruits and may be used in a wide variety of ways to create delicious dishes. If you are someone who enjoys eating anything prepared with apples as much as I do, then this cinnamon-apple crescent roll dream is something that you just have to try.
It was the first time I had prepared it, and all of us were enchanted with the flavor. This uncomplicated delicacy is characterized by the aroma of cinnamon and apples, and it dissolves in your tongue since it is saturated in apples and the liquid that they produce.
The Tuna Stuffed Crescent Roll Casserole is the ideal recipe to prepare when you are in charge of providing food for the entire family at mealtime. This is a dish that can be prepared quickly and easily, and it only takes a short period of time to put together.
When it comes to deciding what to add in this casserole, you have a lot of leeway. This is the ideal meal for a weeknight because it can be prepared in about half an hour and does not need a significant amount of effort on your part.
These crescent rolls, which take their inspiration from a Reuben Sandwich, are simple to make, can be whipped up in a flash, and are the ideal appetizer to have on hand while you pretend to watch football.
If you are unable to get corned beef, you might easily replace it with pastrami, which is not only delicious but also likely less expensive. You don't have to shred the cheese if you don't want to; instead, you may cut it into chunks as I do when I make these Bacon and Pepper-Jack Stuffed Crescent Rolls.
Turn oven on to 400°F. From the shorter ends, roll foil sheets into cone-shaped molds. Unroll the dough on your work surface and press the seams together if you are using crescent rolls.
Using a pizza cutter or knife, cut the dough lengthwise into 8 strips that are each 1 inch wide.
Wrap one strip around each carrot-shaped foil mold. Put 1 inch apart on a cookie sheet that hasn't been greased.
Bake for 7–9 minutes, or until the top is golden brown. Place on cooling rack and let cool completely before taking out of foil molds.
Using an electric mixer on medium speed, mix cream cheese, parsley, chives, lemon peel, and salt in a medium bowl until smooth and combined.
The cream cheese mixture can be piped or spooned into the hole in each crescent. Add two sprigs of parsley for the carrot tops.
Prepare the crescent rolls by preheating the oven in accordance with the instructions provided on the crescent roll packaging.
Bring the oil to a simmer in a skillet set over medium heat. After adding the mushrooms, salt, and pepper, continue to sauté the mixture for approximately 5 minutes, or until the mushrooms have become soft.
Following the instructions on the package, cut the dough for the rolls into triangles before proceeding. After placing mushrooms on the broad end of each triangle (and cheese, if you have some), wrap the triangles into crescent shapes. Place the rolled-up dough on a baking sheet that has been covered with parchment paper.
Bake in accordance with the directions on the package.
A classic recipe for crescent rings, the Mediterranean Crescent Ring is prepared with components that are influenced by cuisine from the Mediterranean. The elements in this crescent roll ring dish are bursting with saline Mediterranean taste, and they are wonderfully presented in a flaky crescent ring.
The ingredients include spinach, artichokes, two types of cheese, roasted peppers, and olives. This recipe for vegetarian crescent rolls is designed to be shared with others!