It's soup season! Time to celebrate with this delicious and fun Spaghetti and Meatball Soup. A great soup for a chilly weeknight dinner. Filled with spaghetti noodles, red sauce and meatballs.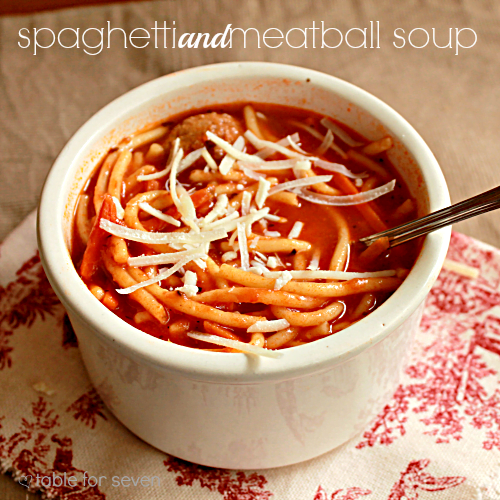 Ready for soup season?
It's raining,chilly and windy. You just want to turn up the heat, put on your fuzzy slippers and fill yourself up with some warm soup.
So, it's official..soup season. I'm calling it! Who's with me?
Here's the thing and this may come as a shock to some (note: sarcasm), but, my kids are not big soup eaters. No, not even canned. Of course, I'm not a big canned soup eater. A little too salty for me.
Anyway, we love our chicken, potato and our cheddar soups, however, I wanted something a bit different and new.
This soup fits us perfectly. Filled with pasta, spaghetti sauce and meatballs.
Those my kids love.
It's a great, warming soup perfect for the this time of year. Serve it with a side of garlic cheese bread (recipe coming tomorrow) and kick off the start of soup season!