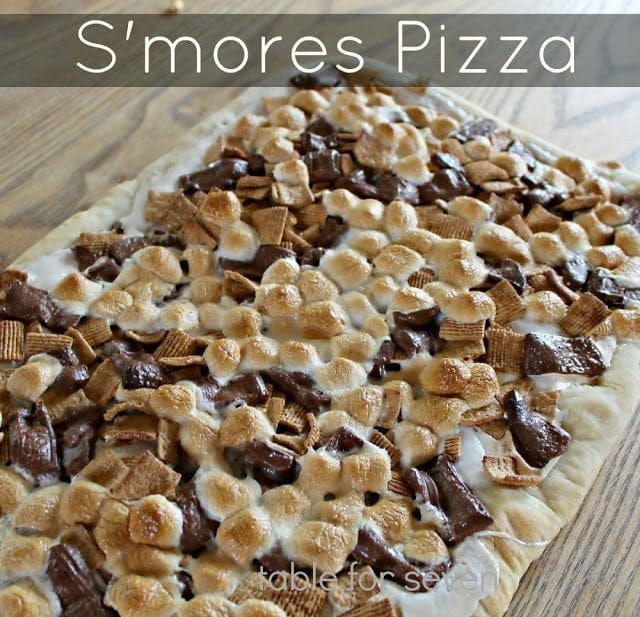 Hello and happy weekend everyone!
I hope you are having a a lovely restful, stress free weekend. We had a bit of company yesterday. My sister and her daughters came by, we ate pizza for lunch, then, made some S'mores Pizza. To finish out the day, we fed the children cheese popcorn, cupcakes and ice cream after they had leftover pizza for a "dinner".
I kid you not. We all ate too much junk..it was such great fun!
So..the S'mores pizza..It's a very easy treat to whip up. I included your staple S'mores ingredients: chocolate, marshmallow and graham crackers. Marshmallow fluff was spread on the crust as a base to get the rest to stay put. That, and any excuse to make marshmallow fluff. 😉
Here was the decision on it based on several sweet-loving, sugar addicted, children—-the homemade crust was yummy(will be used for our next actual pizza), the toasted marshmallows, chocolate and graham cereal were the favorite part to nibble one…even though the chocolate didn't melt that great (?). The crust/marshmallow fluff combo was a bit much. It gave the crust a bendy-type texture.
Next time, no fluff..heartbreaking. Don't worry, there is still some of the batch in the fridge and I have plenty of spoons to eat it with.
HOWEVER! With all this, I've decided to share the pizza crust recipe today. If you chose to whip up your own S'mores pizza, below is a lovely collage with a guided picture tour of our recipe: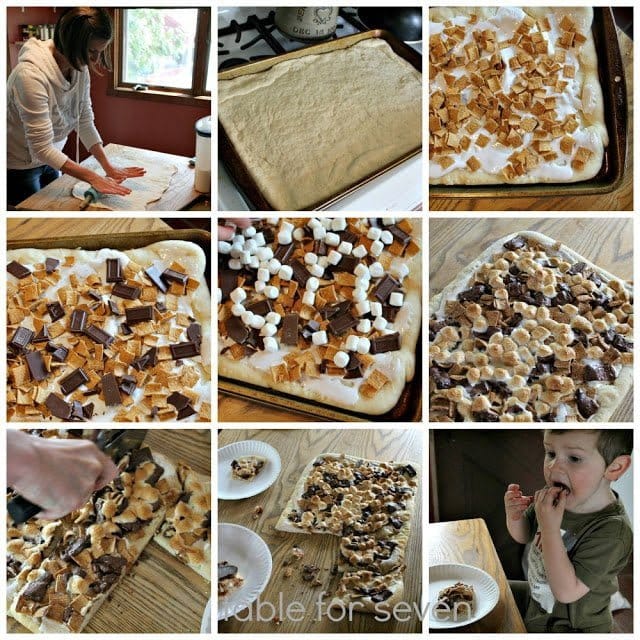 But, definitely, give the homemade pizza crust a try..it's yummy!