A delicious, crispy, chicken that bakes in your skillet.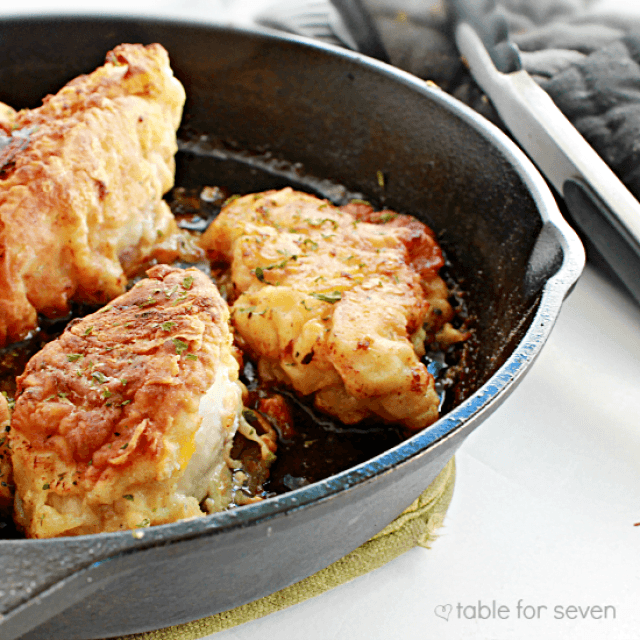 Ingredients Needed:
Boneless chicken breasts
Flour
Egg
Milk
Dried Spices: Paprika-Poultry Seasoning-Black Pepper
Oil
Chicken: You will need 1.25 lbs. Depending on sizes, this could be anywhere from 2-4 pieces
Dried Spices: Feel free to increase/decrease the dried spices to your taste preference.
How to Make (full instructions in recipe card):
Pat chicken breasts dry. In a large plastic storage bag, add flour and dried spices. Set aside.
In a shallow dish, whisk together egg and milk.
Working in batches, place the chicken breasts in the storage bag and seal. Shake to coat.
Remove from the bag and coat in the egg/milk mixture. Then, coat it again in your flour mixture.
Cook each piece of coated chicken in an oven safe skillet. Brown chicken for about 5 minutes or so on each side. You are just getting the outside brown, not cooking completely!
Again, do this in batches and don't overcrowd your skillet.
Once they are browned, bake them in a preheated oven. Be sure to let them rest for about 5 minutes before cutting/serving.
Notes:
I used my iron skillet for this, but, any kind of oven-safe skillet will work fine.
Cooking time may vary, depending on the size/thickness of your chicken. The internal temperature of your chicken should be at least 165 degrees when done.
Serve it With: