The name says it all! A simple and flavorful beef that only needs a handful of simple ingredients. It sides perfectly with brown rice or whole wheat pasta.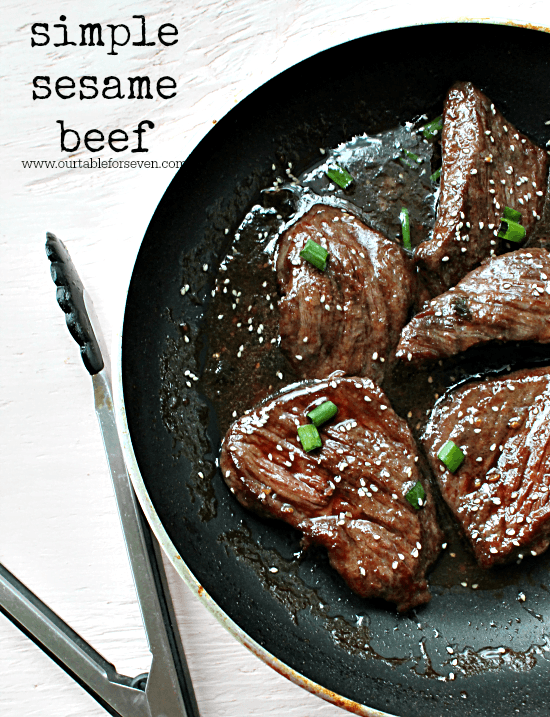 Ingredients Needed:
Round steak
Soy sauce
Sugar
Oil
Minced garlic
Green onions
Sesame seeds
Steak: Round steak, strip steak, or a sirloin roast all work well with this recipe. Stick with a cut of beef that is lean and not too tough in texture.
Can I Use Chicken Instead?
Yes. The sesame marinade will also go great with chicken. Slice your boneless chicken breasts into strips. Then, continue with the marinade recipe as noted. You will also need to reduce your cooking time just a few minutes.
Oil: Use a neutral tasting oil. Canola, olive, sunflower or vegetable will all do the trick.
How to Make:
Whisk together marinade ingredients until smooth. Cut beef into strips and mix them with the marinade.
Marinade the beef for at least 30 minutes. You can marinate longer, but, 30 minutes will still give you full flavor.
When you are ready, heat oil in a wok or skillet. Cook the meat strips for 5-8 minutes.
Don't cook the meat to long..it may be tough in texture to eat. You simply want the meat to longer be pink.
Add in the sesame seeds and green onions. Cook just an additional 2 minutes.
Remove from the pan and let the meat rest for 5 minutes before serving.
Serve With: