Homemade Caramel Corn is simple, sweet and delicious! Making it at home is cinch and much better than any store bought version.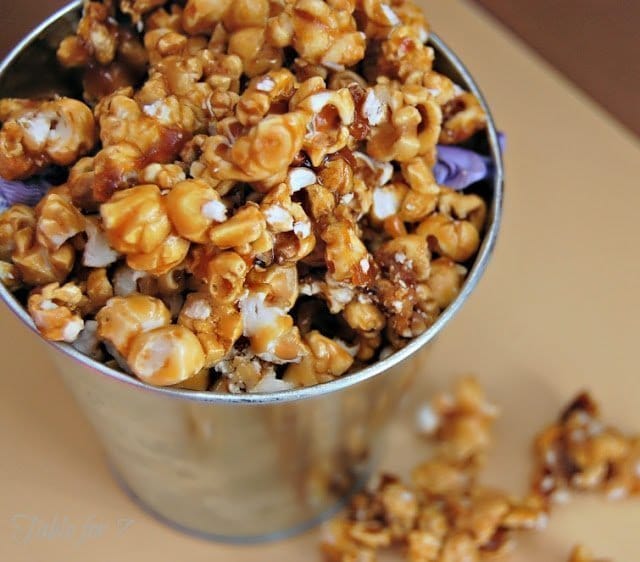 Ingredients Needed:
Popcorn kernels
Brown sugar
Light corn syrup
Molasses
Butter
Baking soda + Salt
Vanilla
Popcorn: If you wish to make the popcorn yourself, you will need a 1/2 cup of kernels. If you want to use already popped, plain popcorn, you will need 5 cups.
Butter: I do recommend using real butter for this. Margarine can burn too easily.
Want to Make Homemade Microwave Popcorn? It's really easy! Find out how.
Can I Add Mix ins to This?
Yes! Ours is strictly caramel corn. However, you can mix in chopped nuts, coated candy pieces or your favorite chocolate candy, pretzels or chocolate/flavored baking chips.
How to Make and A Few Notes:
First, preheat your oven and line a large flat rimmed baking sheet with foil. Then, spray the foil with non stick cooking spray.
If you are making your popcorn, make it and set aside.
In a saucepan, melt butter with brown sugar, molasses, corn syrup and salt.
Bring it to a simmer ( be sure to stir it often!). Keep it simmering until the mixture reaches 250 degrees. Remove it from the heat and stir in baking soda and vanilla.
Let it cool for just 4-5 minutes.
Carefully ( it's hot!), pour the mixture over the popped popcorn. Stir it to coat well, then, spread the coated popcorn on to the prepared baking sheet.
Bake it for 1 hour. Every 20 minutes, stir the mixture.
Remove it from the oven and let it cool compltely. Then, break it up into pieces.
Storage: Keep in a covered container. No need to refrigerate, unless the weather is really hot/humid in your area.
I Don't Have a Candy Thermometer!
A simple candy thermometer is not very expensive if you wish to make the purchase. If you don't want to buy one, you can still use this method to test the mixture.
More Popcorn to Snack On: