Just a few simple ingredients for these soft, flaky, croissants. They are great for breakfast or dessert.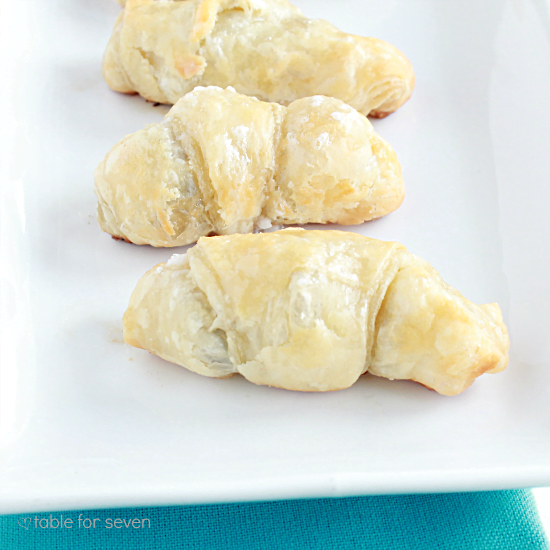 Ingredients Needed:
Frozen puff pastry dough
Egg white
Water
Chocolate chips
Puff Pastry Sheets: These can be found in the dessert freezer section in your grocery store. This recipe will only use 1 sheet from the package. Be sure to defrost it before using.
Chocolate Chips: Milk chocolate, dark chocolate or semi sweet will all work for these!
How to Make (full instructions in recipe card):
First, make sure your puff pastry sheet is defrosted. Then, roll it out on a well floured surface. Keep it in the shape of a square.
Cut the large square into 4 equal size, small squares. Next, cut each one of those smaller squares in half, to create a triangle.
Fill each triangle with chocolate chips. Starting at the wider end, roll each triangle. Make sure to pinch the ends, so, your chocolate doesn't spill over. Curl in the ends to create a crescent shape.
Place on a prepared baking sheet and brush with an egg white wash.
Bake.
More Puff Pastry Recipes to Try: