Crunchy chicken nuggets with a sesame crust. Dip them in honey teriyaki BBQ sauce for delicious weeknight meal!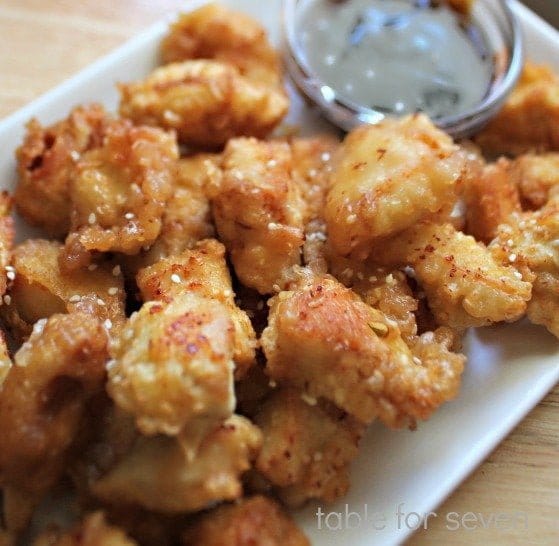 Ingredients Needed:
Boneless chicken breast
Egg
Water
Flour
Sesame seeds
Oil
BBQ sauce
Honey
Soy sauce
Garlic + Onion powder
Boneless Chicken Breasts: You will need 1 pound. This should be 1-3 medium size breasts.
Oil: This is for frying the chicken nuggets. Go with a neutral tasting oil ( canola/vegetable/sunflower) for best results.
BBQ Sauce: For best results, go with a ketchup based BBQ sauce.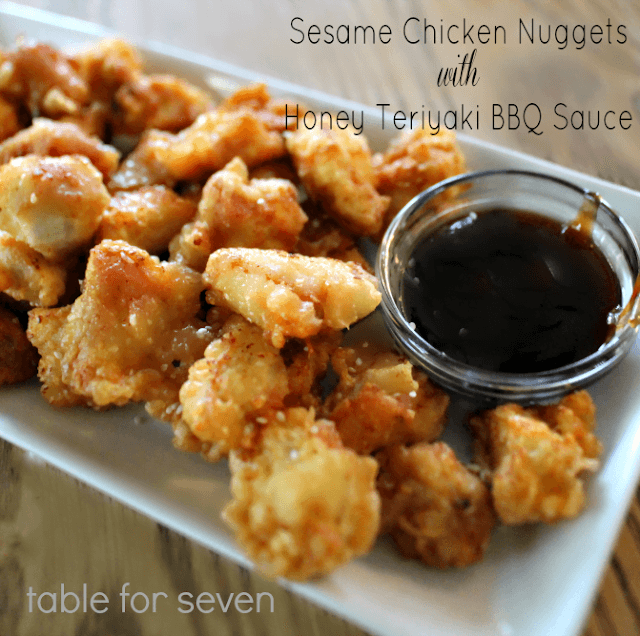 How to Make:
First, make your batter. Whisk together the egg, water, flour, sesame seeds and water until smooth.
Dip each 1 inch piece of chicken breast into the batter. Be sure to coat it completely.
Cook each coated piece in preheated oil until they are no longer pink. This should take about 4-5 minutes.
Make the BBQ: Whisk together the sauce ingredients in a saucepan. Over medium heat, bring it all to a boil. Reduce the heat and let it simmer for 15 minutes.
Heating Your Oil:
Heat the cooking oil until 375 degrees. You can test it with a thermometer. If you don't have a thermometer..stick the handle of a wooden spoon into the oil. If it's ready, the oil will bubble around the handle.
Storage: Store nuggets in a covered container in the refrigerator. You can also freeze them in a freezer safe, covered container/storage bag. They will be good for 3-4 months.
Keep leftover BBQ sauce in a covered jar/container in the refrigerator. Use it within a week.
More Easy Chicken Recipes: