Cook up some incredible hearty nutritious meals with our 20 Tasty Sauerkraut Recipes with Meat round-up.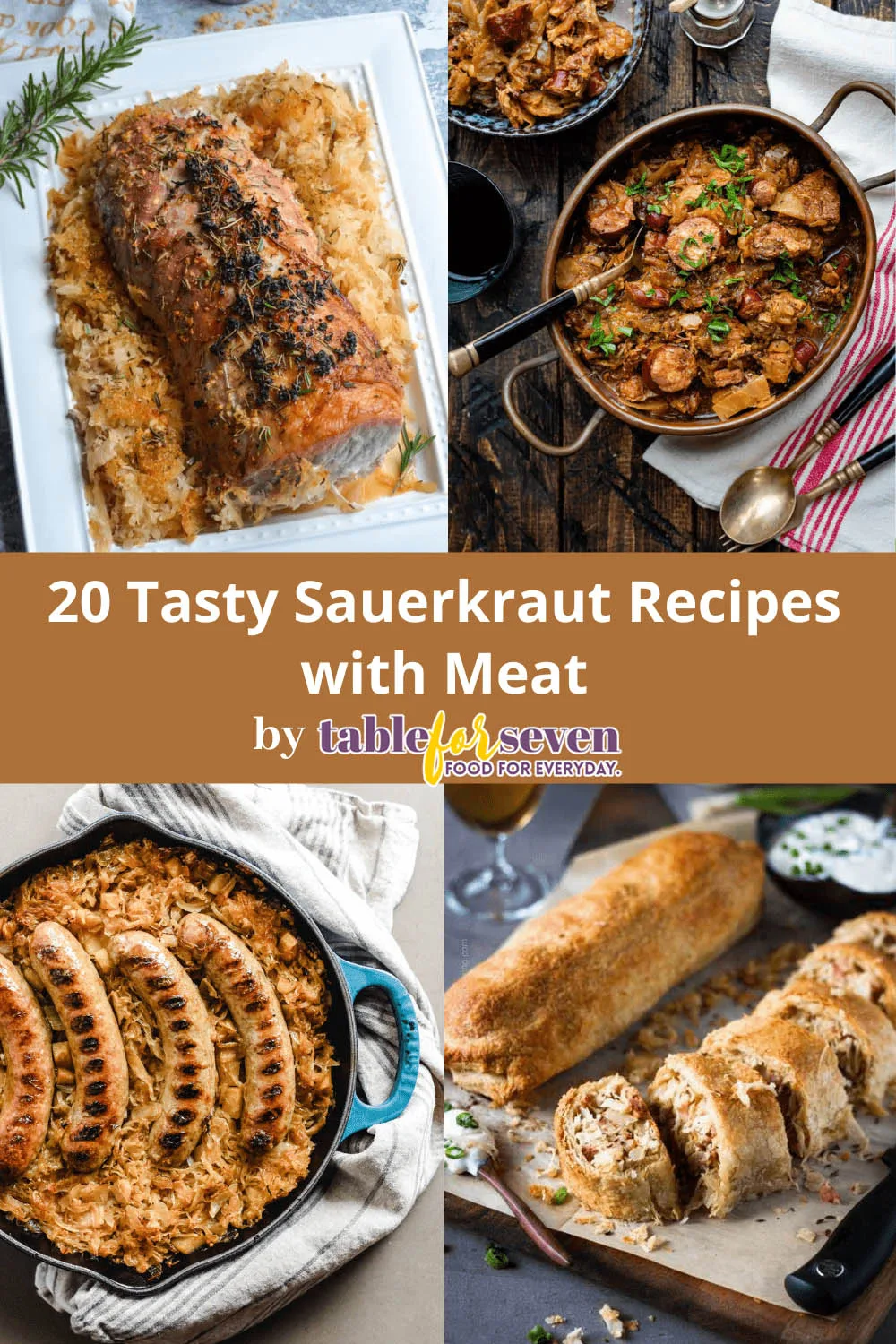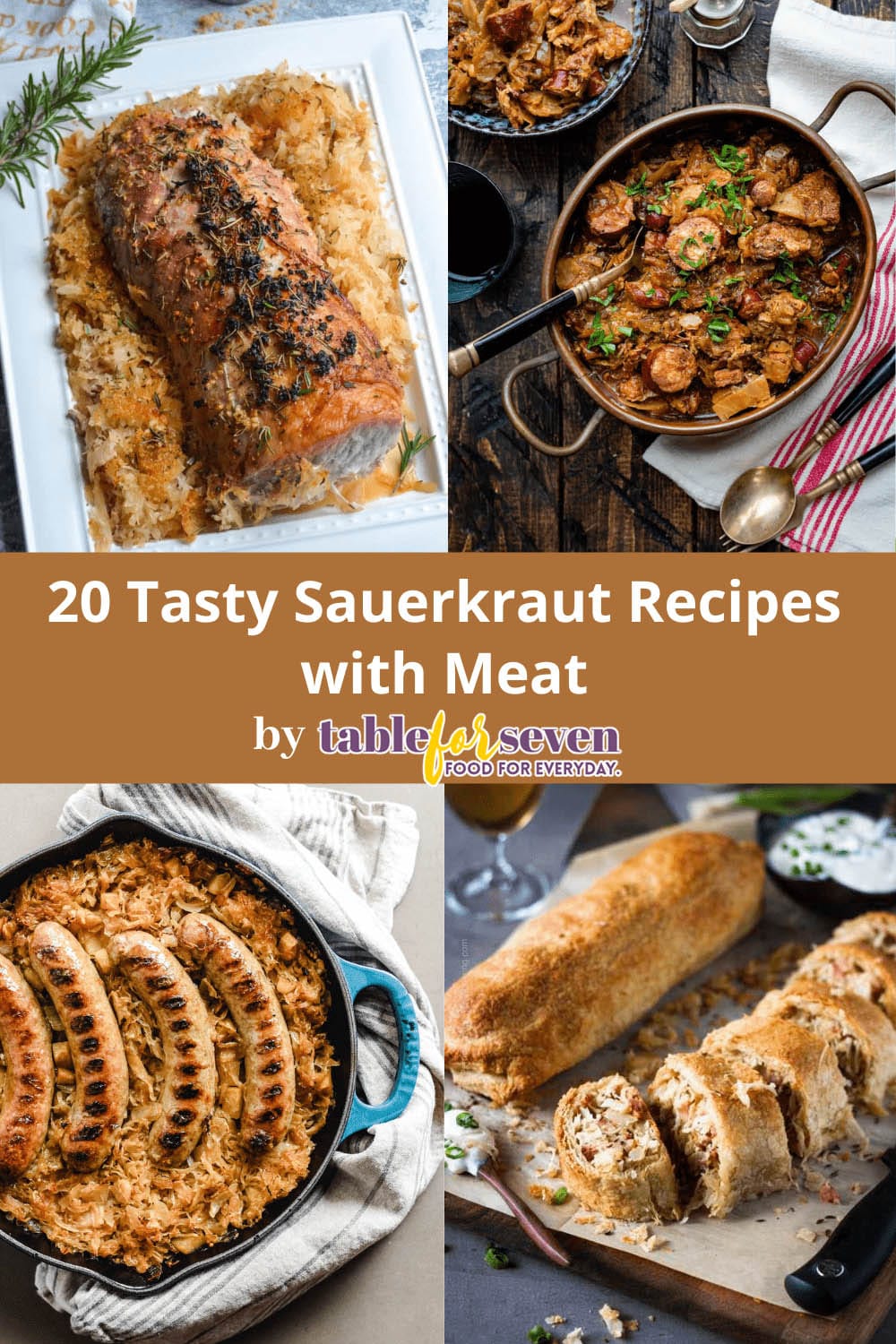 Meat and sauerkraut is a classic combination especially popular in Germany and Central Europe. Sauerkraut is a nutritious fermented food which adds health benefits to meals, especially when using the raw unpasteurised version. It also aids digestion making the hearty meaty stews we all love more easily digestible.
We have compiled some amazing traditional flavorful meat and sauerkraut recipes to get you inspired. There's something for everyone in our amazing collection of 20 Tasty Sauerkraut Recipes with Meat.
1. Bigos Stew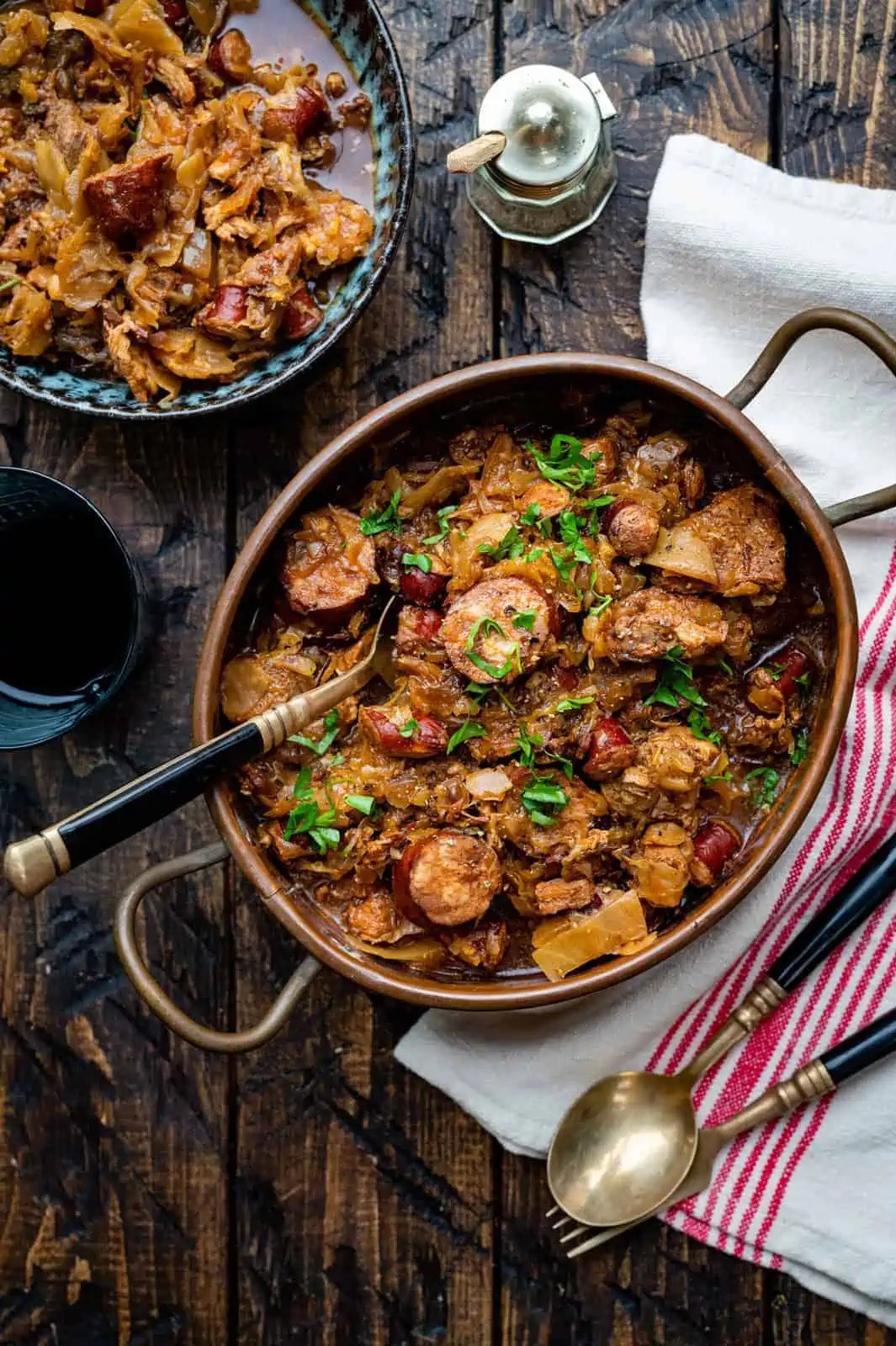 Bigos Stew by Supergolden Bakes is a hearty winter stew. This traditional Polish dish a.k.a Hunter's Stew combines meat, smoked sausage, porcini mushrooms, cabbage, sauerkraut and prunes. This is a slow cooker recipe that is packed with flavor.
2. Pork and Sauerkraut Oven Roasted Recipe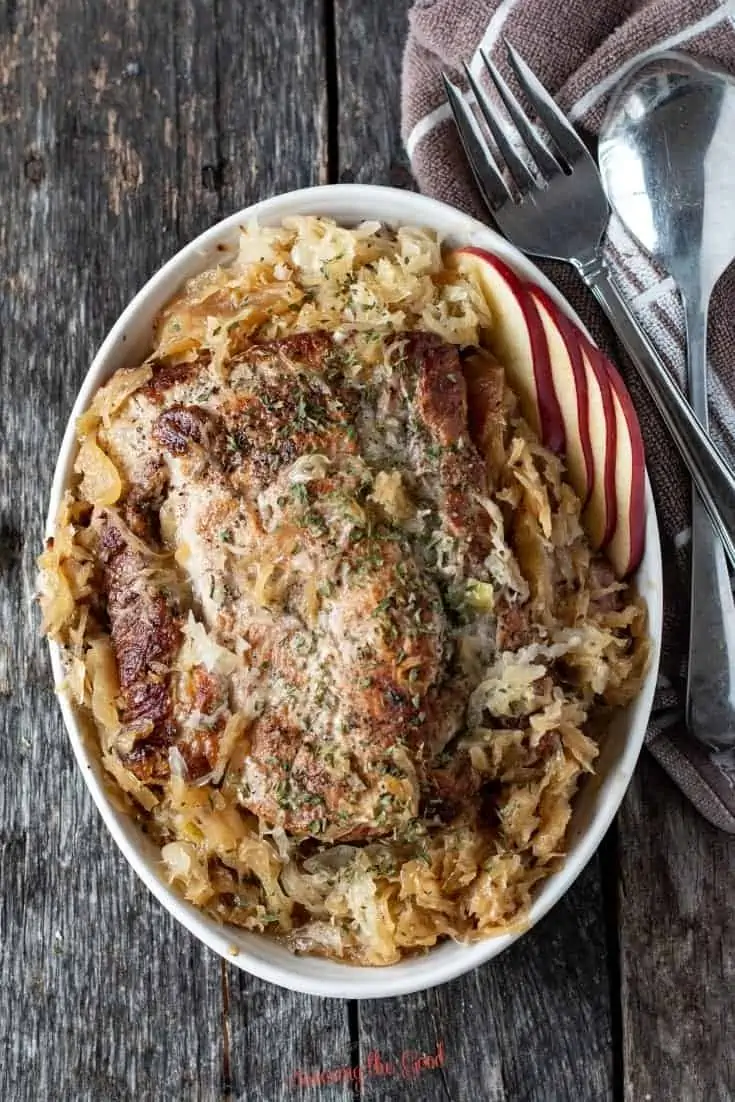 This cooked to perfection Pork and Sauerkraut Oven Roasted Recipe by Savoring the Good is a traditional New Year's meal meant to bring luck in the New Year. Make this simple flavorsome dish with pork loin, sauerkraut, onion and apple.
3. Bierocks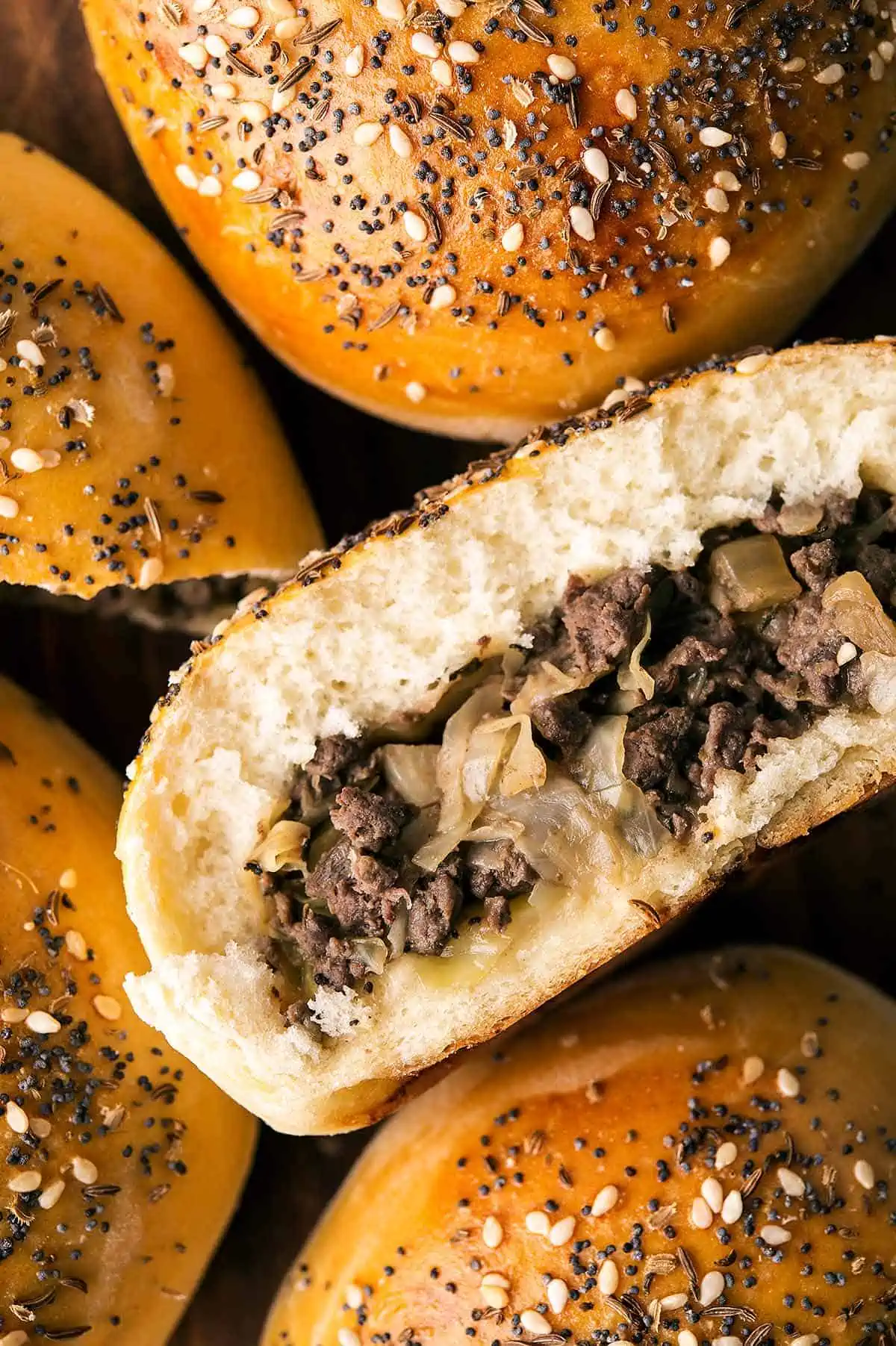 You must try baking these delicious light pillowy Bierocks by Hunter Angler Gardener Cook. These tasty buns recipe consists of yeast dough that is filled with meat, shredded cabbage, sauerkraut, onion and seasoning and baked until golden.
4. Baked Brats in Caramelized Sauerkraut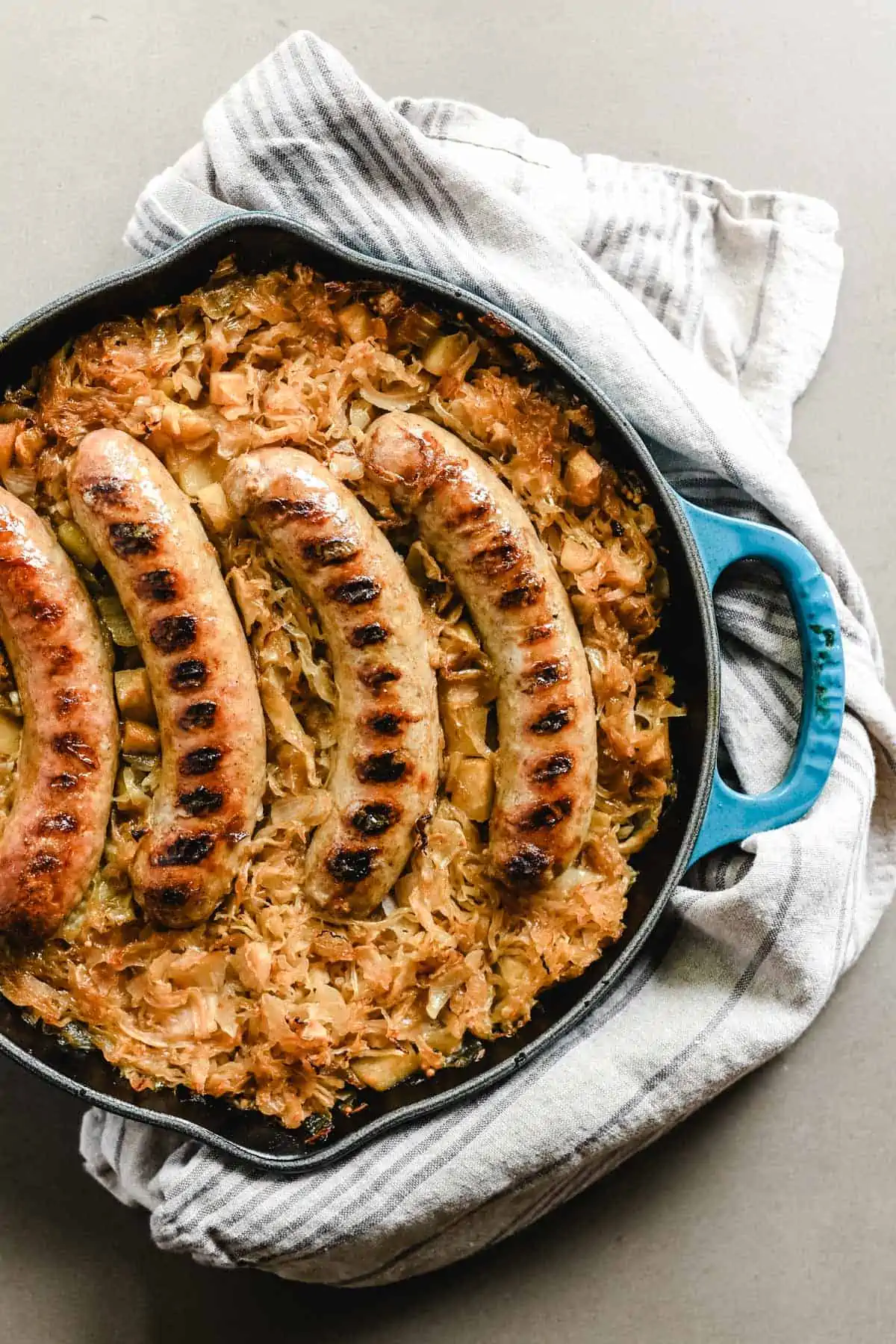 You will adore this classic German recipe. These utterly scrumptious Baked Brats in Caramelized Sauerkraut by The View from Great Island is an easy sausage casserole recipe that is perfect for family weeknight dinners.
5. Choucroute Garnie
We love this take on an iconic Alsatian French dish Choucroute Garnie by Cook The Story. This classic recipe consists of braised sauerkraut garnished with all forms of pork. While this meal can look a little daunting this simplified version takes 15 minutes to prep with the rest of the work being done in the oven.
6. Pork Tenderloin Sandwich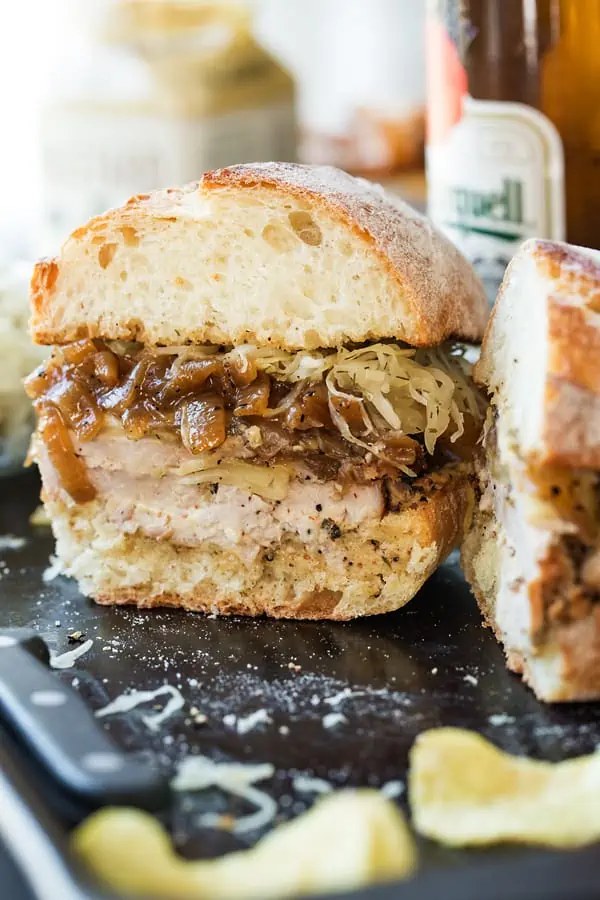 You couldn't load more flavor into this hearty Pork Tenderloin Sandwich by The Cozy Apron. Roasted pork tenderloin that is peppery and crusty on the outside and tender and juicy on the inside is piled onto a crusty roll with melted Swiss cheese, sweet-n-savory beer-braised onions and tangy sauerkraut.
7. Sauerkraut Balls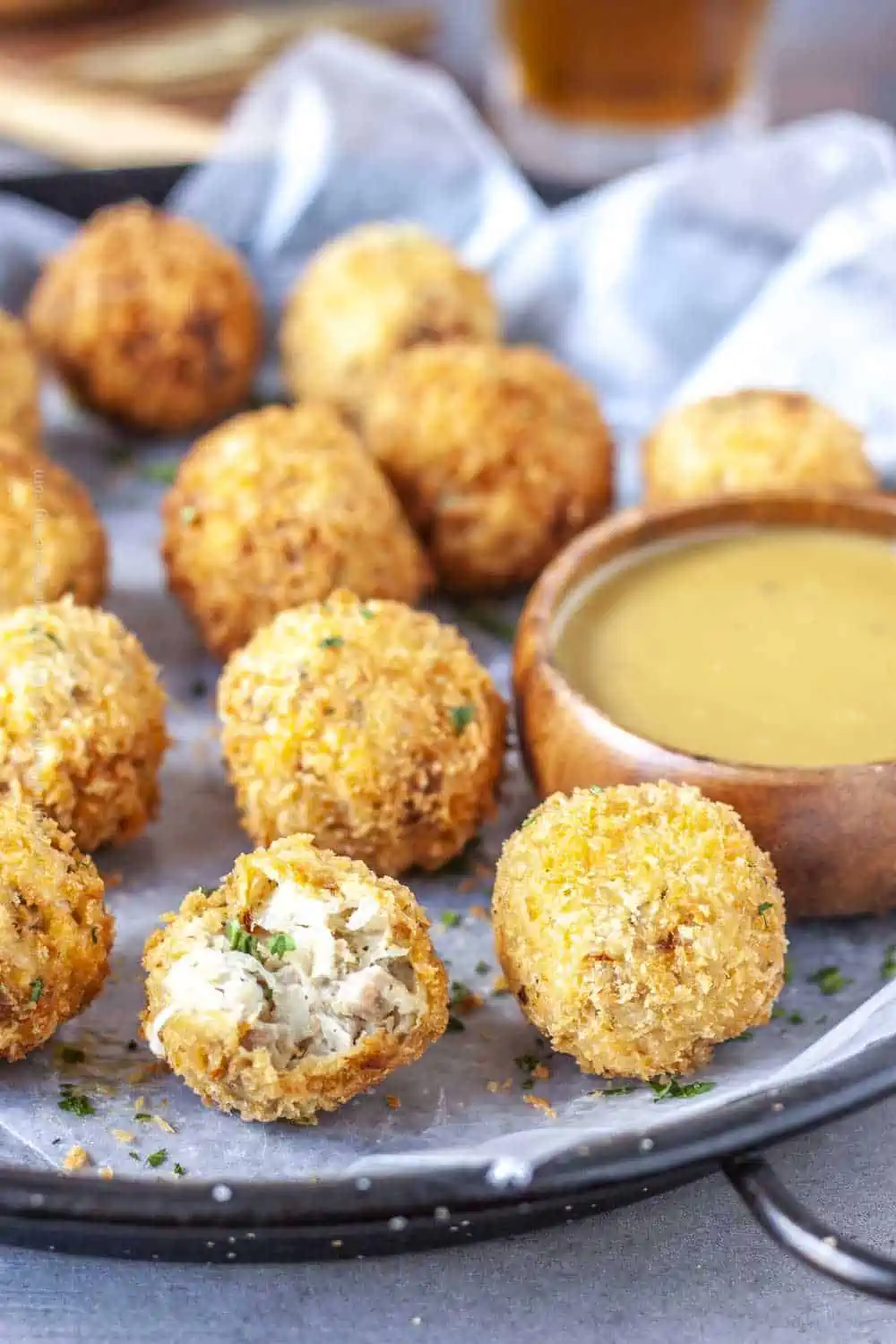 These moreish Sauerkraut Balls by Craftbeering are your ultimate party food. This tasty sauerkraut fritters recipe consists of a mixture of sauerkraut, uncooked bratwurst, onion, breadcrumbs, cream cheese, parsley and seasonings encased in a crispy golden brown breading.
8. Reuben Chopped Salad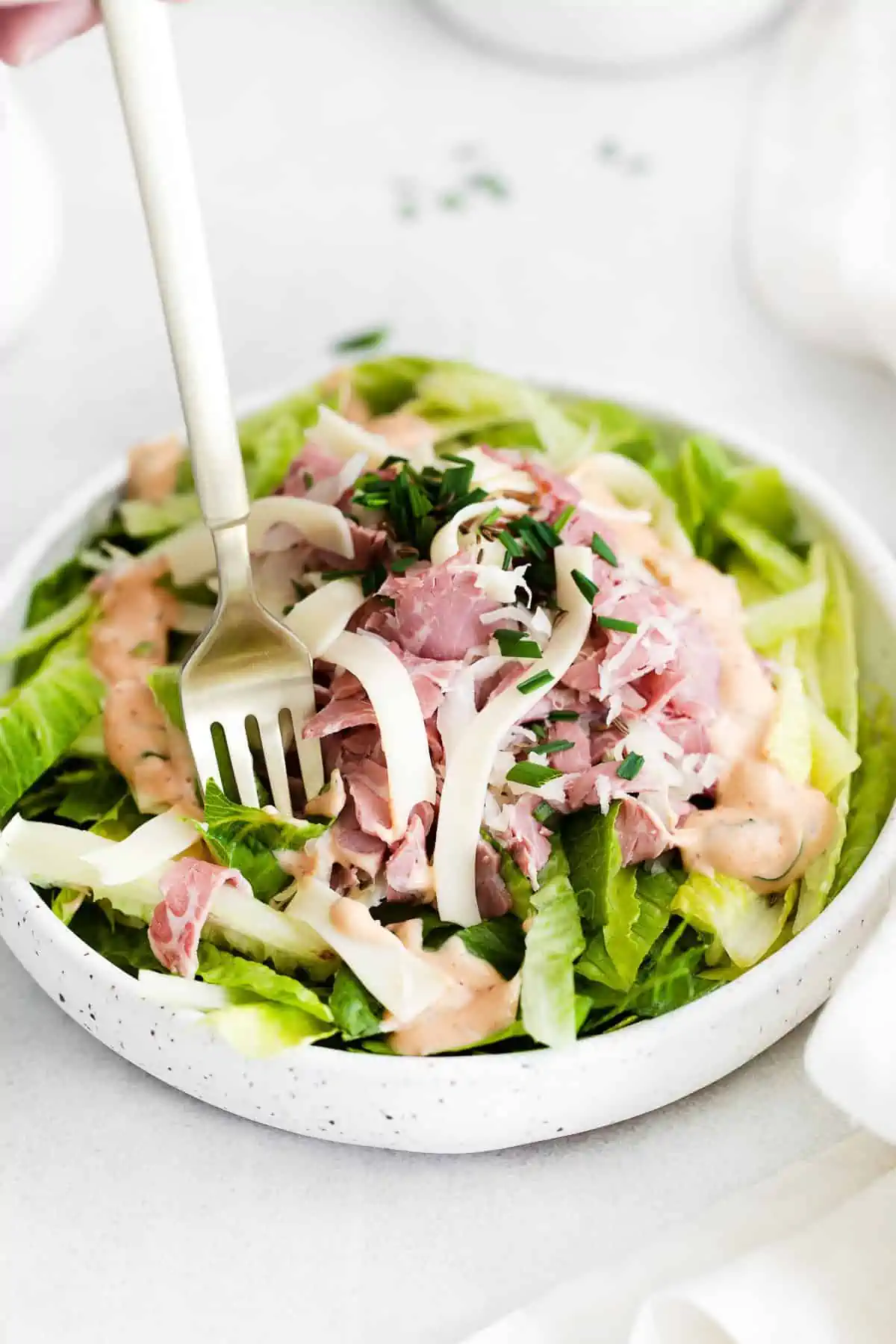 This Reuben Sandwich-inspired Reuben Chopped Salad by Peace Love and Low Carb is a healthier low-carb salad version. With only 5 main ingredients and just 10 minutes, it makes a delicious easy filling weekday lunch.
9. German Pork Chops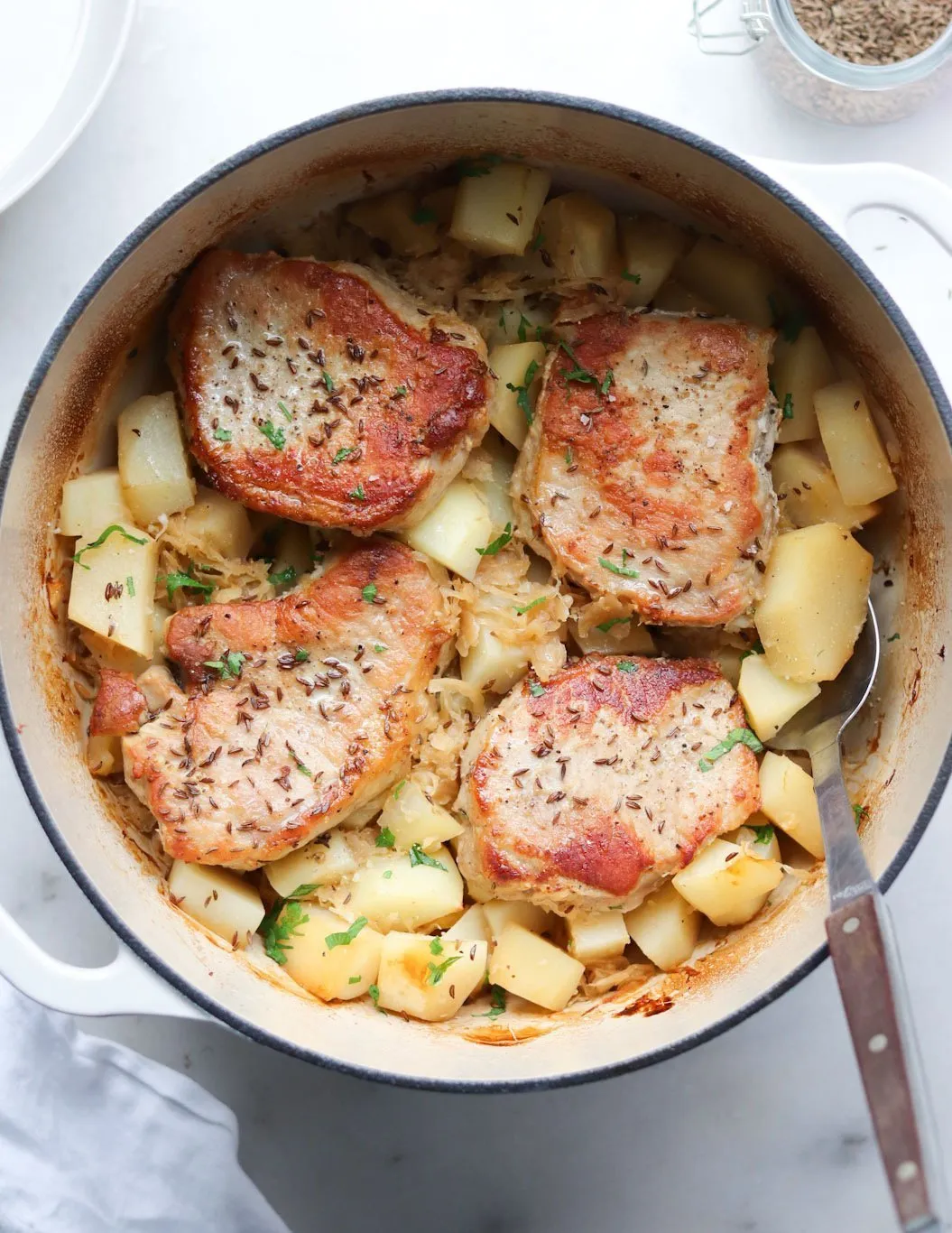 We love the simplicity of this German Pork Chops recipe by Cook At Home Mum. This baked cosy dish made in a dutch oven consists of boneless pork chops, sauerkraut, potatoes, apples and caraway seeds all baked to perfection.
10. Sausage and Sauerkraut Soup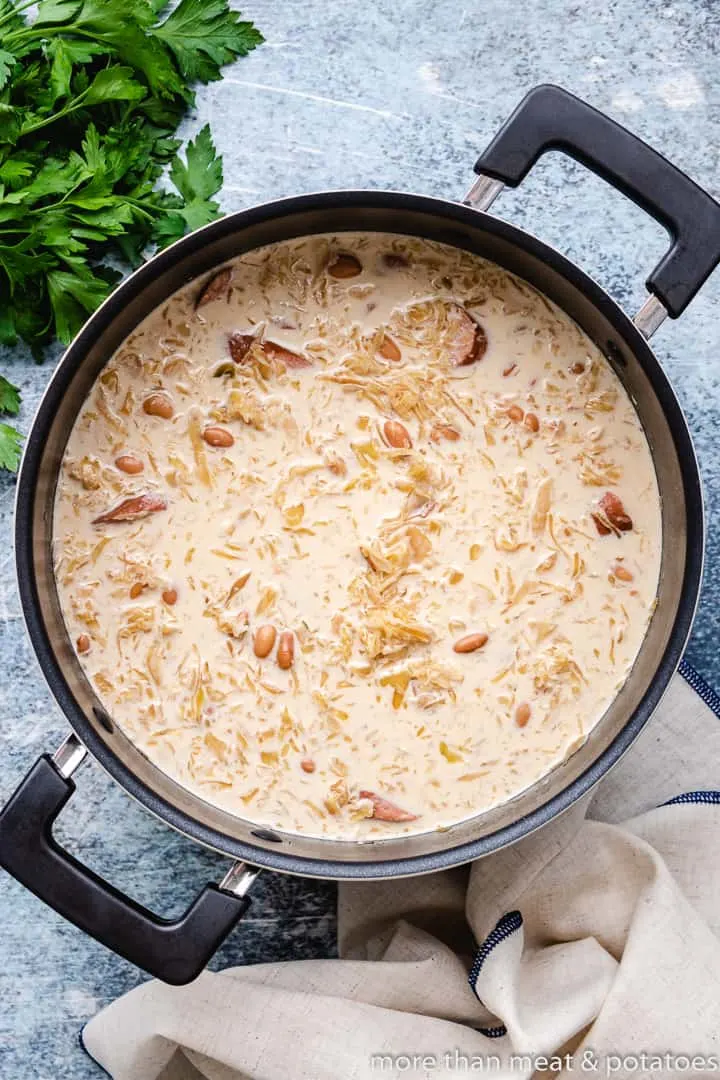 This Eastern Europe-inspired Sausage and Sauerkraut Soup by More Than Meat and Potatoes has a perfect balance of tart and savory flavors. This creamy delicious soup is made with pinto beans, kielbasa sausage, sour cream and beef broth.
11. German Meatballs with Sauerkraut
These hearty German Meatballs with Sauerkraut by Where Is My Spoon is a tasty dish of Saxon origin. Make this flavorful recipe during cold autumn and winter days when you're craving a cozy hearty dinner.
12. Czech Szegedin Goulash
Czech Szegedin Goulash by Cook Like Czechs is a traditional Hungarian goulash recipe which is also popular in Czech cuisine. This dish consists of pork stew spiced with sweet ground paprika and caraway seeds slowly simmered with sauerkraut and sour cream and traditionally served with raised bread dumplings.
13. Roast Pork Loin With Rosemary Brown Sugar Sauerkraut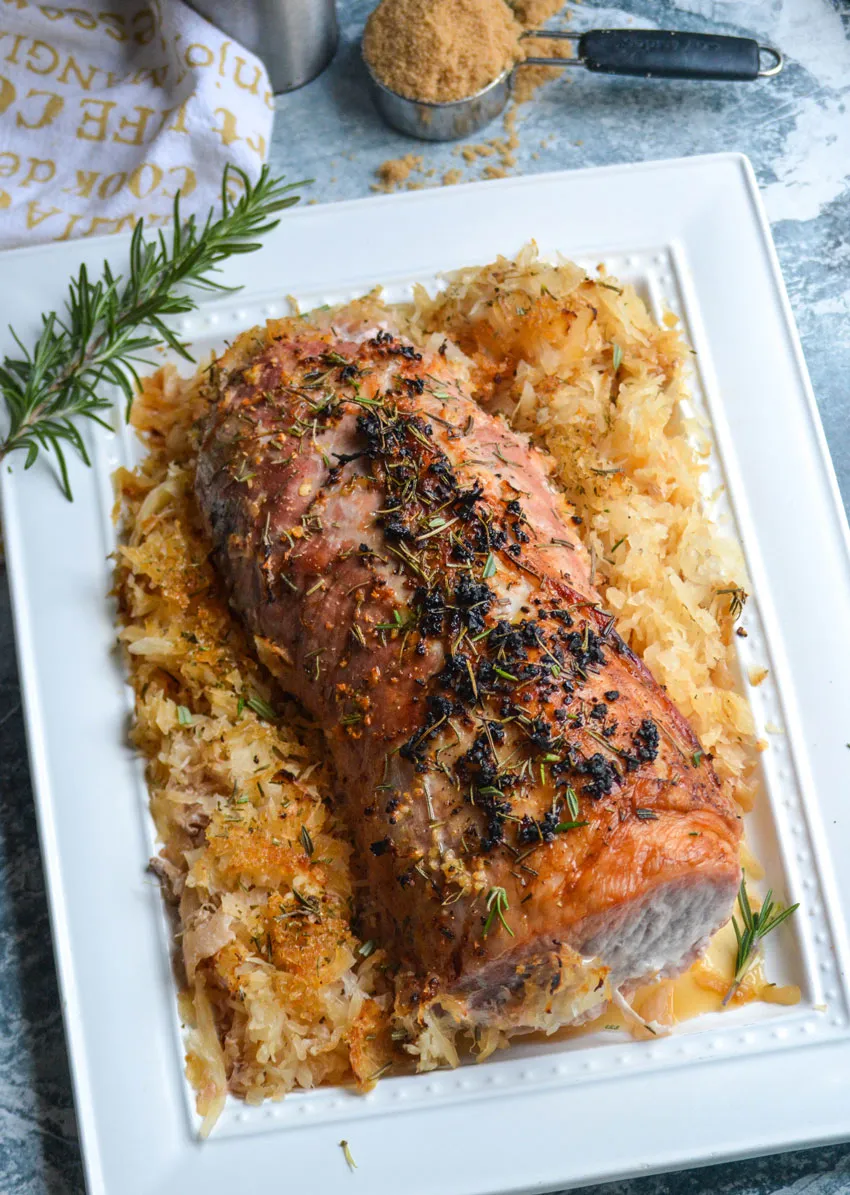 Take your roast pork and sauerkraut to the next level with this amazing Roast Pork Loin With Rosemary Brown Sugar Sauerkraut recipe by 4 Sons 'R' Us. This flavorsome version will soon become your family favorite.
14. Reuben Sandwich with Homemade Russian Dressing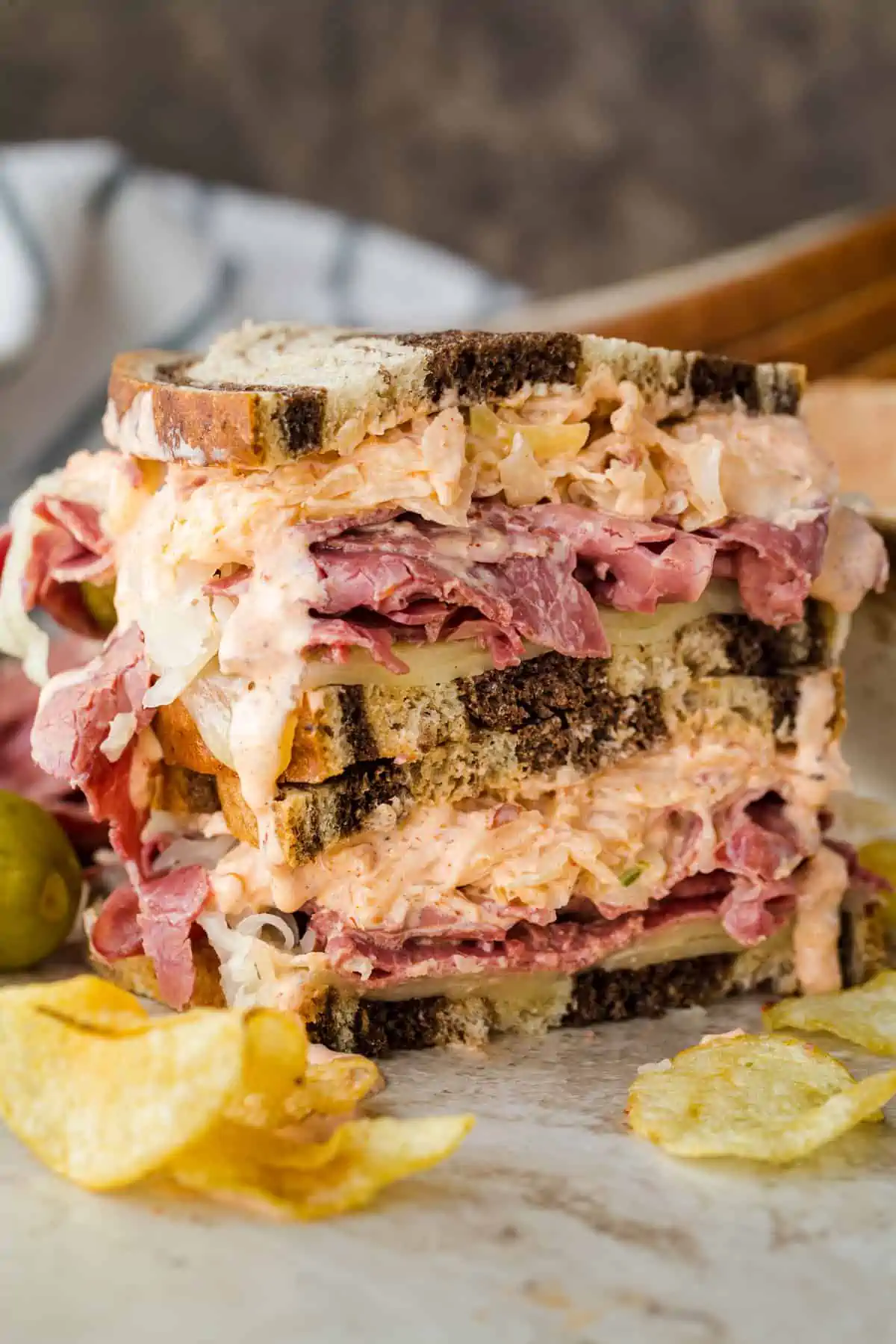 You must try this juicy Reuben Sandwich with Homemade Russian Dressing by Natasha's Kitchen. Delicious rye bread slices are filled with corned beef, Swiss cheese, plenty of sauerkraut and a homemade tangy Russian dressing and grilled until crispy and the cheese melted.
15. Sauerkraut Strudel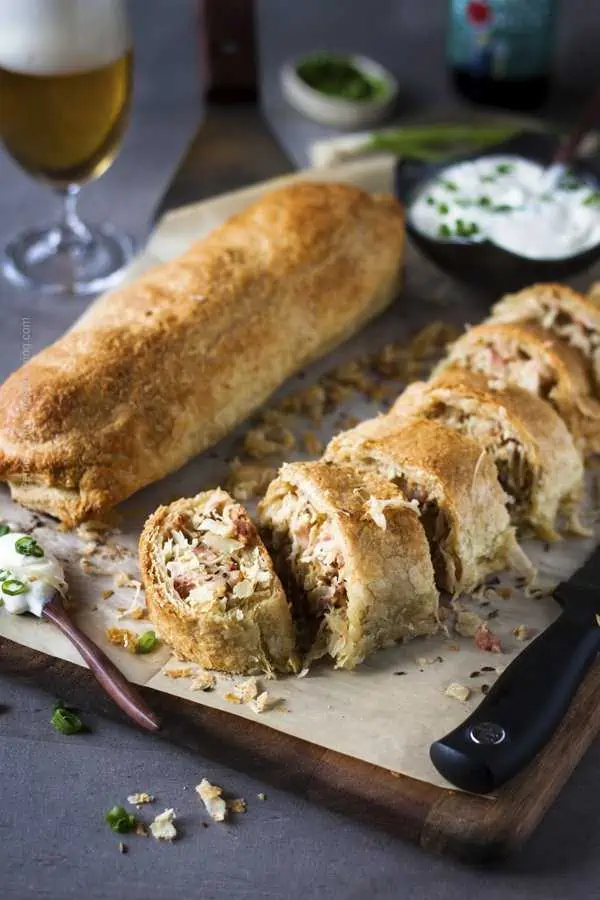 Another fabulous recipe by Craftbeering. This easy savory Sauerkraut Strudel is made with a puffed pastry filled with smoked bacon, sauerkraut and spices. You can enjoy it warm or cold, it's delicious either way.
16. German Skillet with Mustard Cream Sauce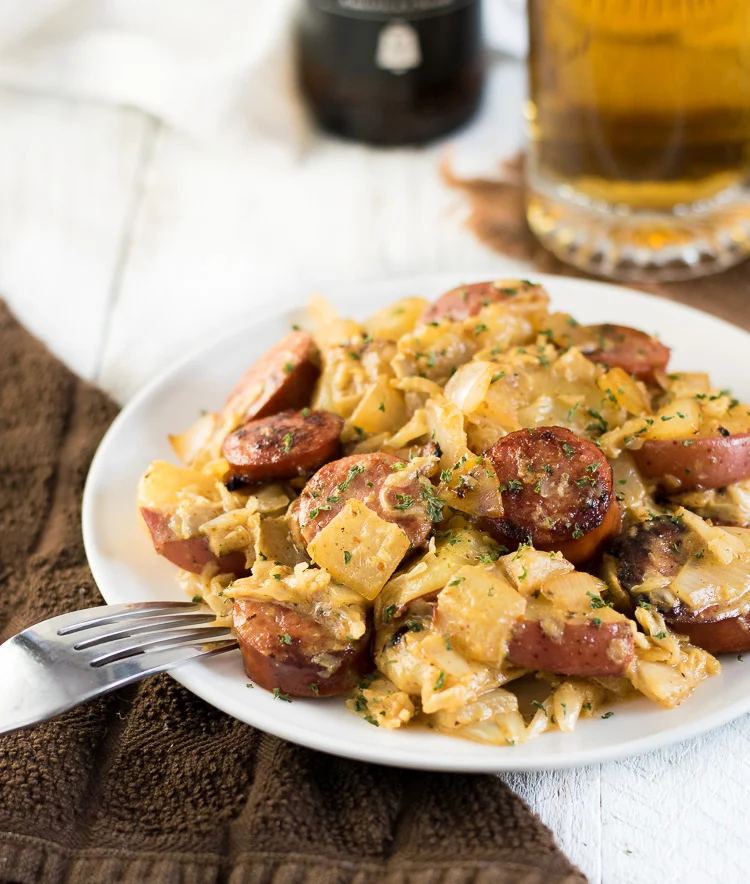 You will love the simplicity in this flavorsome German Skillet with Mustard Cream Sauce by Fox Valley Foodie. This recipe features tender potatoes cooked with German sausage, tangy sauerkraut and a simple mustard cream sauce.
17. Sauerkraut Casserole with Chicken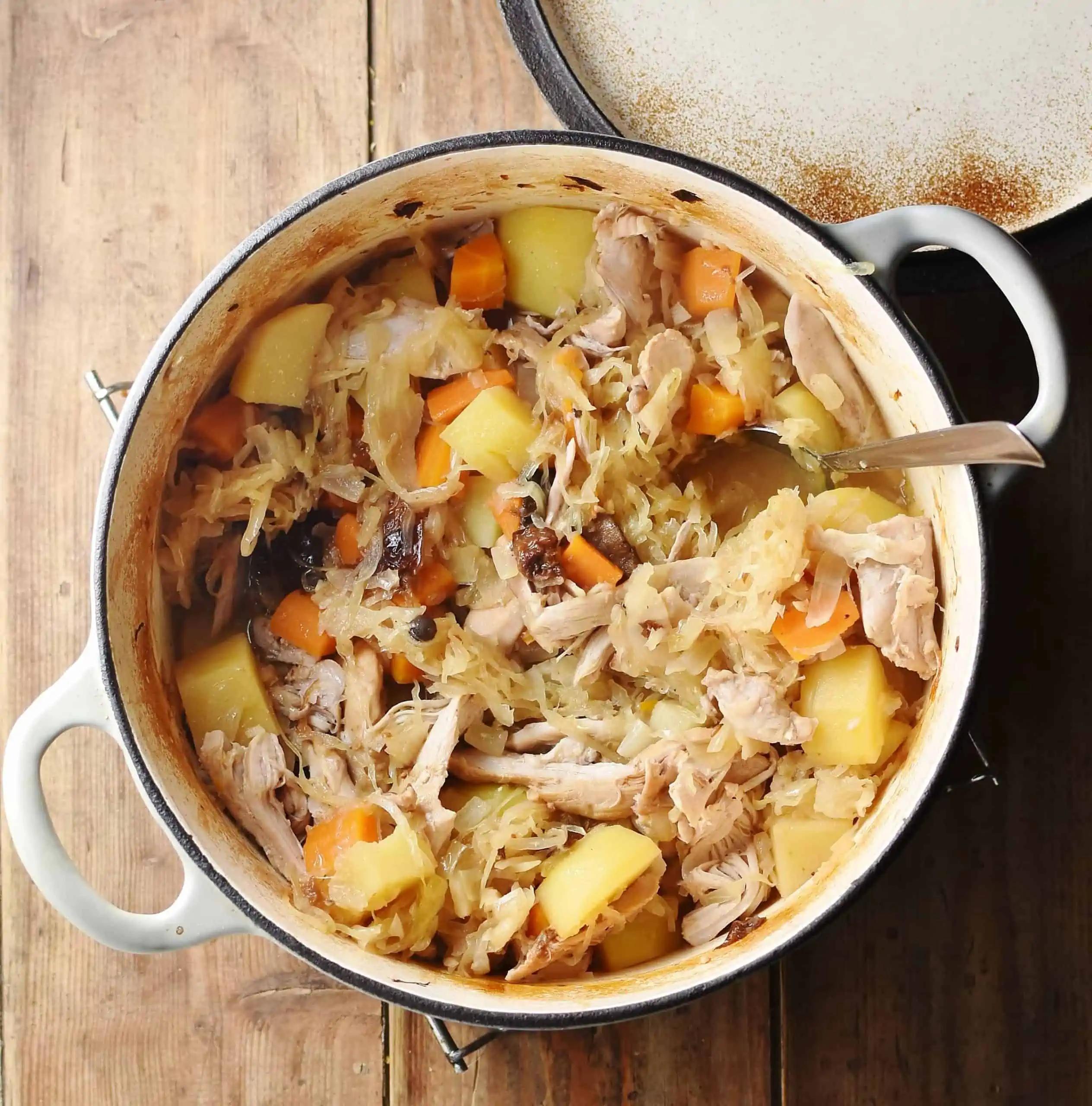 This hearty Sauerkraut Casserole with Chicken by Everyday Healthy Recipes is packed with flavor and nutritious ingredients. It's super simple to make and makes the coziest nourishing family meal.
18. Grilled Polish Sausage and Sauerkraut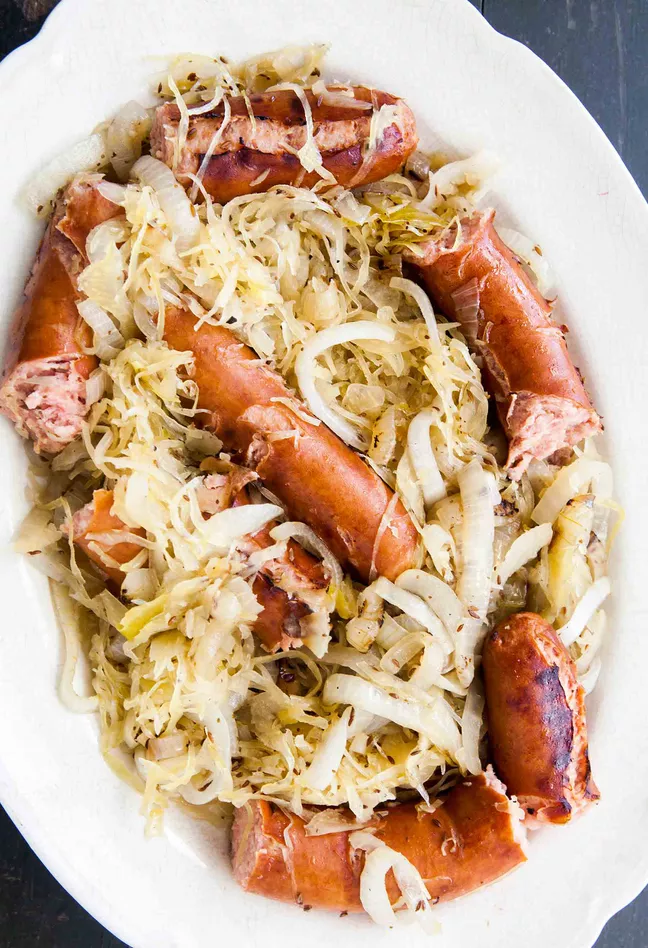 This Grilled Polish Sausage and Sauerkraut recipe by Simply Recipes is a perfect summer BBQ staple. These tasty sausages are grilled and then simmered with beer, caraway seeds, sauerkraut and onions for your go-to hearty party food.
19. Slow Cooker Corned Beef and Sauerkraut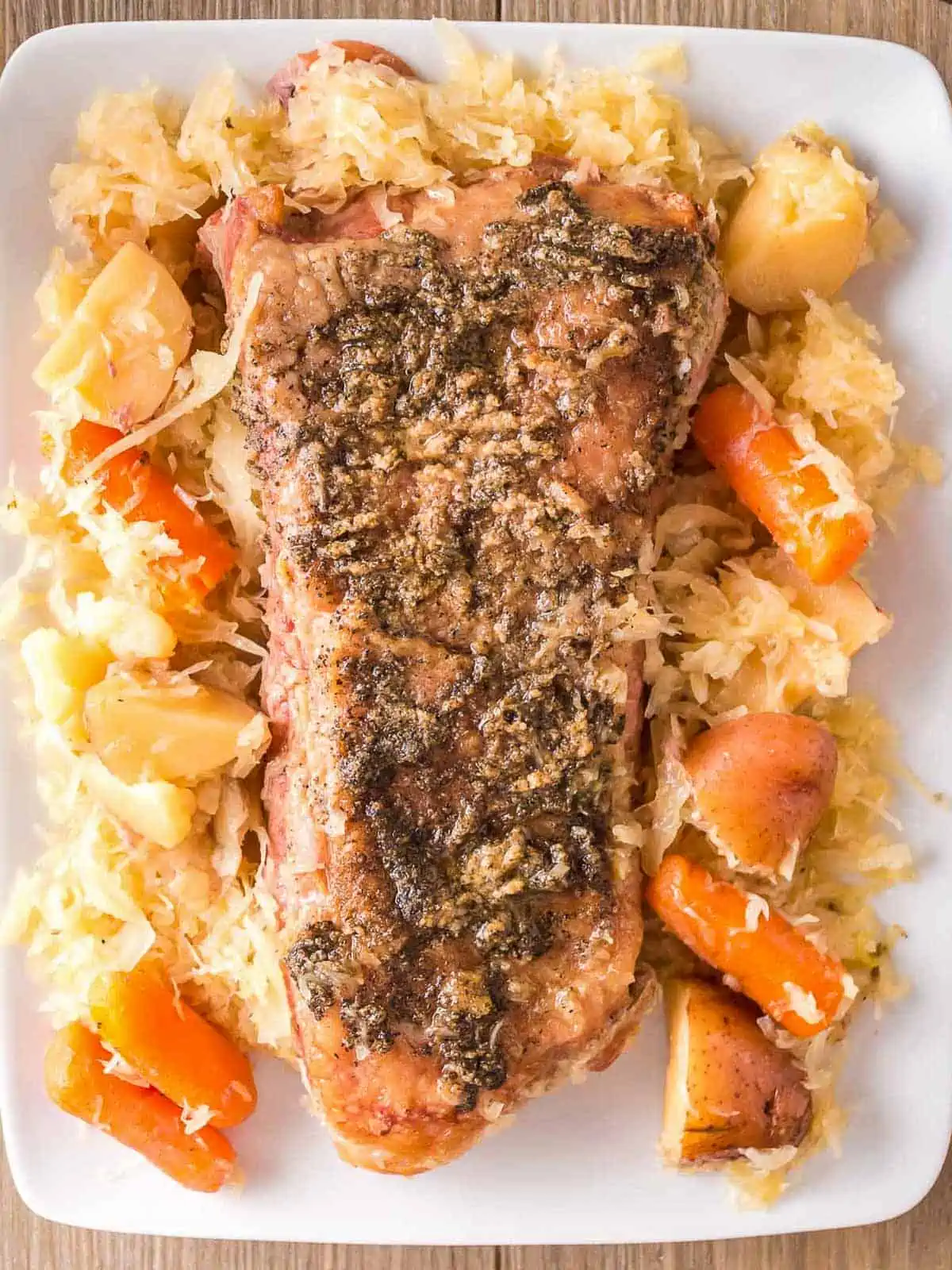 Slow Cooker Corned Beef and Sauerkraut by Neighbor Food has the flavors of tangy, sweet, sour and peppery. This easy one-pot meal is cooked low and slow all day in the crock pot for fall-apart tender and super flavorful beef.
20. German Braised Duck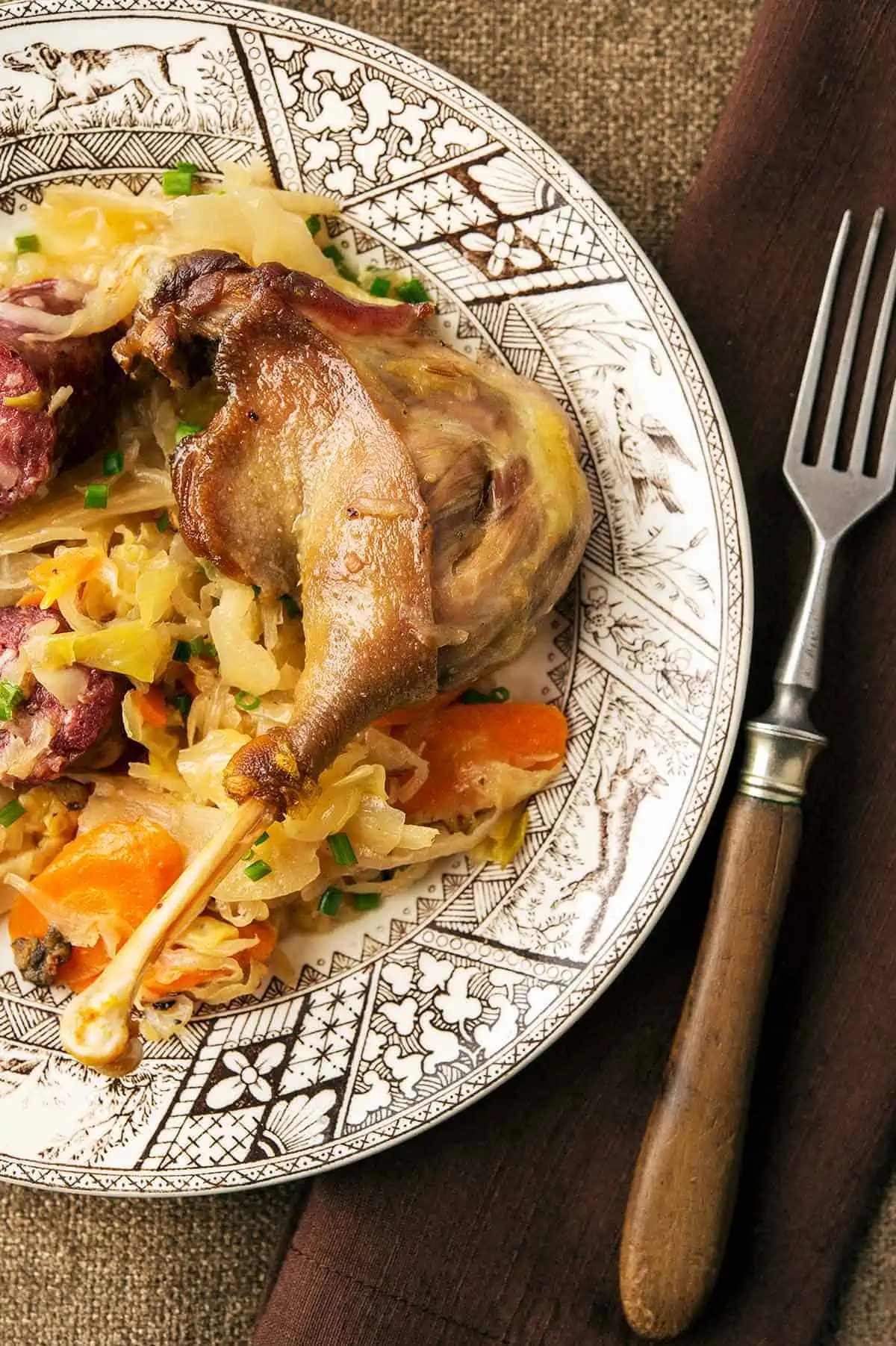 German Braised Duck by Hunter Angler Gardener Cook is a venerable recipe from Germany called braised duck Niederwald. This classic German pot roast recipe is made with duck or goose legs, sausage, sauerkraut, cabbage, onions, caraway and juniper.