No bake bars packed full of peanuts and honey. Top them off with a drizzle of chocolate or have them plain for a sweet and salty treat.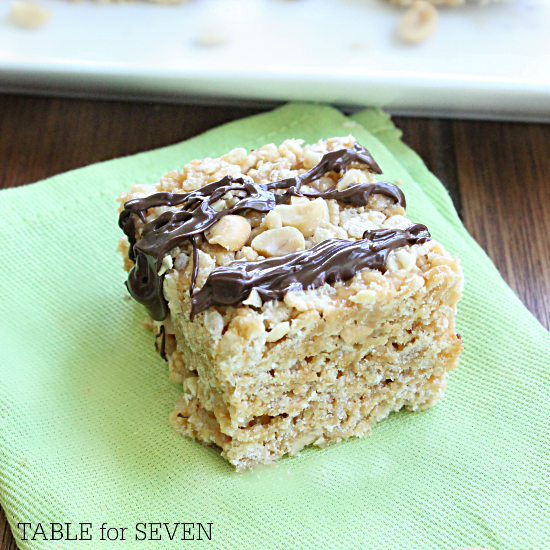 We are total peanut butter fanatics around here. Love it. I actually have a child that coats everything in peanut butter (including vegetables), because, he says it "just makes everything taste better". I'm not that fanatical, but, I do love me some peanut butter. It's just so darn good.
Today's post not only has peanut butter, but, actual peanuts. Real life, crunchy, fabulous peanuts. Yum.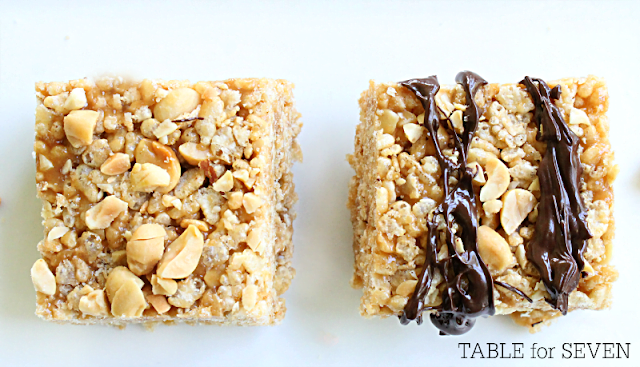 Ingredients List:
crispy rice cereal
creamy peanut butter
honey
sugar
peanuts
chocolate chips, optional
Crispy Rice Cereal: AKA – Rice Krispies or brand equivalent
Peanuts: Salted or Unsalted can be used..your choice!
How to Make:
In a saucepan, melt honey and sugar until sugar is fully dissolved. Let the mixture come to a low boil ( keep a close eye on it) then, remove from the heat and stir in the peanut butter.
Next, mix the peanut butter mixture with chopped peanuts and cereal. Be sure everything is coated.
Press the mixture into your pan and top with a few additional chopped peanuts. You will need to press them down lightly to have them stick. Refrigerate until set.
If desired, you can melt chocolate chips and drizzle on cooled bars.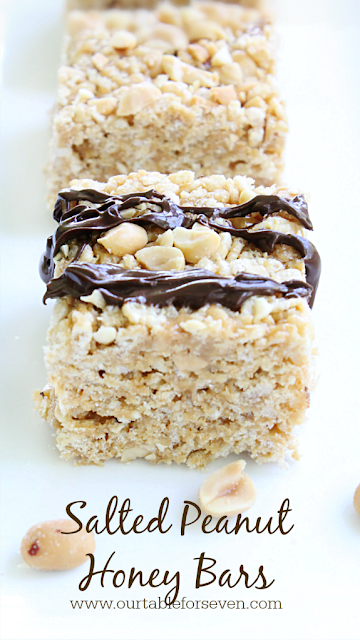 A few notes:
Spraying your knife with non stick cooking spray makes your life much easier when cutting these.
Line your pan well with foil and again, spray with non stick cooking spray before adding the cereal mixture.