Creamy ice cream sweetened with maple syrup and topped of with candied bacon bits!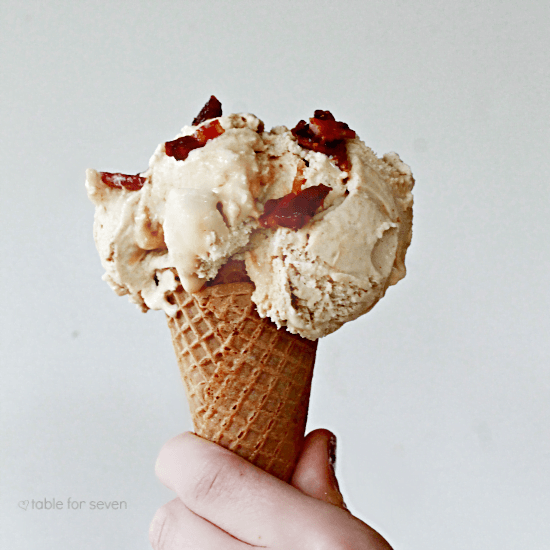 It's not cold for ice cream, is it?
The weather around here has been up and down. bit warm for fall, but, right around 70-75 degrees. But, then, today, it's about 50 degrees and it feels like it's about 20 below. Brrr..
Having a drastic change in the weather can really mess you up a bit, can't it?
Anyway, I don't think it's ever not ice cream weather around here. We eat it like crazy all year round. Doesn't matter if it's 95 or 25. Ice cream is always welcomed!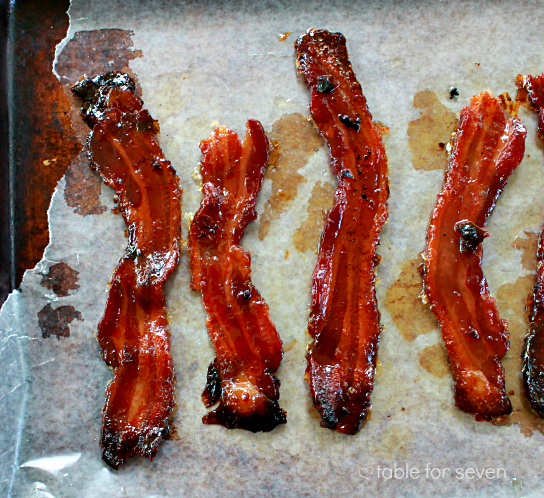 Bacon has also never been kicked out the door either.
3 of my 5 kids adore bacon. Love it. My 4 year old actually squealed with delight when I picked up a pack for this recipe. "Bacon..yay!".
I was a bit excited about this recipe too. I've seen candied bacon recipes all over the web since, like forever, but, never gave it a try.
Have you tried it? Oh man, if you haven't, you have to try it.Even if you don't want to make this ice cream. The candied bacon is a must. It's seriously, pure heaven.
The ice cream is nothing to sneeze at either. It's a sweet, creamy, maple-y treat with a caramel swirled into it. A great taste for the fall. Topped with this beautiful bacon bits..it's a total winner!