Soft cookies filled with real apples and drenched with a salted caramel frosting.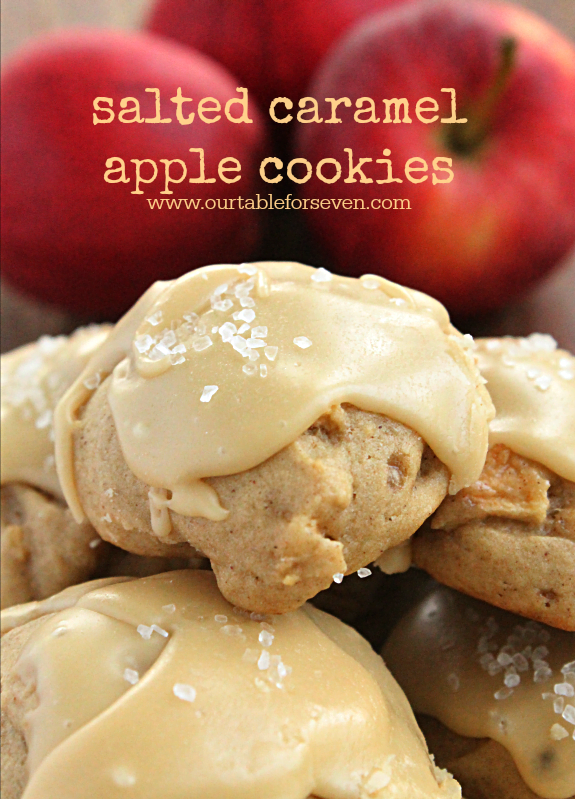 First up..how do you like my new design? I'm totally, madly, in love with it!
If you have read my blog for any length of time, you know, I like to change things up around here alot.
Alot.
But, it was time to have a new, professional, design. Giada at Miel Cafe Designs did an amazing job and was so great to work with. I highly recommend her if you are looking for a new look for your blog.
So more big stuff going on..
This is my very first post with the great ladies from the Fill the Cookie Jar group!
Fill the Cookie Jar is a Facebook group of home bakers that share their favorite cookie recipes each month based on the theme for that month. This month's theme is Thanksgiving!
Besides pumpkin, I think apple is one of the classic flavors for Thanksgiving. Actually, I prefer apple over pumpkin. I mean, homemade apple pie? What could be better?
How about you?
Pumpkin

or

Apple

?

These delightful Salted Caramel Apple Cookies fit that apple flavor perfectly. They are soft and filled with chopped apples and then, they are totally drenched in a salted caramel frosting.

That salted caramel frosting? It's ah-ma-zing..yum. (Be sure not to eat it all with a spoon before frosting the cookies..just sayin')

A perfect additional to your Thanksgiving ( or any holiday) dessert menu!