Crunchy, flavorful, homemade pickles made right in your kitchen. Adjust the seasonings to your liking and store them right in your fridge. A great snack or side for your lunch.
OK guys, let's talk pickles:
❔ Do you love 'em? Hate 'em?
❔ Are they strictly for burgers?
❔ Do you eat them right from the jar?
❔ Are you a dill person? Gherkin? Hot? Sweet?
Everyone has a favorite, right? Well, mostly everyone.
I have found that many in my immediate and extended family aren't big pickle eaters at all. My sister in law actually crinkled her nose and said 'yuck' to me when I told her my oldest daughter eats them straight from a jar as a snack.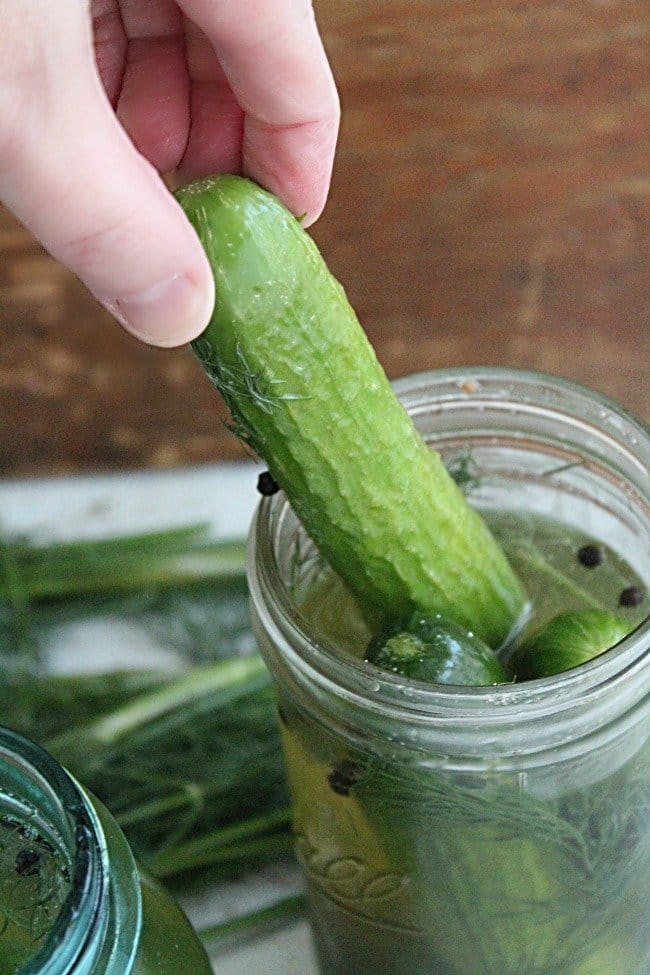 Personally, I like a dill pickles. For burgers, hot dogs and yep, just as a snack. With all this pickle love, making them homemade was something I've thought of, but, never did.
The whole jarring process seemed extremely overwhelming. But, my mom gave me this quick, so very easy recipe for refrigerator dill pickles and we loved them.
No jarring process required 🠮 🠮 simply mix up the ingredients and then chill them!
Done…homemade pickles.
A few notes:
With these having no jarring process, these must be kept in your refreigeator in a covered jar. Also, they should be consumed within two weeks of making.
I like to make these with small size cucumbers, leave them whole, then, cut, when we eat them. However, you can cut them into coins or spears when adding to the jars.
Feel free to adjust the below seasonings to your liking. This is simply what we like!