Take a shortcut with your red velvet cookies! These start with a cake mix and are filled with mini marshmallows, chocolate chips and mint candies.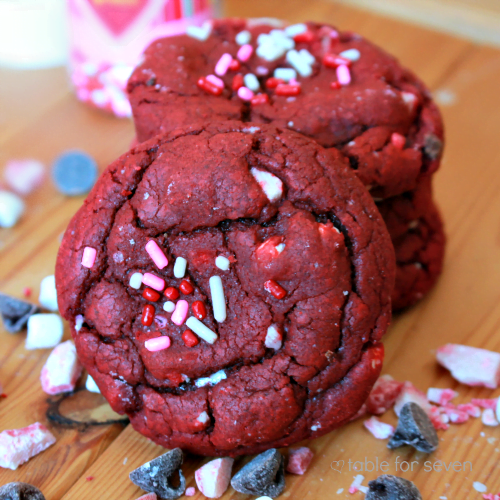 Ingredients Needed:
Red velvet cake mix
Butter
Eggs
Chocolate chips
Mini Marshmallows bits
Peppermint crunch candies
Sprinkles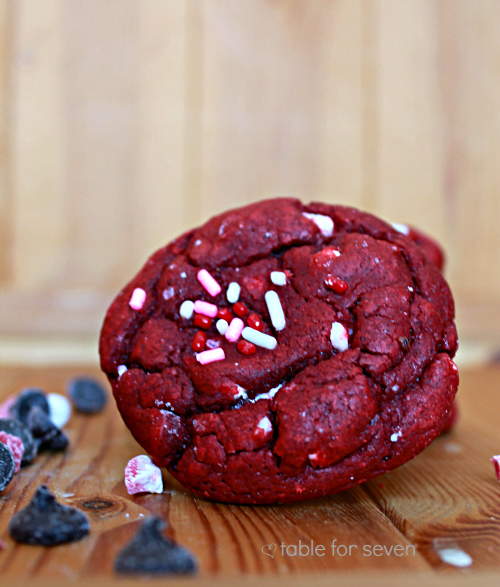 Mini Marshmallow Bites: These are not regular mini marshmallows. They are dehydrated mini marshmallow bits. You know the mini marshmallows they put in pre made hot cocoa mix? It's those. Check in the same section as the hot cocoa mix in your grocery store. If you not, see the recipe card.
Peppermint Crunch Candies: You can choose a full pack of candies, then, simply break them into pieces. Another option is to use the a bag of peppermint crunch baking chips. I have also linked those in the recipe card.
📌 Pin it for Later:
How to Make:
First, mix together the dry cake mix, eggs and butter. Mix it until it's fully combined.
Then, stir in the chocolate chips, peppermint crunch candies and mini marshmallows.
Scoop about a tablespoon of dough and form it into a ball. Place on the baking sheet. Flatten it slightly and sprinkle the top with sprinkles.
Bake!
Let the cookies cool for about 5 minutes before removeing from the baking sheet. Then, cool compltely on a wire rack.
Storage: Keep any leftovers in a covered container. You don't need to refrigerate them. If desired, you can freeze these. Keep them in a freezer save, covered container/storage bag. They will be good for a few months.
Try these too: