Soft scones loaded with fresh pumpkin. Serve them for breakfast, dessert or for a snack! They are perfect for any time of the day and just right for the start of pumpkin season!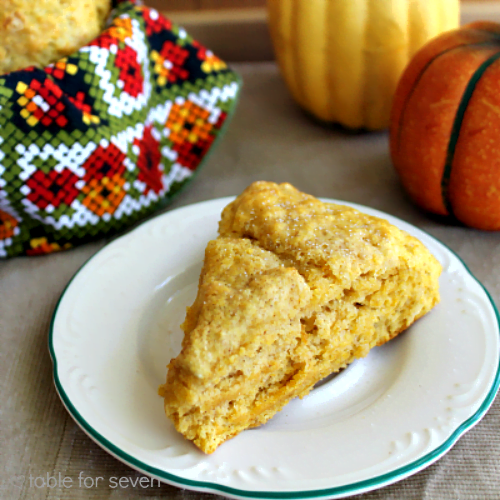 Happy September! It's fall and time to celebrate all foods pumpkin. 🎃
These scones are a great place to start if you don't hate pumpkin, but, you don't love pumpkin either. They have a nice pumpkin flavor, but, doesn't smack you in the face with it.
We love these topped with a bit of cinnamon sugar, then, served with melted butter. Really yummy.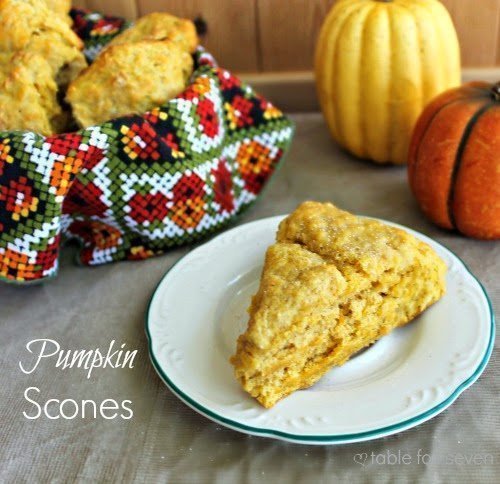 Ingredients Needed:
Flour + Baking powder + Salt + Ground cinnamon
Sugar
Pumpkin puree
Milk
Butter
Egg
Cinnamon sugar
Can I substitute white flour with wheat flour? Yes. However, I do recommend using a white whole wheat flour or going with a white/wheat combination. Wheat flour will give your scones a different consistency and you still want a fluffy scone.
Butter: Make sure it's cold. Not frozen, but, cold.
Pumpkin Puree: Make sure it's not pumpkin pie filling.
A few Tips About Cutting the Butter into Flour:
The goal of cutting butter into flour is to achieve a pea size-crumb like texture with your flour. This process will give you a flakier scone.
This can be done with a pastry cutter, two knives, a fork or a food processor.
Be sure your butter is cold, not frozen, cold.
Whichever way you chose to do this, just make sure you don't over mix it.
Looking for more info? Here is a helpful link.
Storage: Keep leftovers in a covered container or storage bag. They will be good for 2-3 days. If desired, you can freeze them for future eating. Again, keep them in a covered container/storage ( freezer safe). They will stay good for a couple of months. Reheat in the oven or microwave when you are ready to eat.
More Scones to Try: