Light, fluffy pancakes with the great taste of pumpkin. Serve these thick Pumpkin Pancakes with warm butter and maple syrup for the perfect fall breakfast!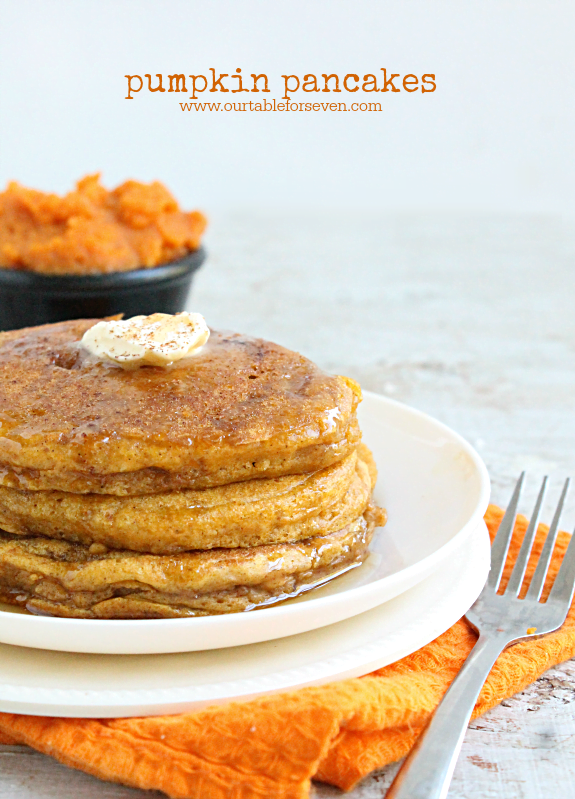 Fall has arrived in my neck of the woods. At least, for this week.
Temperatures are going to be in the mid-60's and low 70's. Perfect weather, in my opinion. Of course, I live in the Midwest. Next week, it could be 85 degrees or 35 degrees. You just never know!
Right now, however, it is fall. Let's enjoy it. 🍂
To kick it off, we have pumpkin pancakes for you today.
Here are a few notes for these lovelies:
Be sure to use pumpkin puree..not pumpkin pie filling.
Using whole wheat flour instead of white flour is an option. You can also use 1/2 white and 1/2 wheat.
I use an electric griddle for my pancakes. But, a good size skillet will fine too.
Pumpkin Pancakes! These are thick, fluffy and of course, packed with pumpkin flavor. Adding to that, we have some cinnamon, nutmeg and allspice. These just scream "fall food", don't they?
Serve them up with some warm butter and syrup and your perfect breakfast has arrived!
Happy Fall Friends-