Soft pumpkin cookie bars with a swirl of Nutella chocolate hazelnut spread!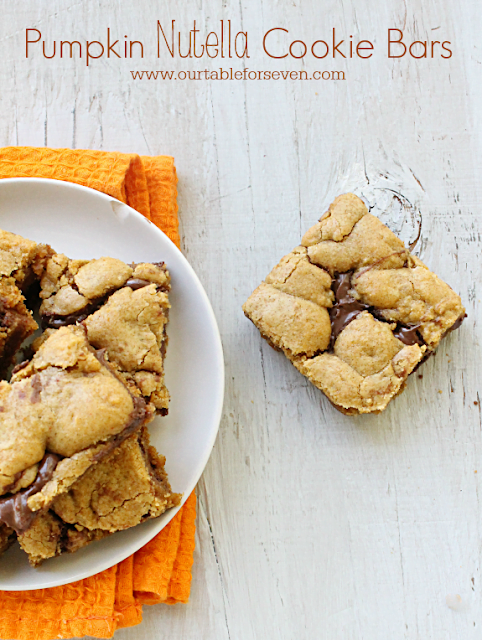 I'm so loving this #PumpkinWeek2015!
There has been so many amazing recipes shared already this week. If you haven't already, check out my fellow bloggers to see their pumpkin creations:
– Amanda at Semi Healthy Blog
– Suzie at Suzlylife
– Katie at Talk Less, Say More
– Giselle at Diary of An ExSloth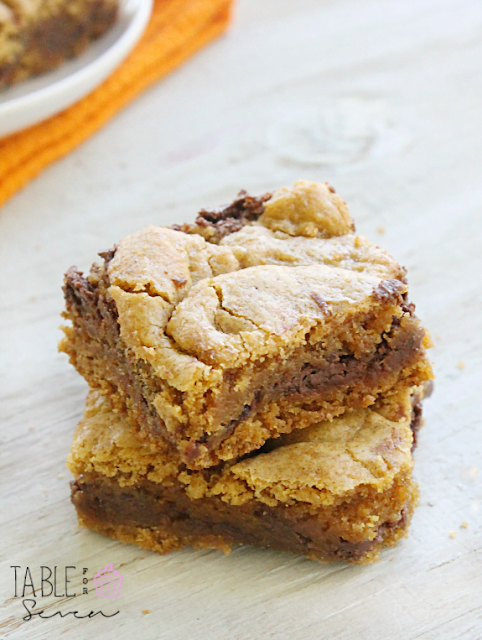 Plus, don't forget:
If you would like to join us, just use the hash tag #PumpkinWeek2015 on Instagram and we will be sharing our favorites at the end of the week!
OK, there is some cheating involved in this one. 😲
I used a box mix that's seasonal. But, you can find it at Target online, plus, you will probably find it in the actual store during fall season. You can probably get it at Walmart too!
No worries 😉
Here are a few notes:
These bars use an 8 x 8 baking dish, rather than a standard 9 x 13.
You can use the brand Nutella for these or a equivalent store brand will work too. Look for a jar "chocolate hazelnut spread". It's usually located in the peanut butter aisle of your grocery store.
Be sure to microwave the Nutella for just a few seconds before spreading on your batter. This will make it easier to spread. Just don't microwave it in the plastic jar..use a microwave safe bowl.
These Pumpkin Nutella Cookie bars are easy peasy! They are also soft, with a nice pumpkin flavor that goes just right with the creamy chocolate hazelnut swirl. 🧡
So much more pumpkin love coming your way this week..stay tuned!